Security cameras have come a long way since the early days of CCTV systems. There are a number of different reasons why you might be looking for the best IP camera 2018 has to offer. To acquire a proper answer you will need the expertise of a company experienced in every part of the surveillance business. In this article, I am going to provide a few of our most advanced IP security cameras and some examples of how powerful these new features are. I will also include a few things to keep in mind when choosing the best IP camera 2018 provides. For more details about who we are as a company or to read more information on any of the products discussed in this article visit our website at the link provided here: Security Camera King.
Best IP Camera 2018 | THINGS TO CONSIDER
There are a few different factors to keep in mind when looking for the best IP camera currently available. For instance, do you want to use your IP camera in an indoor or an outdoor surveillance system? Are you concerned with weather resistance? Do you need an IP camera to look at a wide view, such as a parking lot, or only a small, specific area? All of these are important factors that a different camera is specifically designed for. Here are some things to consider:
Camera Design

Indoor / Outdoor Setup

Technical Support

Color or Black & White Footage

Wireless or Wired

Cost
IP security cameras provide a much better resolution than HD security cameras. There really is no competition between the two. Below you can find a side by side video comparison of an HD camera vs. an IP camera:
Best IP Camera 2018 | DESIGNS
Bullet Cameras
Bullet cameras are designed to be mounted on walls or ceilings, aimed in a single direction. One example of their intended use is to look over something like a porch. Though these designs are often cheaper in comparison and easy to install, the fixed position does make it easier for criminals to avoid.
Dome Cameras
Dome cameras are designed to be conspicuous and intimidating. There is nothing discreet about this camera monitoring details like faces and an example of its intended purpose is to monitor over a doorway. It is more difficult to know exactly where it is focused, making it a better deterrent than other designs. It also comes in a vandal-proof form for people concerned with someone tampering with the camera.
Pan / Tilt / Zoom (PTZ) Cameras
PTZ cameras are the ideal choice to survey large outdoor areas. A PTZ-IP camera can move around, capturing different angles of your property. It is commonly an option used to eliminate multiple fixed-sight camera mounts and is also capable of being pre-programmed or remotely controlled by a user.
License Plate Cameras
License plate security cameras are specifically designed to capture license plates images in certain settings. This is made difficult by glares from light, changing approach angles, high speeds, distance, camera location, etc. It is one of the most difficult applications to achieve and one of the most desirable camera designs because of its advanced technology.
Infrared / Nightvision Cameras
One of the biggest advancements we have seen in security cameras is the improvement of night vision footage. IP cameras with Starlight technology can see for hundreds of feet in almost complete darkness. Others have infrared lights around the camera itself to turn on in complete darkness and extend their night vision capabilities. Here is a video of one of our Starlight IP cameras with a Day / Night IR comparison.

Best IP Camera 2018 | PRODUCTS
2MP Economy Sibell IP IR 2.8mm Dome Security Camera (IPOD-SB2IRE28)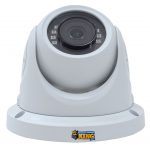 Megapixels: 2MP

Max Resolution: 1080p

Lens: 2.8mm

LEDs: 10

IR Distance: 65 feet

Dimension: 3.5in x 3.5in x 4.25in
2MP Economy Sibell IP IR Bullet Security Camera 2.8mm Lens (IPOB-SB2IRE28)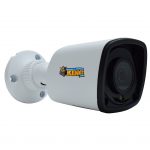 Megapixels: 2MP

Lens: 2.8mm

LEDs: N/A

IR Distance: 65 feet

Dimension: 8in x 4in x 4in
2MP Prime HD Network Mini Bullet Camera 4mm Lens (IPOB-PR2IRE)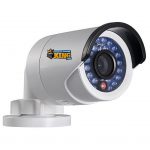 Megapixels: 2MP

Lens: 4mm @F2.0,

angle of view: 79

Â

°

LEDs: N/A

IR Distance: 98 feet

Dimension: 5.5in x 2.4in x 3.0in
3MP 20x Zoom Starlight Sibell PTZ w/ IR & TVI/AHD (IPPTZ-SBS3IR20XHD2)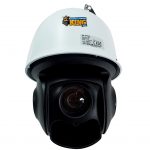 Megapixels: 3MP

Max Resolution:  2048 x 1536

Lens: 5.5-110mm zoom

Pan Rotation: 360° endless rotation

Dimension: 12.48in x 8.2in x 8.2in
4MP Sibell IP IR Motorized Zoom License Plate Camera (IPLP-SB4IRZ)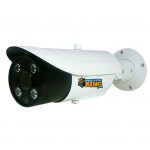 Megapixels: 4MP

Lens: 9-22mm @F1.4, angle of view: 29.5°-16.2°

LEDs: 4

IR Distance: 328 feet

Dimension: 14.17in x 4.29in x 4.29in

IP66 Weather-Resistant Rating
Best IP Camera 2018 | ABOUT US
Security Camera King is an online provider of wholesale security cameras and surveillance equipment. This includes the most innovative and state of the art equipment currently available in our respective industry. We are a team of security professionals that work with the best manufacturers to deliver these products at great prices.
We also partner with other security companies to be able to be a complete source for all of your surveillance and personal protection needs. Digital Security Guard is a private security agency that offers a 24/7 protection service by remote video monitoring. TechPro Security Products is a professional security installation team that is highly experienced in setting up new and old surveillance systems to get the most out of your equipment. Visit their websites for more information.
CONTACT US if you have any questions about the products discussed in this article. And please let us know if there is anything further we can do to get the most out of your security system.
Facebook | Twitter | Google+ | YouTube
Best IP Camera 2018