There are a lot of different reasons to want the best security cameras currently available. Especially since the best security cameras 2018 provides has a ton of new incredible features. Modern security cameras have everything from live tracking to night-vision and can be controlled remotely. Virtually every new wireless camera is able to connect to a Wi-Fi network and be accessed by personal devices with a network connection. In this article, I am going to provide some of our newest and most innovative products that definitely belong in the best security camera system 2018. If you want to find out more information about the products discussed in this article or read more about who we are visit our website at the link provided here: Security Camera King.
Best Security Cameras 2018 | Designs
Security cameras have come a very long way over the past decade. To begin, let's go over the different camera styles you can find. Now security cameras come in a number of different styles and designs. Each separate design is made for a particular purpose and works best in its intended setting. This means that one design is specifically made to be to look over a wide area indoors while another might be better suited for outdoor residential surveillance. These are the different designs listed for you to choose from:
Bullet Cameras

Indoor Dome Cameras

Vandal Dome Cameras

Pan/ Tilt/ Zoom (PTZ) Cameras
All of these are improvements on the original box security camera design. Though that style is still used in older surveillance systems, its bulky shape is outdated and has been replaced by slimmer, sleeker shapes. There are also hidden or pinhole video cameras available if you need your cameras installed inconspicuously.
The next important factor to consider when selecting your security cameras is whether you want High-Definition (HD-CVI/ HD-TVI) security cameras or IP Network security cameras. This is vital because to get the most from your security system you have to be able to connect your cameras to the internet. As such, the best option is definitely IP security cameras.
Aside from the remote access these cameras allow you to have, the resolution of your surveillance footage from an IP security camera is brilliant. Even the poorest performing IP security cameras out-do the best HD security cameras. You can watch one of our videos highlighting the IP security camera resolution compared to the HD security camera resolution below.
Best Security Cameras 2018 | Features
Here is where we really get to see how far technology has come in the surveillance industry. The features now available in more and more security cameras has grown immensely. Even the features that have been around for awhile (night vision, motion detection) have been vastly improved on. Cameras that use Starlight technology for the night vision feature provide incredible high-resolution footage of areas that have little to no light for hundreds of feet. You can watch the footage from a Starlight IP camera below.
There is also motion detection, tracking, and missing object features available in our newest cameras. With motion detection, you can set your security cameras to record once there has been movement on your property. It can also be set to alert you by sending you a call, text, or email.
The missing object feature works in a similar way. With the missing object feature, you can receive an alert the moment something in the location you are recording goes missing. This can be something as big as a car or something as small as a plant. With this feature, you never again have to worry about getting to work or home only to find something important missing.
The tracking feature isn't totally new, but its capabilities are now almost unreal. It always the camera to constantly scan over its viewable area and provide precise distances between still and moving objects. This also allows a camera facing one direction to move around and follow what it is tracking without you doing anything. It can zoom in or out on the object it is tracking and makes identifying criminals or vandals easier.
Best Security Camera System 2018 | Products
4MP Sibell IP IR Motorized Zoom License Plate Camera (IPLP-SB4IRZ)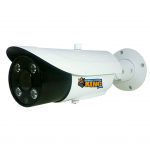 Megapixels: 4MP

Lens:

9-22mm @F1.4, angle of view: 29.5°-16.2°

LEDs: 4

IR Distance: 328 feet

Dimension:

14.17in x 4.29in x 4.29in

IP66 Weather-Resistant Rating
8MP Sibell IR Motorized Vandal Dome Security Camera (IPVD-SB8IRZIPVD-SB8IR)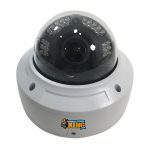 Megapixels: 8MP

Max Resolution:

3840×2160

Lens:

3.3-12 mm zoom

LEDs: 30

IR Distance: 98 feet

Dimension:

5.51in x 5.51in x 4.49in
3MP 20x Zoom Starlight Sibell PTZ w/ IR & TVI/AHD (IPPTZ-SBS3IR20XHD2)
Megapixels: 3MP

Max Resolution:  

2048 x 1536

Lens: 5.5-110mm zoom

Pan Rotation:

360° endless rotation

Dimension:

12.48in x 8.2in x 8.2in
Best Security Cameras 2018 | About Us
Security Camera King is an online wholesale distributor of security cameras and surveillance equipment. We have two locations, one in Boca Raton, FL and the other in Wheat Ridge, CO. This allows us to meet all of the surveillance needs for the entire country and provide fast shipping to the East and West coasts.
We also partner with other security companies to provide a complete service with expert advice for every facet of the security industry. TechPro Security is a security system installation team that helps clients find the best camera placements and make these products operational. Digital Security Guard is a virtual security agency that provides a 24/7 protection service with remote video monitoring. Visit their websites for more information.
CONTACT US if you have any questions about the products described in this article and visit our website for a full look at our extensive collection of security cameras and surveillance equipment.