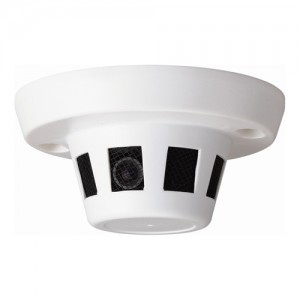 A camera smoke detector is just one of several hidden or disguised cameras that are available through Security Camera King. There are times when covert digital video recording is not only necessary but actually required.  Security Camera King has a large inventory of hidden cameras, wireless hidden cameras, and hidden cameras that contain their own Digital Video Recorder or DVR unit.
Thanks to the tremendous strides made in micro-electronic components of the past decade or so, a high-quality color digital video camera takes up very little space.  In fact the lens alone on hidden cameras is usually 3.6 or 3.7 mm in diameter.  The sensor chip that the camera uses to convert the light image into an electronic video image is usually only 1/4″ or 1/3″ square.  Incorporate this with incredibly small Integrated Circuit chips (IC chips) and you can begin to understand how little space is needed to support the digital video camera.
For example the following includes just some of the features available on Security Camera King's Product# CV-LXSMOKE:
A 1/4″ Charged Coupled Device (CCD) sensor chip that captures light images and transforms them into electronic video images;
420 TVL resolution.  This is fairly good detail and high definition, especially for a small, hidden camera;
Minimum illumination that the camera smoke detector can record is 0.8 Lux; and,
A small, easily hidden lens that is only 3.6 mm in diameter.
Other than being hidden inside a smoke detector case and using a fixed wide angle 3.6 mm lens, this camera is like any other camera in a digital video system.  It requires a 12 VDC power supply and it sends it data via a video transmission cable (such as RG-59 or similar).
Other covert/hidden security cameras available from Security Camera King include:
Desktop Speakers with an embedded color camera;
An "Exit" sign with an embedded color camera;
An alarm clock/radio with a hidden camera;
Various designs of wall clocks with black and white or color cameras embedded;
A cordless house phone with an embedded camera;
A "suspended animation" clock with a camera embedded;
An Emergency back-up light with a camera inside; and,
A heating and air conditioning wall thermostat with a camera inside.
Other wireless cameras are available from Security Camera King also.  These cameras are called wireless because they transmit their video data to a nearby receiver.  Some of these include:
A button camera;
A Phillips head screw camera;
A baby monitor with the camera hidden inside a stuffed toy dog;
A motion detector with an embedded camera;
A carbon monoxide detector;
A utility box with a camera hidden inside;
An Airwick air freshener device with a camera hidden inside;
A camera smoke detector (this one does not look like the wired version, and remember, this model is wireless); and,
A high powered mirror with an embedded camera that can transmit wirelessly for up to 2500 feet.
Finally there are covert camera systems that are self contained such that they even have their own DVR.  They use computer micro-memory chips to record the video and possibly audio data  (actually the ball point pen mentioned earlier is one of these.  A sampling of some of these systems that Security Camera King carries includes:
A mini desk clock;
A car key fob;
Spotlights with hidden cameras and DVR built right in;
A motion detector;
An electrical outlet; and,
A desk lamp.
As you can see there are more hidden cameras in addition to the camera smoke detector.  PLEASE NOTE:  Many of these devices are designed for hidden cameras so many DO NOT ACTUALLY work for the function they were intended.  For example, the camera smoke detector DOES NOT WORK AS A SMOKE DETECTOR.  This is true for many of the items listed above.