Security cameras are sometimes meant to be seen. If they are in plain sight, they can act as a deterrent to illegal activity. But, this can also make them a target of vandals or anyone committing a crime. There are vandal resistant options, but in general even these wont stand up to someone determined to damage it. This is why that it's occasionally prudent to have a covert security camera installed. These cameras are usually disguised as something benign, something that that doesn't remotely look like it contains a camera. And now with high definition advances in camera technology… you don't need a full size camera to capture full HD video… so not only will your camera be hiding in plain sight, it'll be capturing incredible detail, allowing the video to be zoomed in and crucial information like faces, clothing, or license plates to be scrutinized.
So here are some of the options we offer in the field of covert cameras. Note: Some of these will record video to a DVR, the same way a typical camera does.. others will be self contained units that are rechargeable and record on-board memory.
HIDDEN CAMERA PEN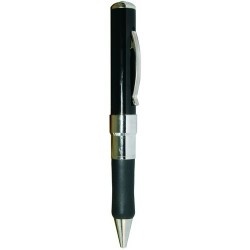 One of the smallest cameras we carry is one that could be placed anywhere and not arouse suspicion… inside a nondescript looking pen. This self contained camera / recorder provides full color video recording at 352 x 288px, records at 16 frames per second (AVI format) and and it's microphone can detect audio from up to 15 feet away. And, its rechargeable Li-Ion battery can run for up to 2 hours on a charge.
This camera would also come in handy for covertly recording video or audio from your purse or pocket. It's on / off switch is activated in the same way you click a ball point pen.
HIDDEN MIRROR CAMERA
These small cameras are designed to look like typical rounded mirrors that you've probably seen in retail stores for years. But this one way mirror has a small analog camera inside, allowing it to record 420tvl (T.V. line) footage straight into your existing analog security DVR system.
2 MEGAPIXEL HD-CVI 1080p COVERT MOTION DETECTOR CAMERA
One of our newest hidden cameras, this one is disguised as a PIR motion detector. This covert camera can record in true 1920 X 1080 1080p high definition video.. which is incredible since at first glance there's nothing to indicate it's impressive 3.7mm fixed lens. This is an HD-CVI camera which means that it can record high-def video over your old standard analog cables… if you have an existing analog security system in place you can easily install this camera (or any other HD-CVI compatible camera) without having to entirely rewire the building. The only caveat would be that you'd need to replace your analog-only video recorder with an HD-CVI one.
Here's an example of this HD-CVI camera in action
2 MEGAPIXEL HD-CVI 1080p COVERT SMOKE DETECTOR CAMERA
Again, we have a device that's extremely common in an office, retail environment, or home.. something that no one would really take a second look at, but can record some powerfully clear video for a camera of its size. This camera, like the previously mentioned Motion Detector camera, utilizes HD-CVI technology, which means that these cameras are perfect for any home or business that has an older existing security system. The camera is hidden among a black mesh around the middle.. making it almost impossible to see unless you're 2 inches away from it, and actually looking for a lens. Otherwise, this just looks like a run of the mill smoke detector.
And here's what this camera looks like in action, from a considerable distance away from the subject. Notice that you can still easily make out face details at this distance.
600TVL Indoor/Outdoor Camera in a Single Gang Electrical Box Face Plate
This 1.5mm fixed lens wide angle view 600TVL analog Analog Camera is mounted on a Single Gang Electrical Box (like a light switch), and is compatible with all analog DVRs (it must be wired directly to the DVR). Because this camera has to be mounted into the wall, it will be much more difficult to change the location once you install it. So for this camera, location will be very important. Luckily, it has an extremely wide angle lens, so it will pick up any activity in it's immediate vicinity, but details will be a bit muddier than the HD-CVI models mentioned above.
And here's an example of how this camera looks in action.
Desktop Speakers Wired Color Camera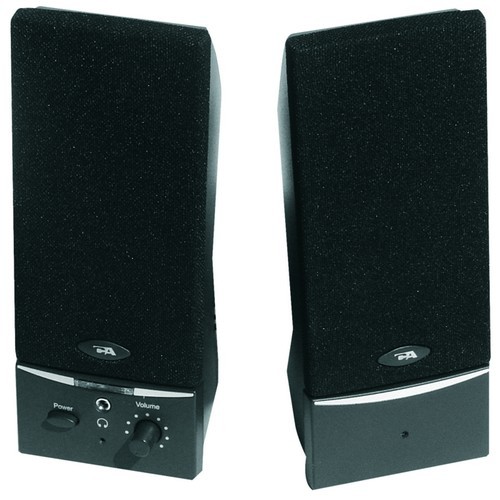 This one's actually pretty clever, since these speakers are actually 100 percent functional. You can plug them into a computer or anything else with a speaker jack, turn on the power, and presto! Working speakers.. it even has a headphone jack. Also, it has a little hidden surprise of a 380TVL, 3.7mm wide angle hidden camera that can even capture video in moderately low light (you will need at least one light source, like a TV or a nightlight). This analog camera will work with any traditional analog DVR, or a more recent DVR that has additional analog inputs.
Watch Camera with Sound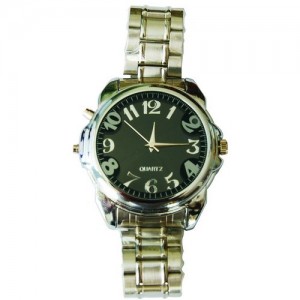 Like the pen camera mentioned at the beginning of this article.. this one is meant to be worn or carried on your person, though they could also be placed in an area, such as a desk or table, to record a specific event. Incredibly, the lens of this camera is hidden behind the number two! This color video camera watch has 4GB of built-in flash storage, a built in microphone, and a rechargeable battery, and it actually tells time!
And like the camera pen, video is recorded to the AVI video format… all you have to do to retrieve the footage is plug in the included USB cable into any USB port, with no additional software needed.
—–
And these are just a few of the covert camera options we carry. If you have any questions or would like further information, either visit our website at www.securitycameraking.com or call our toll free number, 1.866.573.8878