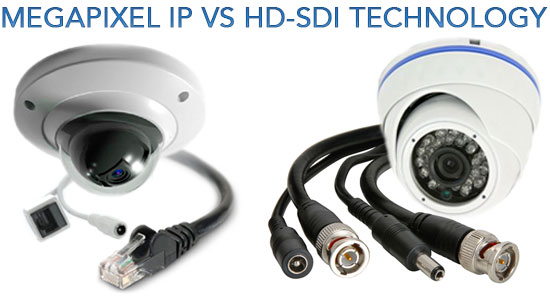 What is the difference between Megapixel and HD-SDI Security Camera Systems? We get many calls on a daily basis with customers asking whether or not they should choose one over the other. There are good and bad things about both. You should be aware that even though both systems can record at megapixel resolution, there are vast differences about both systems that you may want to consider before making your choice.
You will find many different debates between both surveillance systems. The easiest way to choose which system is best for your application is to take a look at these differences below:
Megapixel cameras are capable of recording on their own. They generally have all of the same features that you would find in the rest of our Digital Video Recorders (DVR's) and Network Video Recorders (NVR's). You will be able to set up one IP camera on its own, or set up a few of them without ever needing an NVR to record its footage. A lot of megapixel IP cameras these days have the ability to record onto a micro SD card. It will save you some money if you're looking to set up a surveillance system on a budget. However, you'll ask yourself, so why would anyone ever need an NVR? That's because in some application, you'll need more storage space. If you set up the cameras on their own, you're going to be limited to the amount you can record on a micro SD card. In turn, you'll only have the capabilities to go back and view a couple of days of recorded footage as opposed to a couple of months. Also, NVR's are generally going to act as a central hub for all of the cameras where recording each one on their own will make it harder for you if you're looking to view all of the cameras at once. With an HD-SDI system, you'll only be able to record the cameras if you're using some sort of digital recording software or hardware.
With an HD-SDI surveillance system, you're going to need to have all HD-SDI technology. Unfortunately, you will not be able to use your current DVR with HD-SDI cameras. They transmit a different signal through the wires.
Even though you may not be able to use your current DVR you will be able to keep your analog system wiring. This is a huge benefit for anyone who cannot re-wire their home or business. There are some situations where wires have been installed during the construction of a building and running new lines are near impossible without doing damage to the structure. In this case, it would be best to leave the wiring alone and upgrade your analog security system to an HD-SDI DVR and set of cameras. You'll then be able to get the benefit of recording at megapixel resolution instead of being limited to D1.
Even though it's usually not really noticeable, megapixel systems have a bit of latency. Latency is also known as lag. If you're viewing your video in real time, you may have a situation where you need to view the video exactly as its happening. Depending on how the network is set up, you may have a bit of latency (sometimes one second or more) and having an HD-SDI system will usually solve this issue when directly connected. You are then bypassing any network issues and recording the signal directly to and from the system without the inconsistencies of data packets being delayed.
Many people purchasing a new system have a limited budget to purchase their security system with. HD-SDI generally ends up costing more money than a megapixel IP system. The chip needed to process the video in an HD-SDI system is generally more expensive than the ones manufactured for megapixel. Price has dropped considerably in the past few years and megapixel systems have become way more affordable these days in comparison to the costs of HD-SDI hardware.
Even though an HD-SDI system is a bit more costly for the hardware, at the end of the day you may end up spending less because of ease of use. With a megapixel system, you may be stuck hiring someone with more of a technical background to set up your network and make sure that all of the cameras are connected correctly. Megapixel cameras each have an IP address and they all need to be set up correctly onto your NVR in order to begin recording each camera. You will end up having to choose between directly powering your cameras with a power supply or whether you want to use Power over Ethernet (POE) to power each IP camera. If you choose POE, you'll have the benefit of just running one Ethernet cable for each camera all back to a POE switch, and then from there back to the NVR. This is where things can get confusing for most people who don't deal with this type of network setup on a regular basis. Once you factor the cost of hiring a network technician, you may end up spending more money. However, with an HD-SDI system, every component is basically plug and play. You won't need to worry about setting up each camera individually and at that point, running the wires will be your most difficult task.
 One last thing you'll need to consider is the reliability of your new surveillance system. If you ever have your DVR or Hard Drives fail on your HD-SDI DVR, your whole system will go down. You will no longer be able to record anything that's happening on your property. However, if you're using an NVR for your megapixel system and it crashes, at least you'll have the peace of mind that you're cameras are still capable of recording everything that's happening for the next couple to few days depending on what type of memory card you have installed in each camera.
It seems that there are quite a few things to consider when trying to decide on HD-SDI VS Megapixel. If you think about it, it's really not that hard of a decision to make. Personally, I would choose a megapixel IP system over an HD-SDI. It looks like the future is pointing to megapixel over HD-SDI because of all the added benefits between costs to reliability. Please keep in mind that HD-SDI still has its uses though. There are definitely some instances where it will be a benefit over a Megapixel IP system.