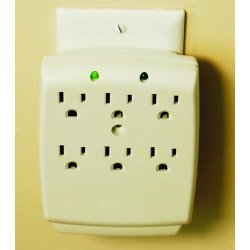 Why would anyone want to have an electrical outlet camera? That's precisely what you'll want people to think. That's what makes the electrical outlet camera so ideal for covert digital video security and surveillance applications.
Half the battle of creating a great, undetectable or covert digital video camera system is having the technology to produce a camera and Digital Video Recorder or DVR small enough to be concealed or disguised in other objects. The other half of the battle of design is finding an object that is so common that the object itself goes unnoticed.
Enter Security Camera King's "Electrical Outlet Hidden Camera with DVR and 8GB SD Card."
This electrical outlet camera is actually a collection of technological innovations and it's not only a camera but a mini digital video security system all in one. There is only one thing this unit won't do; IT WILL NOT FUNCTION AS AN ACTUAL ELECTRICAL OUTLET. But what it won't do as far as the outlet is concerned, it more than makes up for in the .
hidden security camera department
This electrical outlet camera has the appearance of one of those outlet devices that plugs into both outlets on a wall plate, splitting them into a total of six different outlets with ground receptacles. Although the unit does not function as an electrical outlet, it does derive its power from the actual outlet it is plugged into.
The outlet contains a digital video color security camera with a resolution of 380 TVL. In addition it features automatic motion activated recording, scheduled recording, and remote control operation. The recording features include a "time and date stamp" for further documentation accuracy.
The electrical outlet camera's built in DVR offers plenty of features too. The DVR records to SD card media so the recording capacity time is dependent on the size of the card. An 8 Gigabyte (GB) SD card is included which allows you to record up to 144 hours of video AND audio. However, if that's not enough, purchase your own additional SD card(s) with a greater capacity (a 16 GB SD card for example) and extend your recording time to up to 288 hours.
The built-in DVR in this electrical outlet camera uses the MPEG-4 CODEC. A Compression/DECompression utility or CODEC is used to compress large digital video files into smaller ones without losing a significant amount of quality. Digital video security cameras actually create their video footage by taking several digital photographs in rapid succession. When played back in rapid succession these photographs fool the human eye into seeing a fluid motion video. Motion video can be created with as few as 12 photographs (also known as "frames) taken every second up to as many as 30 frames per second or fps. The following lists the approximate maximum recording times based on the use of the included 8 GB SD Card:
Resolution at 640 x 480 and 12 fps
• High Quality–approximately 8 hours recording time.
• Medium Quality–approximately 48 hours recording time.
• Low quality– approximately 72 hours recording time; and for
Resolution at 320 x 240 and 30 fps
• High Quality–approximately 16 hours recording time.
• Medium Quality–approximately 96 hours recording time.
• Low Quality–approximately 144 hours recording time.
Once you have finished recording, pull out the easy-to-remove SD card and download the digital video files right to your personal computer where you can view, copy, and/or archive the files. For some computers without a multi-media card reader, you may be required to purchase one of these for your computer.
But that's not all! The included miniature DVR is more that just a recording device, it can play back the files as well. If you don't have a computer, you can still view your captured color digital video by using the included RCA cable to connect the unit to your television.
This electrical outlet camera is great for use a home or office security or surveillance camera. Since the unit is totally self-sufficient or a stand alone, that it, it doesn't require any other devices to work, it can be used in a variety of applications. Retail store merchandise monitoring, employee monitoring in the office, as a nanny cam in the home, and warehouse monitoring are just some of the possible uses for this device.
Check out our product number HC-OUTLT-DVR or go to http://www.securitycameraking.com/electrical-outlet-hidden-camera-with-58962-prd1.html for more information.