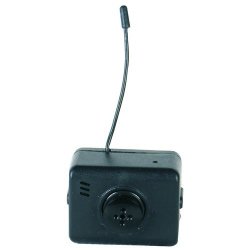 So you feel comfortable now that you have a baby monitor camera so you can keep a watchful eye on your infant any time you want to.   But in this day and age, that's really not quite good enough.  That's because not only do you need to keep and eye on your baby, but for complete piece of mind, you need to keep and eye on the nanny as well.  The best method for doing that is to install one or more hidden nanny cameras.
There is nothing special about a nanny cam except the name.  Of course they are called nanny cams because the soul object of having them in the first place is to keep a watchful eye on the nanny.  And you can do this covertly or overtly.
Should you choose to watch nanny covertly, it will most likely be best to do it with a hidden nanny camera.  Security Camera King has a huge inventory of hidden cameras-cameras that make great nanny cams.  Whatever camera(s) you choose, they will need to be hooked up to your Digital Video Receiver or DVR or broadcast over the Internet to a Network Video Recorder or NVR.  Should an inappropriate act occur, you will have it recorded for future use as evidence.
You could purchase an IP (Internet Protocol) ready camera.  This would allow you to monitor the camera via the Internet while you're at work.  Just a quick click to access an Internet browser and you can see what the camera is seeing in real time (live).
However, there's an even better method thanks to Security Camera King's DVR design.   Mount the hidden cameras in the room(s) that you think are best to monitor.  Connect the cameras to your DVR.  Connect your DVR to the Internet and you can view ALL or your cameras.  That's because each one of Security Camera King's DVRs is IP ready themselves and include their own web server technology.
Do you have an employer that won't let you use your work computer for personal use (like viewing the hidden nanny cameras)?  That's no problem with Security Camera King's systems because anywhere you can pick up broadband Internet you can also monitor your cameras and that includes using your 3G or 4G smartphone!
Security Camera King has a wealth of hidden cameras.  Although not every type of hidden camera can make a good hidden nanny camera.  The following list is some of the hidden cameras that Security Camera King sells that would make good hidden nanny cameras:
420 TVL Motion Detector – this works especially well if you already have a burglar alarm installed.  This unit looks like a stand motion detector but in reality is a 420 TVL hidden camera
420 TVL Smoke Detector – the smoke detector isn't functional but the camera is!
420 TVL Pinhole Security Camera – You can hide this just about anywhere
400 TVL wired Phillip's head screw
Desktop Speakers – they look like typical personal computer speakers
Wall Clock – almost impossible to detect the camera
Alarm Clock – This works well anywhere but is especially suited for use in bedrooms or babies' nursery.
Wall Clock with Humidity and Temperature readings – Looks great, all of the clock functions work, and like the wall clock mentioned above it's almost impossible to detect the camera
Cordless House Phone – The phone works and so does the camera, hidden in the base unit
Suspended Animation Clock – The clock is quite the novelty item. The camera hidden inside is quite the hidden nanny camera
CD/Boombox – Nanny can listen to some music and have her picture taken at the same time
Heater Thermostat – looks like a typical heating/cooling control
CD Clock Radio – Like the alarm clock above this is especially well suited for bedrooms and even the nursery.
There are several more hidden or disguised cameras that do the job, but listing these at least gives you a good idea of what kind of hidden camera makes a good hidden nanny camera.  If you have additional questions on hidden nanny cameras check our catalog pages for hidden cameras (http://www.securitycameraking.com/wireless-hidden-cameras-253-ctg.html for example) or contact one of our security experts either via Live Chat or telephone at 866-573-8878.