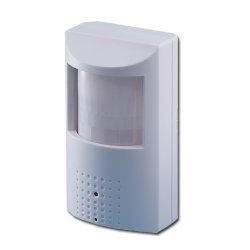 Security Camera King has a full selection of hidden camera equipment to satisfy your needs.  Modern technology has resulted in a tremendous variety of disguised and hidden camera equipment.  As a matter of fact, the smallest hidden camera that we offer for sale is the size of a Phillips head screw!
How does hidden camera equipment work?  The following is a brief explanation.
First the camera must have a lens.  The lens's duty is to gather the light reflected by the objects in its field of view and focus them onto a sensor chip no larger than 1/4 to 1/3 inches square.  Most often but not always, hidden cameras use 3.7 mm wide angle lenses.
The sensor chip is the key factor of a digital camera.  There are two different types of sensor chips and although they both work a little differently, the both produce the same result, electrical impulses that can be measured and used to create a digital video image.
The two sensor types that do this are either the Charged Coupled Device or CCD or the Complementary Metal Oxide Semiconductor or CMOS.  Without at least one of these sensors, the camera just wouldn't be possible.  You can see that since the lens and sensor chips are so small they can easily be packaged in such a way that no one would suspect the hidden camera.
However, there are some electronic components that are required but these are normally wired in small Integrated Circuit (IC) chips which take up very little space.  One of these chips is an analog to digital converter.  Ironically the signal up to this point has been an analog signal and the analog to digital converter changes it to full binary or digital data.
Once the data has been finalized it is sent to the Digital Video Recorder or DVR.  The DVR differs depending on the type of camera.  Some cameras are hardwired to the DVR via a coaxial video transmission cable and others have their own on-board miniature DVRs that normally save their information to either on-board memory or portable media such as SD cards, Thumb flash drives, and the like.  The latter case allows for complete independence (and makes for great hidden camera equipment) for the camera; in other words it is self-contained and needs no wiring.  These units also usually operate on one-time-use or rechargeable batteries
So, with the above in consideration we can categorize hidden cameras and hidden camera equipment into two different categories.  One where the camera is wired through to a digital video system's DVR; and standalone (and usually portable) self-contained units.
Security Camera King offers a full line of hidden camera equipment including the two categories mentioned above.  It would be a bit tedious to mention any properties or features of these cameras in the space that we have in this article.  But to make you aware of the vast supply Security Camera King has, we will list the different cameras that are available representing both categories we have previously mentioned.
Hidden Security Cameras
420 TVL Motion Detector
420 TVL Smoke Detector
420 TVL Mirror
420 Pinhole Security Camera
Fire Ceiling Sprinkler
Hidden Stick
Hidden Pen
Wired Button Camera with extra matching buttons
Phillips screw head
Hidden Wristwatch Camera
Desktop Speakers
Exit Sign
Wall Clock
Wired Alarm Clock
Wired Wall Clock with Humidity and Temp
Wired Cordless House Phone
Suspended Animation Clock
CD/Boombox
Wired Emergency Light
Wired Thermostat
Wireless Hidden Cameras
These cameras transmit their video data via an on-board transmitter to a corresponding receiver.
Button
Screw
Baby Monitor Stuffed Puppy
Motion Detector
Wall Clock
Exit Sign
Desktop Speakers
Vanity Mirror
Carbon Monoxide Detector
Wind Tunnel Fan
CD/BoomBox
Utility Box
Air Wick Air Freshner
Tissue Box
Smoke Detector
Emergency Light
Wall mirror
Hidden Camera Systems
Portable Cigarette Lighter
Mini Desk Clock
Sunglasses
Key Chain
Small or Large Spot Light
Motion Detector
Rearview Mirror
Electrical Outlet
Air Freshner
Air Purifier
Exit SIgn
Wall Clock
Alarm Clock
Boombox
Desk Lamp
Check out Security Camera Kings hidden camera equipment Web pages for more information or contact one of our security experts if you have any questions.