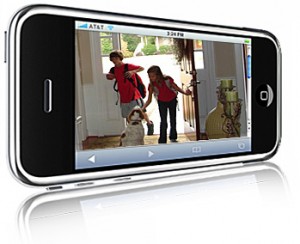 iPhone security camera systems are digital video security camera systems that an be viewed or monitored using an iPhone or other brand smartphone and smartphone technology. These systems offer not only the peace of mind from knowing your property is constantly monitored, but also the versatility of allowing you to view the cameras from anywhere your iphone operates.
In order to understand how this process works, let's first review a standard, non-iPhone compatible digital video security system. A standard system consists of one to many cameras, a Digital Video Recorder or DVR, and a monitor.
The digital video cameras capture the video image and send it to the DVR for processing. The DVR normally contains circuitry that employs a utility called a COmpression/DECompression or CODEC program. The purpose of the CODEC is to reduce the size of the large digital video file to make it easier to handle while maintaining the quality of the picture. The digital video file can be viewed on a monitor in real time (live) and/or saved on the DVR.
The difference between a standard digital video security system and an iPhone security camera system is that the iPhone security camera system is normally networked over the internet. This can be done in a myriad of ways but the end result is usually the same; the video and/or audio signals are sent over the internet and can be viewed using either proprietary software or a standard web browser on the iPhone.
A typical example would be a home digital video security system that uses IP ready cameras. IP or Internet Protocol ready cameras are cameras that can be connected directly to the internet. They may use a typical CAT-5 Ethernet cable or wireless WiFi technology to connect to the internet via your home router and broadband internet provider.
IP ready cameras contain their own circuitry and programming to support their own web server. Therefore, once the camera is connected to an internet connection, it automatically logs on and begins transmitting over the internet. This process isn't limited to cameras only, as there are many DVRs that also contain internet server technology that can basically do the same thing and display all the cameras of a system.
Here is a step by step account of how to use an iPhone security camera system with an IP ready digital video camera and an iPhone. It is assumed that both the camera and the phone are on and operating:
1) On the Apple iPhone, open the Safari web browser.
2) Enter the IP address of the camera into the address field of the Safarie web browser. (The camera will contain instructions that will tell you how to determine its IP address.)
3) View the live video feed on your phone.
It's that simple. In fact, this process is not limited to the Apple iPhone but can be utilized by any 3G smartphone with a web browser. Not only can the cameras be monitored by using a 3G type phone, but they can be monitored using any computer with internet access as well.
In addition, iPhone security camera systems may utilize various types of cameras, providing that the cameras or the DVR is IP ready. Indoor, outdoor, wireless, infrared, Pan-Tilt-Zoom or PTZ, day/night vision, baby monitor, and just about any type of camera can be used. Even older analog Closed Circuit Television or CCTV cameras can be monitored if they are connected to a server that converts their signal to digital and then sends it via the internet.
Further more, not only can iPhone security camera systems cameras be monitored using an iPhone, but if they contain other functions (such as PTZ) they can even be controlled using the iPhone.
If you are looking for an iPhone security camera system that is right for you, contact one of our security experts today. You can contact them by utilizing the "Live Chat" feature at the top of the page or by telephoning us at 1-866-573-8878 Monday thru Friday from 9AM to 6PM EST.