License Plate Camera Setup
Hello everyone, and thanks for checking out our "how-to" guide on Licence Plate Camera Setup for our Licence Plate Recognition series IP cameras! First, a bit about us, who we are, and why you should trust our guides!
Security Camera King is your #1 Source for online CCTV hardware news, how-to guides, and of course equipment purchases. While all of our guides and setups are specifically designed around the hardware we sell can and carry, it's still good to review the info we present as in many cases it can apply to any CCTV or IP camera setup. However, ultimately its important to know that we are designing these for use with our own cameras, and recorders. That means that not every menu item you see will line up with a third-party hardware manufacturer feature,s options, settings, or even the verbiage they use to describe them.
If you're not currently a Security Camera King customer know that we offer world-class lifetime technical support on any of our purchases. We have a team of technicians standing by to assist and help whenever there is a problem, just chat in or give us a call. We also have a youtube channel and article resources here on the website for providing as much information as we can. ultimately, if you're extremely new to CCTV we recommend first talking with one of our Sales Pros before making any concrete purchases. We are always willing to take the time to listen to your security and CCTV needs and goals and provide adequate hardware recommendations which will meet and exceed your expectations. Our goal is to make sure your security goals are met.
With the formalities out of the way, let's talk about the process for our Licence Plate Camera Setup, starting with what a Licence Plate Recongitooin Camera is!
A Licence Plate Recognition Camera is a type of IP camera we carry at Security Camera King. They connect to a computer network and provide their data over a cat5e or cat6 ethernet cable to an NVR, or network video recorder. While many Analog, Digital HD over COAX, and IP cameras have been designed for the purpose of accurately recording license plates, none before these have been powered by AI and can actually 'read' the plates. That's what makes the Licence Plate Recognition Cameras so special. These cameras possess Artificial intelligence chips capable of not only grabbing a great shot of the licence plate, but reading the plate number and displaying it as well When used with an NVR with ANPR, or Automatic Numbered Plate Recognition, they can even store and compare plate captures to plate databases. Allowing you to set up black lists white lists, and find plate-specific footage much faster.
We have Included a Video Guide for the Setup of the Cameras which we Highly Recommend you watch alongside the setup process!
Firstly-This guide is for the setup of the camera post physical installation. Install needs to happen first, so, if you're completely unfamiliar with installing cameras on outdoor-typical surfaces such as wood poles, masts, concrete walls or more, we highly suggest you consider hiring an installer. Installation of Security Cameras and similar equipment often requires contractor-level knowledge of construction modification not recommended for novices. If you are planning on installing it yourself, make sure you have all the tools, and safety precautions checked off before you begin!
After The camera has been Physically installed, it's time to access it and set it up. It needs to Be initialized as well!
If you haven't already, you will need to initialize this camera using our Elite Config Tool, or by accessing its IP address directly from Internet Explorer. Here's a link to the video on initializing a camera if you need to learn more about this process
Initialization allows you to set up the camera for the first time, access it, give it an IP address and password, and view it from a browser.
Once initialization is complete, you can get to the camera's main menu by using a browser, and entering its IP address into the address bar from a PC connected to the same network as the camera. When you're logged in, we can begin the setup.
Usually, for first-time access, the camera will take you directly to the setup wizard, however, sometimes it will default to the live view. To get to the setup wizard, click the "guide" button seen here.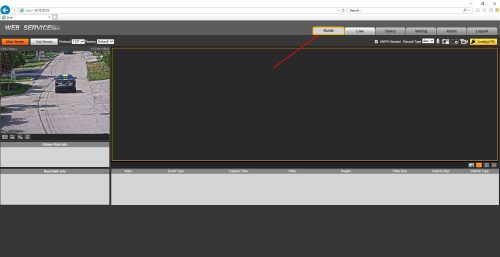 After this screen, you should see a new screen that double-checks that the firmware is for the prop country. For this, you can just click OKAY and move on.
Next, comes setting up the scene, We will be zooming in and setting focus so get your camera where you need it to be for your shot, and then when you're, do you can click next.
After This comes drawing our scene lines, and capture lines. The scene lines define the shape and direction of the road for the camera more clearly. This determines where the camera's AI will be focusing on finding plates. The capture line defines at one point within the scene lines a snapshot will be taken of the vehicle and plate.
Draw a red box in the shape of the road your shot is looking at, forming the angle of approach.  You may need to hit redraw first to clear the screen. Place a dot, then another dot and the lines will connect.
Once that's done we can hit the finish and save. Make sure to watch the video below to see the camera in action!
LPR Cameras In Action!
For more information on the LPR series cameras, what they're capable of, or if they're compatible with your hardware, give our sales pros a call at 5612885258!
Thanks for joining us today as we showed you our Licence Plate Camera Setup guide! If you need help still with your own Licence Plate Camera Setup, please call the number above or visit the live chat by clicking the icon at the lower right corner of the main page! Don't forget to like and subscribe to the video channel, and until next time- STAY SAFE!