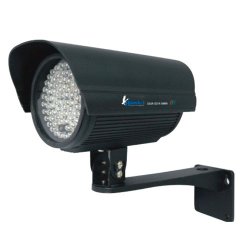 A security camera setup is incomplete without the best accessories. Many accessories can help your system perform at its optimum level. If you wish to keep your premises secure, and get the most for your dollar, we have the security camera accessories perfect for your system!
Instantly Upgrade Your Current System With Night Vision Illuminators:
One of the most popular and useful accessories is the security camera illuminator. This device allows your camera to function in pitch-black levels. These illuminators allow you to convert your current system into a night vision powerhouse.
Our best selling illuminator is the Weather Proof 250′ IR Illuminator. This powerful component will stay strong during any bout of harsh weather. Snow, rain, and fog will not hinder this illuminator's functioning. It has a 250ft reach with a 850nm wavelength. It's dual voltage powered and has 83 functioning IR LEDS. It will withstand any temperature, as it is fully operational at extreme subzero temperatures.
If you're conditions are a little less extreme, we also carry and indoor/outdoor illuminator at a low cost. The 100ft Indoor/Outdoor IR Illuminator works perfectly with any security camera system. This camera works best with dome cameras, and will function to illuminate dark spaces of the premises. With 114 extra strength LEDs, this mini illuminator is ideal for small and large spaces. It's long distance reach is also ideal for long hallways and corridors in offices or residences. Being a dome-fitting camera also allows it to perfectly illuminate corners and other hard to reach areas.
Protect Your System With Weatherproof Enclosures:
Rain, snow, and other natural elements can greatly inhibit your systems integrity. The perfect solution is installing a weatherproof enclosure to protect your hardware. The 10 X 12 X 6 Outdoor Enclosure is an ideal fit for those looking to protect their current system.
This weatherproof enclosure contains a tubular lock, gasket, hinged door, and turn latches. It is ideal for mounting all of your supplies in one safe and secure place. It is built with steel in order to prevent damage or vandalism. It's top-notch gasket is in place to prevent an accumulation of particles harmful towards your system. It's dimensions are 10 x 12 x 6 inches.
Security Camera Microphones Increase Protection:
A security camera microphone is the perfect accessory to dramatically increase protection. Our Powered Microphone is the best upgrade your system can receive, and it is available now at a low cost. This high powered device can be installed in seconds, and will add an extra dimension to your current system. It has a frequency of 100-5500Hz, and a range of over 30 square meters. This device will record everything you need to hear, all while being discreet and highly effective.
Surge Protection Keeps Your System Safe:
Your system is always at risk of burning out without the proper surge protection. Surge protection allows for an added layer of security against an overcharge of power, lightning, and other electrical mishaps. This accessory easily attaches to both ends of your coax cable, allowing for a drastic increase in protection. Your system is important and costly, and this low cost device will allow it to retain its integrity for years to come.
Reconfigure Your Current System With Upgraded Security Camera Lenses:
Changing the lenses on your current system can be highly beneficial. It will ensure that your system stays up to date and captures the best possible image. Changing lenses can be done simply and affordably. You can choose new lenses with Auto Iris for increased control over lighting conditions. From focal length to depth of field, there is a wide array of lenses available suitable towards your needs.
The 2.8-12MM VARIFOCAL AUTO IRIS LENS FOR PROFESSIONAL CCD CAMERAS is perfect for those wishing to beef up their current system. This high quality and low priced accessory is ideal for ramping up image quality. Don't be persuaded by the low cost, this lens stands proudly amongst the best in terms of image quality, focus, and depth of field. For larger camera systems, the 6-60MM VARIFOCAL AUTO IRIS LENS FOR PROFESSIONAL CCD CAMERAS and the 5-100 VARIFOCAL AUTO IRIS LENS FOR PROFESSIONAL CCD CAMERAS are also available.
Camera Mounts to Better Stabilize Your System:
A new camera mount can be the perfect accessory for your current surveillance system. If you need a replacement, check out the low cost Universal Camera Mount. This easy to install mount is perfect for nearly every model of camera. It can be placed indoors or outdoors, and will retain its strong composure on all surface types.
For more specific needs, there are numerous camera mounts available to better secure your system. The Ceiling Mount For PTZ-LX700L12X is perfect for the camera model of the same name. For other PTZ models, there is a host of options available. The POLE ADAPTER FOR Auto Tracker PTZ DOME SURVEILLANCE CAMERAS is ideal for those wishing to use their dome cameras on otherwise difficult places. You can now safely attach your camera to any pole in the area of your choosing. If you would like to mount your camera in a hard to reach corner, the Corner Mount for Auto Tracker PTZ Cameras is the ideal solution. This sturdy little device will turn any tricky corner into a secured area immediately. There are also PTZ compatible mounts for areas outside, on ceilings, and for trees. These PTZ mounts allow you the freedom to place your PTZ camera where you desire.
For other camera types, there are many variations on the mount available to suit your every need. Purchase a wall mount for your dome camera to provide extra protection and stability. Try one of our highly rated converters in order to secure your cameras in the most difficult of places. Wherever you wish to place your cameras, we have have the mounts available to help!
DVR Lockboxes to Protect Against Theft:
You cannot afford to lose your DVR system. Not only is the system costly, but all of the necessary footage is stored directly upon it. With one of our DVR Lockboxes, you can ensure your systems protection against natural elements, accidents, and theft.
Vandalism and theft are two common problems, which is why the 16 GAUGE STEEL SECURITY DVR LOCKBOX WITH FAN is perfect for your system protected at all times. This 16 gauge steel product is perfect for keeping your system intact, whether it's from predators or the ferocious weather outside. It comes with extra durable locks, two keys, and a fan to prevent overheating. The cooling fan and chords allow your machine to never be damaged during use or storage, and will also help against power surges during times of heavy use. There are rubber bumpers placed strategically throughout, in order to prevent against damage during placement. For those with a DVR system, there is a large version of the Lockbox available as well.
To further compliment your Lockbox, there are two wall brackets available for purchase. The LOCKBOX HORIZONTAL WALL BRACKET is perfect for keeping your DVR in an easy to reach location at all times. If you wish to have immediate access to your Lockbox while also saving space, the LOCKBOX VERTICAL WALL BRACKET is another fine choice. Both of these brackets mount easily into any wall surface, and will ensure your lockbox stays secure at all times.
Surveillance Camera Monitors For Continuous Protection:
A surveillance camera monitor can greatly aid you in your quest for complete protection. Ideal for large business where a guard is on watch, or for a store owner to place at his register, these monitors are custom designed for all wants and purposes.
For store owners, or for those who wish to keep an eye on a smaller space, the 17 Inch VGA LCD Monitor is the ideal solution. This product is compatible with all DVR types, and presents a widescreen view for optimal control. Its crystal clear clarity allows you to notice all of the pertinent details, and its small space allows for easy placement on any countertop. For a slightly larger screen, the 19 Inch VGA LCD Monitor is another fine choice. If you are looking for a large screen and the best clarity possible, the 22 Inch LCD Monitor with HDMI and VGA is available as well.
Adding to your current security system has never been easier. There are countless accessories available to help make your security system reach its full potential. Our website has a host of cables and connectors, allowing you to fine tune your equipment, or connect various systems together. Our replacement parts are shipped out quick, in order to keep your system running without a pause. Try out one of our battery packs for an increase in power and control. We carry power supplies for virtually all models and systems. If you would like help with installation, we are more than happy to provide it if you contact us. Whether you are setting up a system in your home, or fine tuning an existing system in a large office, our security camera accessories are sure to meet your needs.