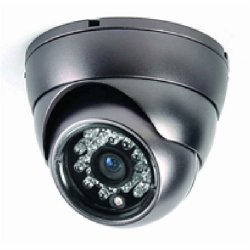 Security Camera King's (SCK's) OD-LX520IR50 Vandal Resistant Dome Camera is the featured camera for all of SCKs Ultimate series DVR complete package systems.  Although this camera sells individually for only $74.95, it's a very high quality high definition camera that produces detailed video and comes packed with many useful features.
The OD-LX520IR50 Vandal Resistant Dome Camera may be used indoors or outdoors and is rated at IP66.  The IP rating is the International Electrotechnical Commissions (EIC) standard for Ingress Protection; in other words it is a rating that grades the amount of protection that is afforded to the camera from weather and other elements.
A rating of IP66 means that the camera is dust tight and is completely protected against contact with dust.  In addition, the camera can withstand powerful water jets projected from a 12.5 mm nozzle against the enclosure without any harmful effects to the camera.
The OD-LX520IR50 is a vandal proof camera which means it has been designed in such a manner as to prevent as much mischievous damage to it as possible.  There are no exposed screws, the case is rugged and durable, and even the video transmission and power supply cabled can be run from behind the camera to prevent exterior exposure.
The camera is also a night vision InfraRed camera.  This camera can create crisp, clear detailed video images in total darkness and has a total darkness IR range of approximately 50 feet.  This is supported by the 23 separate IR Light Emitting Diodes (LEDs) that surround the camera lens and flood the camera's field of vision with IR illumination.  Although this IR illumination produces a bright, nice contrast video image, it cannot be seen by the human eye.
The OD-LX520IR50 also has back light compensation to automatically adjust for subjects that could otherwise be distorted to back lighting.  It also comes with auto white balance for proper contrast and brightness control.  The included lens is a small 3.6 mm/F2.0 lens.
For the technically inclined, we'll provide the following additional information.
The OD-LX520IR50 utilizes a SONY 1/3″ CCD with a horizontal resolution of 520 TVL (television lines).  It's signal to noise ratio is more than 48 decibels and its clock frequency is NTSC 28.636 MHz and a 2 to 1 interlaced scanning system.
The minimum operating illumination is 0 Lux because the camera is an IR camera that can operate in total darkness.  The 23 IR LEDs that surround the lens can provide a working range up to 50 feet, but greater lengths can be obtained using additional IR illuminators.  The IR mode begins working when the ambient light dims to less than 10 Lux which is detected and then IR is initiated by a CdS (Cadmium Sulfide) cell (i.e. photocell).
The camera has an internal, negative synchronous system with a Gamma rating of 0.45 and an auto electronic shutter speed range of from 1/60 to 1/100,000 of a second.  It has a video output of 1 volt peak-to-peak at 75 ohms with auto gain control.  The camera operates on 12 Volts DC with a draw of 300 mA (this includes the IR LEDs).
The camera is small, compact and light weight.  The camera dimensions are 3.7 x 2.7 inches at weighs just under one pound (15.9 ounces)
The OD-LX520IR50 is durable an can operate within a fairly large temperature range.  The camera has been field tested for storage only at temperatures ranging from -22 degrees F through +140 degrees F and has a significant operating range of from 14 degrees F through 113 degrees F.
For more information and customer reviews check out the OD-LX520IR50 Webpage at http://www.securitycameraking.com/520tvl-indoor-outdoor-vandal-resistant-57813-prd1.html or contact on of our security experts via on-line "Live Chat" or by telephone at 866-573-8878 Monday through Friday from 9AM to 6 PM EST.