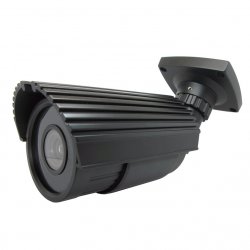 There are basically three types of digital video cameras:  1) The dome camera; 2) The box camera; and, the bullet security camera.  In this article we are going to focus our attention on the bullet security camera.
The bullet camera is versatile in its own way as a matter of function of how it is made.  In other words, there are some features on bullet security camera that are definitely beneficial that come as standard on bullet cameras that may require extra charges to have on other type cameras.
For example, just about every bullet security camera is indoor/outdoor; no special housing is required as it comes already housed.  This is a money saving feature compared to a box camera which requires that you buy a separate housing.  Many bullet cameras are set up for infrared video imagery and that includes the InfraRed Light Emitting Diodes or IR LEDs placed in an array around the lens; again standard feature for a bullet camera.
One downside to a bullet camera is that they are not vandal proof.  That is, they can easily be repositioned, so you must consider at what height and location you'll want to install the bullet security camera.
Security Camera King has a wide range of bullet security cameras from 420 TVL to a whopping 700 TVL that provides the industry ultimate in resolution.  These cameras are normally encased in a metal housing (usually aluminum), come with their own board lens (factory installed and fixed to the circuit board), are infrared ready, and usually have anywhere from a few to 23 or more IR LEDs scattered in an array around the lens.
We have a total of eight bullet security cameras on our bullet camera page.
As you can see there is a wide range of bullet security cameras to choose from at outstandingly low prices.  These cameras are pretty versatile when you consider the features and options that are available.  The cameras are all weatherproof but they are all indoor cameras as well.
If you are interested in purchasing a bullet security Camera or need more information about it, contact one of our security experts today via "Live Chat" or telephone at 866-573-8878 Monday through Friday from 9AM until 6PM EST.