The security camera market today is a quickly evolving field with a multitude of camera styles and features to choose from. For beginners, this can be initially confusing especially when looking to purchase a multi-camera system. What features are most important, or more to the point, what features will be most important for your security needs? This article will attempt to help illustrate some of these security camera features with the help of some demonstration videos and graphics to help give you a better idea what features to consider when purchasing a security camera system.
1) Video Resolution

One of the first and most important things to consider when selecting a security camera is the video resolution. Older cameras used standard definition analog resolution and many cameras still made today also use this format. Due to the older technology, analog cameras do tend to be less expensive and offer the ability to record for much longer time periods while using far less memory / hard drive space. But, analog cameras do lack the fine detail that high definition cameras have. Megapixel, or High-Definition recording, generates an image that is several times larger than analog, which allows them the capability to capture far greater detail, including faces, tattoos, and other minute details that could be important if the footage has to be later used as evidence.
The higher the megapixel value of the camera, the more detail you'll be able to discern from the footage. Keep in mind, as the resolution size increases beyond 1080p, the maximum frame rate will decrease. This is because each frame rendered at an extremely high resolution uses exponentially more memory and network bandwidth to encode.
This video will give you an idea of how the different resolution sizes and frame rates compare to each other.
For instance, a 2 megapixel (1920 X 1080 pixels) high definition security camera can easily record at a full 30 frames per second, but a 5 megapixel (2560 X 1920 pixels) camera will max out at 12 frames per second. Note: Higher megapixel cameras can also be set to lower resolution settings, with higher frame rates, if necessary.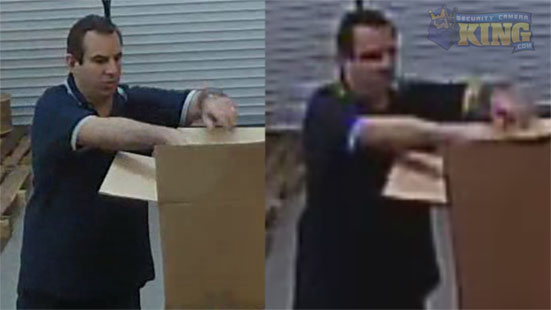 Side by Side – 3MP vs Analog cameras @ approx. 20 feet away, digitally zoomed on both to show detail
Camera resolution will also factor into how much hard drive space you'll need to archive your footage. The higher the resolution, and the more cameras you install, the more hard drive space you'll need inside your DVR. Fortunately, most DVRs have the capability to hold several hard drives for storage. An easy way to figure out exactly how much hard drive space you'll need for any given number of cameras is by using our Online Hard Drive Calculator


Screenshot of the CCTV Hard Drive Calculator
2) Infrared Mode
Some security cameras have a built in ability to see in complete darkness using infrared light. The way this works is infrared lights that surround the camera lens send a strong beam of infrared light (which is invisible to the naked eye).
These infrared LEDs switch on automatically when the lights are turned off or when the sun goes down and not enough visible light is hitting the camera's image sensor. Some of that infrared light beaming out of the camera bounces back when it hits an object and that residual infrared light is captured by the Infrared sensor, which is usually directly above the lens of the camera. IR images usually lack color, but allow small, important details to be seen clearly.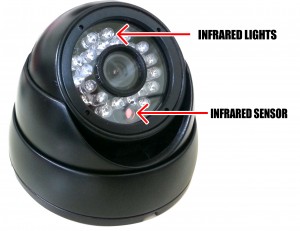 The higher the IR rating of the camera, the further it can see into the darkness. For instance, a camera with an IR of 50 can see 50 feet, an IR of 250 feet can see 250 feet, and so on. NOTE- Be careful not to install a camera too close to another object, especially when installing a PTZ with infrared lights. This can cause the camera's IR sensor to flood and will end up washing out any detail.
3) Lenses – Fixed, Zoom and Interchangeable Lenses
Many security cameras have static, fixed wide angle lenses, and are only intended to be used to capture an overall view of the environment. Varifocal lens cameras have the ability to go from a wide angle to a closer shot, and can be sometimes be controlled though the interface of a DVR or NVR, through a web browser, and others. However, most varificol cameras have a manual zoom and focus that need to be adjusted at the camera.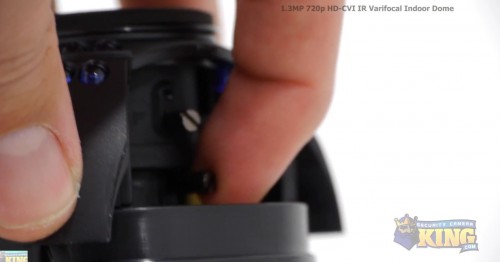 Some varifocal cameras need to be manually zoomed and focused. These controls are usually found near the lens. On dome cameras, it's usually necessary to remove the protective dome to access these controls.
Interchangeable Lenses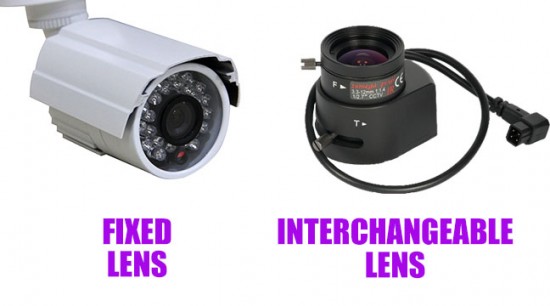 Fixed Lens vs Interchangeable lenses.
There's a style of security camera that uses external interchangeable lenses rather than built in lenses. These are called "Box Cameras". The lenses for these cameras can be purchased separately and are screwed into the front port on the camera.
The advantage of these cameras is that they can allow for exceptional zoom capabilities when paired with certain lenses, but they must be zoomed and focused manually via control knobs on the side of the lens.
This style of camera is also designed to be installed inside an outdoor camera housing, which protects it from the weather and supplies a cooling mechanism, and has a port for power.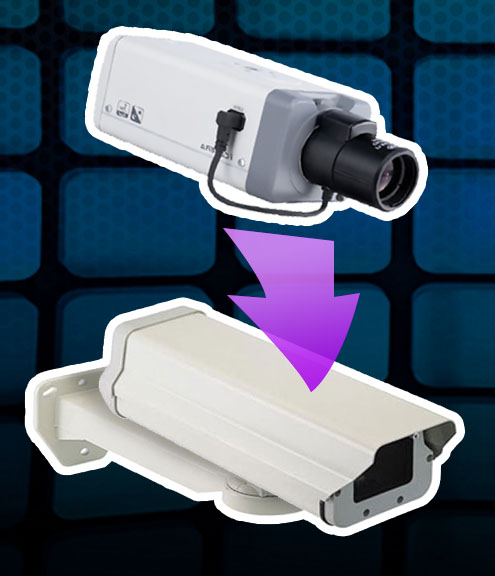 Box cameras can be easily added to a protective housing for outdoor use.
4) Pan-Tilt-Zoom
If you need to record an area where on-the-fly camera movement will be a necessity, and you don't want the hassle of having to manually adjust, zoom and focus the camera, then a Pan tilt zoom camera is the best option. These cameras are typically rather large, so if you're looking for a small, easily hidden camera, they may not be the best option. But, in terms of overall breadth features, Pan-Tilt-Zoom cameras (or PTZ's) are truly state-of-the-art.
Here's an example of a PTZ camera in action.
Due to their range of movement (which typically 360 degrees horizontally and 90 degrees vertically), PTZ cameras have an ability other security cameras are incapable of, such as the ability to detect and track movement.
Parameters can be created within the interface of your NVR such as a virtual trip wire drawn within the software in front of a doorway, as an example. When that invisible line is crossed, the camera will follow that movement until the person or object goes out of frame.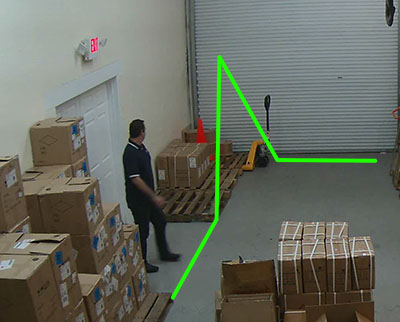 A user can create a virtual tripwire, so anything that crosses the line causes the camera to start tracking that moving object.
Additionally, parameters can be set to tell the camera what movement or areas within the camera's view to ignore while it's tracking movement, such as windblown trees, clouds, or small objects such as birds. All of these might trigger the camera to start tracking otherwise.
You can also set a PTZ to look around a given area on a predetermined scan cycle, and these cameras typically come with several of these cycles pre-programmed into the camera itself.
5) Wired versus Wireless
Many people have asked us why we cannot recommend a wireless security camera. The answer is simply that the battery technology needed to make wireless security cameras viable isn't quite there yet. Cameras need a constant, reliable source of power, and there hasn't yet been a battery designed that can run a security camera for days or weeks on end. So, for the foreseeable future, wired security cameras will be the standard.