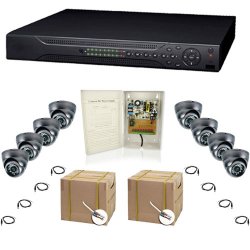 Video security systems are fast becoming the "wave" of the future.  Not only can they document events as they occur, but with Internet technology and other electronic technology advancements, they can even act as burglar alarms and alert you when possible illegal events occur.
A basic digital video security system is a component system that consists of three major components:
1)    One to many cameras;
2)    A DVR or Digital Video Recorder; and,
3)    A monitor or monitors
The system operates in the following manner.  The digital video camera converts light energy into electrical energy which can be measured and is used to create digital video data.  This data is sent to the DVR.  As previously mentioned, the DVR is a digital video recorder, just like the hard disk drive or HDD of a personal computer.  However, in security camera systems, the DVR normally contains a processor, just like the processor in a Personal Computer or PC.
However, the processor in a DVR is a highly specialized piece of electronic circuitry.  Unlike the PC processor, the security camera DVR processor is manufactured to handle specific functions of security camera systems such as digital video file production, camera control, and recording of digital video files.  It uses a specific utility called a COmpression/DECompression or CODEC program to process the digital video file from the digital video data sent to it by the video camera.
Digital video is basically nothing more than a series of rapid digital photographs taken in rapid succession.  Typically, high quality digital video is about 30 digital photographs taken within on second, also referred to as 30 frames per second or 30 fps.  When you think of the file size from just one high quality digital photograph, you can imagine how enormous a digital video file that takes 30 fps for 24 hours could be.
That's why the DVR's processor uses a CODEC to create the digital video file.  It uses special programming that shrinks the size of the file without sacrificing the high quality of the image.  CODECS change from time to time as different approaches and technologies make each CODEC better and more efficient.  One of the most popular and recent CODECs is called the H.264 CODEC.
The DVR in a video security system creates, processes, and stores digital video files that can be viewed instantly (live) on monitors or stored for later viewing on monitors or for archiving.  Many DVRs also have additional storage options such as CD/DVD writers or USB Flash drive connectivity to copy portions of video to portable media.  This may be necessary to give insurance companies, police departments, as evidence, etc.
The DVR may also contain other specialized features.  One common feature of many modern DVRs is internet connectivity.  The DVR may contain its own web server technology and programming so that it may be connected to any broadband internet service and instantly become accessible anywhere in the world there is broadband internet accessibility.
Most DVR and security camera systems come in 4, 8, or 16 channels.  This means that the DVR can handle 4, 8, or 16 separate camera inputs at one time.  Security systems requiring more than 16 cameras simply use additional DVRs to expand the number of cameras needed.
Highly specialized security cameras may have highly specialized DVRs.  Portable systems, systems that are used for a small amount of time, systems that have self contained cameras and DVRs all in one unit may utilize different digital storage methods for the DVR.  For example school bus DVR and security camera systems often use a Compact Flash Card or similar portable storage medium instead of a full sized hard disk drive as the DVR.
Is a DVR necessary in a security camera system?  No, not necessarily, but a system with just a monitor and no DVR will not be able to record the video so that it may be reproduced for later use.  A baby monitor is usually a good example of this.  On the other hand, a retail store facility would not realize the full potential of protection without a DVR and security camera system.
Other DVR and video security systems' functions pertaining to the DVR may include audio recording, various output display resolutions as well as connectors, remote control, e-mail and smartphone notification, and mouse and/or keyboard control.