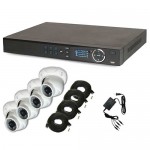 As the rate of crime rises across businesses around the world, more and more businesses are turning to a security system to make sure they are taken care of on a continual basis. Beyond just a security officer on patrol, businesses have learned that they need something more intense that is not too sensitive. Criminals know how to scope out a business that has issues with their security, which is why security cameras enter into the picture for a lot of companies.
Home surveillance systems are extremely popular in today's society. You can choose from any number of sizes and types to meet your specific needs. There are wired cameras that are small enough to fit inside of a speaker, smoke detector or a typical wall clock. The various types of wires are much more flexible and they can be placed just about anywhere you can think of. Wireless systems are a fabulous addition to a home or business located within an area where a thief may not even begin to look.
It doesn't matter if it is for your home or your business, having a wireless security system in place is an excellent way to help monitor your videos from a remote location. These systems are similar to using your wireless network or IP address to help monitor what is going on around your property. They have proven to be an excellent way for people to monitor their belongings whenever they are on vacation or away from town. Some of the Internet systems will send you an email alert letting you know that there has been motion detected on the property, so you will always be in the loop.
On average, cameras are going to require a nine volt battery as a way of providing them with the power they need to run wirelessly. You can expect the battery to last an average of ten hours before needing to be replaced. Even though these cameras are relatively small in size, they are able to detect even the tiniest amount of movement through the motion activated sensors and the camera itself. Whenever the camera is triggered, it will automatically start the recording phase and begin to move any live footage onto your computer as well as any pictures it takes.
Digital cameras are a lot smaller in size, but they are just as capable when it comes to saving videos for an extended period of time. Since you are able to store the images on the system and edit them using your computer, they are extremely popular today. They also help eliminate the need for any records or tapes, which can take up an alarmingly large amount of space. Not to mention these tapes can become damaged when placed in an area that has a higher temperature than recommended. Digital security cameras are able to store a lot of information inside of their memory, which allows you to be able to monitor all of the video feed coming through.
Home security systems have been used for numerous years, which is why they have earned the reputation and popularity they have with business owners and homeowners everywhere. Over the years, they have become increasingly affordable and people have started to utilize them inside of their own homes. A security camera is an excellent way to be able to safeguard your property against any theft or vandalism. It will help to keep an eye on your possessions when you are not at home, as well as making sure the nanny is doing what they are supposed to when watching your children. They are extremely affordable and can help provide you with the peace of mind you have been looking for to ensure your home is protected, regardless of where you are at any point in time.
For detailed information, please contact us.