In today's world, you can't be too careful. This article will show you how to hide your DVR in order to prevent anyone from stealing it. If your DVR is stolen, your surveillance system is pretty much useless unless you have some sort of backup. There are many different ways to conceal your DVR so that a burglar cannot do any damage to it or steal it in the case of a break in or vandalism. Usually criminals that know they're being videotaped will try to either destroy the security cameras or destroy the device they're being recorded on. Make sure you're ready for it and one step ahead of them so that you can still have your evidence if any of this should occur.
DVR Lockboxes
---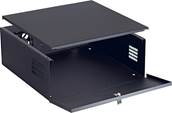 One of the main solutions that most people inquire about is a DVR Lockbox. A lockbox can be any type of enclosure made for a Digital Video Recorder so that someone can't simply take it and run off with it. It's also useful for keeping people from being able to shut it off or access the main settings and can even keep people from deleting the footage on the recording device. You must make sure that very few trusted people have access to the keys of the DVR Lockbox so that if any changes need to be done to the device, its being done by someone you know won't delete important evidence. Many DVRs these days can be accessed remotely so that no one actually has to touch the physical device and the trusted people or person will have a login for the DVR with restrictions on what settings they can access. The Lockbox is also great because it will protect the DVR from any vandalism. My suggestion would be to bolt it down to some beams in the wall to make it much more difficult for anyone to get to it or move it.
Hiding Your DVR
---
Some people decide that they are not going to spend the extra money to purchase a lockbox. That is not a problem so long as you have a really good spot to hide the DVR so that no one will find it. Some homes or businesses will have a secret location or compartment created by the owner where you can hide the DVR out of sight. A lot of times a burglar won't have much time to search for a device and will want to get out of the location they are robbing as quickly as possible. Especially if you double up your surveillance system with an alarm. We have heard of many great ideas. Here is a list of a few places that may be a great hiding spot for your security camera recording device:
1. The Ceiling – this can be a drop ceiling, or even an attic. Just be aware of the temperatures because some hot temperatures have the ability of damaging the hard drive in the device.
2. In Walls – I have seen some homes which have been modified with false walls, or even a locked safe inside of a wall that can be covered by a picture frame to hide where the device it hidden.
3. Hiding your Security DVR in a Closet – Hide the DVR in an uninteresting closet. Sometimes this can mean putting it up on a high shelf in a closet with some clothing or boxes in front of it. Just make sure the wires are hidden as well that are coming into the back of the DVR.
4. Hiding your DVR in a Basement or Cellar – If you have some sort of underground storage in your building, you can make an area in a basement or cellar that would be perfect for hiding a DVR. Especially if these areas are only used for storage, there will be a lot of stuff in front of the DVR that will hide it such as old boxes.
5. Cabinets – Some companies manufacture in-wall tilt-out steel cabinets.
False or Decoy DVR
---
One of the best solutions, in my opinion, for hiding the digital video recorder from your surveillance system is to have a decoy or false DVR available to the burglar. Many people are currently upgrading from older analog systems to newer digital IP systems. In turn, you're left with a DVR that is no longer being used and the first thought that people have is to get rid of it by selling it or giving it away. If you have an extra DVR, set it up in a place that is not hidden, with some wires fully attached. This way if someone breaks into your location, they will take that DVR thinking that they are smart and have stolen all of the evidence when in reality, you have a hidden recording device tucked away in another room or location as mentioned above that no one else has access too. They will quickly leave the location and you'll still have your evidence to show to the police.
Another solution is to look online and see if you're able to find a DVR that is no longer functional for one reason or another. You may even be able to go on craigslist or eBay and find a DVR that is really old and no longer being used by someone who would love nothing more than to get rid of it at a really old price. Some devices are even being sold online "for parts". This means that the DVR is no longer functional and they are only selling it for a user who has the same type of DVR but only needs it to farm out a part of the DVR that may still be of use. This would be a great solution because then you'll have a cheap secondary recording device that will not be a great loss if stolen.
Lastly, you can have a secondary DVR set up that is actually recording all of the footage from the first DVR. This also works if you have an external drive that you can send all of the data to on a regular basis. This way if the DVR is stolen or damaged, you still have an external hard drive that is storing all of the recordings. The SecurityCameraKing.com DVR's do actually have a feature that will allow you to back up the DVR footage through FTP and even externally to another USB hard drive attached to the system. The FTP feature is also a great solution because ultimately, if you had to, you could send back up of the footage to an external server that is stored in another location.