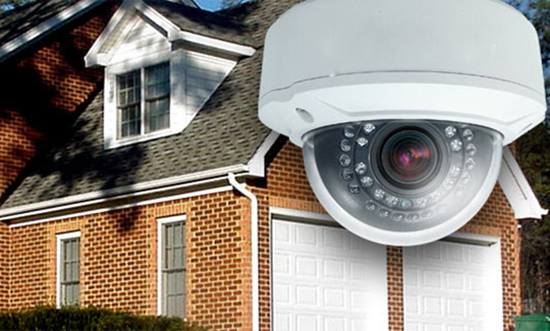 Installing home security has been seen as an important field of action that uses technology to provide protection around a person's home, while being controlled from tech support. These surveillance systems allow you to monitor your home and provide a safe environment for you and your family by using web browser on a computer or even a smart phone. The following is a brief listing of new ways that you are able to keep your home well guarded from different types of intruders.
There are many essential parts in a surveillance system. Some of theses include surveillance cameras, a DVR (digital video recorder), power supply, cables, and a monitor. The cameras are used to film areas that are under surveillance; however, the DVR is used to record footage and display live scenes through the monitor. The power supply, which is used to power the entire system, is connected to the digital video recorder. It is also possible to run the DVR through a power box and then connect the power supply to the box. There are many things that should be put in consideration when installing a surveillance system. However, one of the most important things someone should consider is the type of cameras that should be used.
If you are considering installing a video surveillance around your home, you should learn about the different types of cameras that would best fit any reason or situation you may have for possessing a surveillance system. There are a couple of features to consider when it comes to choosing from the variety of cameras for a surveillance system. The three main cameras choices that are most commonly selected include: dome cameras, bullet cameras, and box cameras. Dome cameras have low visibility, meaning they blend in well with their surroundings, and are always attached to ceilings. Bullet cameras are prominent and are obvious in their appearance as surveillance cameras.
After selecting which the appropriate type of camera, the next step is to choose where the cameras will be installed. Out door cameras would be in necessity of weather protection, but it is also possible to purchase waterproof surveillance cameras or protective camera housing. In indoor installation, cameras must be placed where they cannot be seen by other but still allow coverage of the area that needs watch. Bullet cameras are usually placed in corners of walls while dome cameras are less likely to be seen. After determining the areas where the cameras will be placed, the following step in installation.
Installation can be a complex process. It is a difficult process from setting up the wiring to placing the surveillance cameras in their position and the connection of all the equipment from the installation. Where you place the camera is important. The distance of the camera to the area you are focusing on should be given careful consideration and make sure it is clearly visible. You must make sure the camera is properly mounted so it will not shake or distort the picture or image.
For those worried about security, out door camera are suitable because they are used to prevent criminals from attempted robbery and break-ins. If you would want to know what happens while you are away, these surveillances may ease your mind. Video surveillance allowed you to monitor or record in personal areas. For example, parents may want to watch over their children while they are sleeping and lower risks of danger or even to catch a crime in your own front yard.
But before you install a security system in your home, you should be aware of the legal restrictions on video surveillance. If you are not aware of these legal aspects, you may potentially face charges. Knowing the laws of having a security system will lead us to finally installing the surveillance system.
It is important that the installation of the surveillance cameras is done properly. Poor installation will not get provide proper results you've hoped for. Some surveillance has motion detectors that activate once the gadget picks up any movement within the area.
Home security systems may be very complex and installation involves mounting. The alarm system is called a close circuit system. When doors or windows open, they trigger sound circuits because when closed wires are in wiring loops, opening breaks that loop causing those unsatisfying noises. Installing this means installing the sounder first. This alarm is used to scare away any intruder or to call attention for help. You must be sure that the mount is correctly mounted. We must know how to wire the system after mounting the alarm and installing the switches, fire sensors, and window foils. A knife or wire stripper is used to cut off ¾ of an inch of the wire ends. Then loop each wire under a different terminal screw on the switch. Run the wire to every entry detection switches and sensors. Then add the copper wires to the screws and twist together two silver wires. They should go in the sensors without breaks or interruptions.
To connect the sounder, use solder less connectors to join black wire from the battery to the sounder to make it operate correctly. Then connect the wire ends from the switch to smaller wires on the sounder. Test sounder after by opening the door or window. If it is correctly installed, the alarms should go off. Besides alarms, there are many more gadgets for security for your front door. For example, push-button locks allow you to lock and unlock using the Internet or a smart phone.
When installing the indoor cameras, you must follow the manufacturers. Bullet cameras generally need screws to be able to be hung on the wall, it is that simple. One the other hand, dome cameras require a perfectly cut circle from the ceiling where the camera is going to be placed. These systems involve whole home wiring. Video surveillance and 24/7 monitoring that carry many features.
Installing home security system helps raise awareness about your home's security and often leads to people being able to lower the risk of a home break-in. It also teaches families about security and how to take control of the home environment.