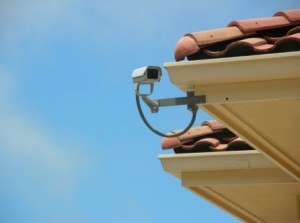 If you are looking for an excellent method to provide outdoor security and surveillance, consider using wireless camera outdoor security systems. Not only do these systems provide excellent security, but wireless camera outdoor security systems are a snap to install. They make for an easy do-it-yourself installation project with the most difficult task being what type of camera to purchase.
Wireless camera outdoor security systems are component systems consisting of the wireless outdoor cameras, a Digital Video Recorder (DVR), and an optional monitor. Not all of the components are placed outside, in fact usually only the cameras are located outside with the DVR and monitor located nearby indoors.
The system works by capturing high-quality color video images with the digital wireless outdoor cameras. The video images, in the form of electronic signals, are converted from analog signals to binary or digital signals and sent to the DVR. The DVR and video processor converts the information into a digital video file that can be viewed in real-time (live) and/or saved on the DVR for later use.
The wireless camera outdoor security system cameras have two of many additional features that make the system unique. First, the cameras are outdoor cameras, designed specifically for use in places that do not provide shelter or protection from the weather and other elements. Second, the cameras send their video signals via wireless radio waves instead of video transmission cables. Let's take a closer look at each of these features.
Today's digital security camera is a relatively small, light-weight piece of modern technology, especially when compared to cameras that were used 20 years ago. However, even though modern technology has yielded great improvements and additional features, the cameras are still designed to be used indoors, under protective cover of a building for example. However, wireless camera outdoor security systems cameras are designed for use outdoors.
Outdoor cameras contain digital video cameras that have a protective case or closure that prevents damage to the camera from the weather and other elements such as rain, snow, and dust. Many outdoor security camera manufacturers provide a rating as to the protection that is provided by the enclosure. This rating called and Ingress Protection or International Protection Code (IP Code) is a standard that is developed by the International Electrotechnical Commission (EIC). The purpose of the rating is to provide a more specific, standardized description of the protection instead of a generalized description such as "waterproof."
The IP Code consists of two digits and is normally expressed like this: IP37. The first digit refers to protection from solid objects and ranges from 0 to 6 with 0 meaning no protection and 6 indicating the camera is dust tight and completely protected from damage from dust. Digits 1 through 5 indicate protection from increasingly smaller solids. A 5 indicates that ingress of dust may occur, but not in a quantity enough to damage the camera.
The second digit refers to protection provided from liquids and ranges from 0 to 8, with 0 indicating no protection and 8 meaning that the camera can be submerged continuously in water deeper than 1 meter. Typical ratings for wireless camera outdoor security systems are a 5 (no harmful effects from water projected by a nozzle) or a 6 (no harmful effects from water projected by a powerful jet). Examples of good IP ratings for an outdoor camera is IP55 or greater.
The second unique feature of wireless camera outdoor security systems is the wireless function of the camera. Normally, digital video cameras send their video data via coaxial cables such as RG-59. A cable must be run from each individual camera to the DVR. However, wireless cameras convert their data into radio signals and send the data to the DVR as a radio wave.
There are several radio wave technologies used today but one of the more common is the 2.4 or 5.8 GHz technology, the same that is used for land-line based wireless telephones. The camera sends out the signal using its own transmitter and antenna to a corresponding receiver. The receiver is usually located near the DVR and is connected to it by a cable. Some DVRs even contain their own receiver technology, eliminating the need for a separate receiver unit.
Installation of wireless camera outdoor security systems is easy and mainly consists of mounting the cameras and setting up the DVR and/or receiver. For more information, contact one of Security Camera Kings security experts today.