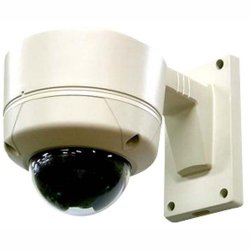 Boats, barns, house perimeters, land tracts, construction sites, parking lots, and automobiles are just some of the property you may need to protect with outdoor security surveillance cameras. Although all digital video cameras are not made the same, there are some unique features that make outdoor security surveillance cameras versatile in application.
Outdoor security surveillance cameras are made especially for use outdoors in stand-alone situations where they may be exposed to the weather and other elements. In fact, many outdoor security surveillance cameras are rated by their manufacturer with the International Electrotechnical Commission (IEC) Ingress Protection (IP) code. An IP code gives the user a definitive rating of what type of conditions the camera is rated for
Most outdoor security surveillance cameras are the same as an indoor model but are protected by being placed in some sort of enclosure. This enclosure protects the camera from substances that could damage it like water or dust. EIC IP rating provides a descriptive assessment of the protection. The code consists of 2 digits; the first digit represents protection from solid matter and the second digit represents protection from liquid matter.
Both IP code digits have different ranges. For the first digit, the range is from 0 to 6 with lower values representing large sized objects and a rating of 6 meaning absolutely dust tight. Many outdoor surveillance cameras are rated a 6 or 5. A 5 rating means the dust is not entirely prevented from entering but the dust that does enter is not enough to cause interference with the operation of the camera.
The second digit ranges from 0 to 8. A rating of zero means there is no protection while a rating of 8 means the camera can be immersed in water deeper than 1 meter continuously. Most outdoor security surveillance cameras are rated 5 (water projected at the camera from a nozzle in any direction shall not have a harmful effect) or 6 (water projected at the camera from a powerful jet in any direction shall not have a harmful effect. A good IP rating for outdoor security surveillance cameras is IP55, IP56, IP65, or IP66.
Outdoor security surveillance cameras have a wide variety of extra features so that a camera can be purchased to satisfy a specific need. Actually, a multiple camera system doesn't have to have all the cameras the same. Each camera can have different features to suit the condition, yet all can easily work in unison on one system.
The following is just a partial list of some of the optional features available on outdoor security surveillance cameras:
Pan-Tilt-Zoom (PTZ) function. These cameras can move horizontally or vertically to greatly increase the total field of view area of the camera. They have a telephoto lens that can enlarge the view as well. These cameras can be used with Digital Video Recorder (DVR) software that can automatically track or follow a moving object.
Day/Night vision or Day/Infrared night vision cameras. Day/night vision cameras are incredibly sensitive to light and can require very little light to produce a high quality color video. Some cameras can produce video in lighting conditions equivalent to that of a clear, moonless night. Other cameras make use of infrared radiation in the near infrared spectrum to illuminate their field of view. These cameras usually use infrared Light Emitting Diodes (LEDs) to illuminate their target areas. Human eyes cannot detect this infrared light so it is invisible to us in the dark. When operating in this mode these cameras produce high quality black and white or monochromatic video as there are no "colors" associated with infrared illumination.
Wireless technology cameras. These cameras have their own built in transmitter and antenna that send the video signal to a corresponding receiver (or DVR with a built in receiver). This eliminates the need for running a video transmission cable for each camera to the DVR. These cameras can also be battery operated allowing them to be mounted almost anywhere.
Internet Protocol (IP) ready cameras. These cameras can be connected to a broadband internet connection and be both controlled and monitored in a remote location anywhere in the world that there is internet accessibility (this includes 3G and 4G smartphones as well).
It's pretty easy to see the versatility of outdoor security surveillance cameras, and the above list doesn't even contain all the features that are available. For example, Security Camera King even offers explosion proof outdoor security surveillance cameras.