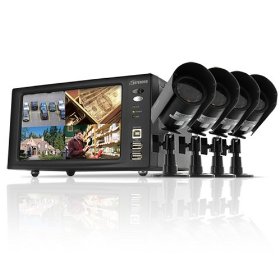 A wireless outdoor security camera system is quick and easy to install and is versatile enough to be used in almost any environment or situation. Technological advances have created optional features for the cameras that makes them even more useful and for a reasonable price.
A wireless outdoor security camera system may utilize one to several outdoor wireless cameras. Each camera has its own built in transmitter and antenna which it uses to send its video signal to a corresponding digital video receiver. Modern wireless outdoor security camera systems take advantage of the 2.4 or 5.8 GHz radio band technology (the same used for land-line based wireless telephones) for sending their signals.
This technology has various strengths or ranges that it can transmit the video signal. The range for this technology is often referred to as Line Of Sight or LOS. This means that the stated maximum range for the camera and receiver is based on a line of sight from one to the other without any obstructions in between that would occlude the line of sight. Of course, wireless outdoor security camera systems still function if an object is blocking the LOS path, but the range is reduced, based on the type of material. Some outdoor wireless cameras boast ranges as great as up to two miles.
The cameras used in wireless outdoor security camera systems are the same as those used in wireless indoor security camera systems with one major exception. Out door cameras are built placed inside a cover or enclosure that protects the camera from weather and other environmental elements. These cameras are normally rated based on an International Electrical code standard know as the Ingress Protection Code or Rating. The code is designated by the letters IP followed by two digits. Each digit represents a degree of protection that the camera is afforded by its enclosure. Generally, most outdoor cameras are rated at IP66 or IP67; look for one of these ratings when shopping for your outdoor wireless cameras.
An IP66 rating means the camera is dust tight (dust cannot reach working parts of the camera) and that it can also withstand powerful jets of water from any direction. IP67 has the same dust rating, but this rating indicates that the device could be submerged in up to one meter of water without causing harm. There are a variety of specialized outdoor cameras designed for protection from damage from humans as well as other factors. There are even wireless outdoor security camera systems that are rated to be able to survive explosions.
Wireless outdoor security camera systems are quick and easy to install. Since there is no video transmission cabling to install, just mount the camera and plug in the power supply and it's ready for use. After all the cameras are in place, the receiver is setup to receive the cameras on the proper frequencies. The receiver passes the video signal over to the processor and Digital Video Receiver or DVR.
There are several optional features available for wireless outdoor security camera systems. The following is just a partial list of some of the more common options you may need:
• Day/night vision cameras that can capture video in very low light conditions
• Night vision infrared cameras that can capture video in standard lighting conditions as well as conditions of total darkness
• Cameras can record audio and video
• Pan-Tilt- Zoom functions that increase the useful filed of view of the cameras. These cameras when equipped with the proper programming software can use motion detection to track and follow individuals or objects (like cars in parking lots)
• Some outdoor cameras can be purchased that use rechargeable batteries instead of an AC power adapter supply. This eliminates the need for a power supply line to the camera
• IP (Internet Protocol) Ready Cameras that can be networked on the internet
As you can see, technology has made the wireless outdoor security camera system incredibly versatile, quick and easy to install, and economically priced as well. Regardless of where you need to place your camera or what you need your camera for, there is a wireless outdoor security camera system that can do the job.