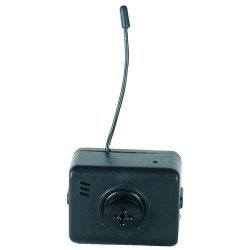 A wireless security camera with recorder can be your answer to an easy to install and easy to operate security device. Technological advancements in electronic components and computer development have made a wireless security camera with recorder a reliable security device that is reasonably priced to fit just about any budget. Use more than one wireless camera with a recorder and you can create your own total coverage wireless security system.
Digital video security systems are becoming extremely popular these days for business use as well as in the home. In addition, there are so many features and/or options available that these systems can be placed just about anywhere for any application.
In this article, we'll briefly describe a standard digital video security camera system and then elaborate on the differences between it and a wireless security camera system. Finally, we'll list some of the features and/or options that are available for a wireless security camera with recorder.
A standard digital video security camera with recorder system is a component system that consists of one to many cameras, a Digital Video Recorder or DVR, and a monitor. The system operates with the camera "capturing" digital video and sending it to the DVR (which normally includes a processor as well). The processor creates a digital video file which is stored on the DVR and can be viewed immediately (live) or at a later convenient time.
The standard digital video camera contains one of two sensor chips that convert light energy into measurable electrical energy that can be used to create a video image. The lenses focus the field of view of the camera on these sensors. The chips are the Charged Coupled Device or CCD and the Complimentary Metal Oxide Semiconductor or CMOS.
After the sensor chips have created electrical data that can be used to create a digital video file, they send this data to the DVR and processor via a video transmission cable, usually an RG-59 coaxial cable. Each camera must be connected to a separate cable that is run from the camera to the DVR/processor. The processor than performs the necessary work required to convert the electrical data into a digital video file.
The processor is much like the processor in a personal computer, however security camera systems processors are highly specialized processors that are made to perform specific tasks necessary for digital video security systems. One important task of the processor is to reduce the size of the incredibly large digital video file without sacrificing the quality of the video. It does this by using a COmpression/DECompression or CODEC utility. Once the processor creates the digital video file it can be viewed on a monitor or stored on the DVR for archiving or to be viewed at a later time.
A wireless security camera with recorder system is operates in basically the same manner. The major difference with this system is that the wireless security camera does not use a coaxial video transmission cable to send the video data to the recorder. Instead, it converts the data into radio signals and sends the data as a radio wave to a receiver which is connected to the recorder.
There are a few variations on how the camera prepares and sends its wireless data. The most common method is for the camera to have an on-board transmitter and antenna that transmits a radio signal to a corresponding receiver. Many different radio frequencies and technologies are used, but the most common is the 2.4 or 5.8 GHz band technology. This is the same sort of wireless technology used on land based wireless telephones. Once the receiver accepts the signal it passes it on to the DVR/processor via a wired connection.
Another type of wireless camera is the Internet Protocol ready or IP ready wireless camera. This camera has its own web server technology that allows it to be connected directly to the internet. It normally connects wirelessly to the internet by sending its signals to your broadband wireless modem or router. The recorder can be connected anywhere there is internet access.
There are many features/options available for a wireless security camera with recorder. Here is a partial list:
• Indoor/outdoor cameras
• Day/night/infrared vision cameras
• Pan-Tilt-Zoom (PTZ) cameras
• Audio recording
• Battery (rechargeable) powered cameras
• Hidden/disguised covert surveillance cameras
This should give you some basic information about how a wireless security camera with recorder works and some the optional features that are available.