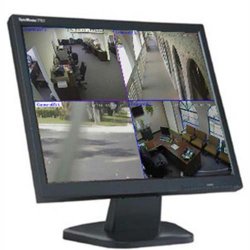 Wireless security cameras with computer monitor provide excellent security and surveillance for both businesses and residents alike. A wireless security camera system set up with a computer monitor can provide live real-time monitoring of any area, indoors or outdoors in well lit areas or at night.
Wireless security cameras with a computer monitor can be used just about anywhere. A wireless security camera transmits it video images using either the 2.8 or 5.8 KHz frequencies to a receiver that is tuned to the same channel. The receiver then passes the signal on to the processor or a personal computer.
The advantage of using a wireless security camera is that no cabling is required for transmission of data. This has several beneficial implications. First, installation is much simpler and faster. Second, security cameras can be placed in areas that might otherwise be impractical. Third, security cameras can be located in positions that are relatively remote from the processor, digital video recorder or DVR, or personal computer.
Wireless security cameras can be used with personal computers to complete the security system. If this is the case, a computer monitor is ideal for viewing wireless camera transmissions or for playing back recorded data. In this case, the computer becomes the processor and the DVR but a good quality, high resolution monitor is still needed to view the security camera transmissions in real time.
Contemporary computer monitors are typically Liquid Crystal Display or LCD types with very high resolution capabilities. Security system computer monitors usually provide a variety of connection inputs including composite, S-video, component, and personal computer capabilities. Their response times are normally very fast (for example 16ms) which allows for high quality display of multiple video feeds. Computer monitors for security systems often have an amplifier and speakers built right in to the monitor so that audio may be heard as well.
Of all the components of a security/surveillance camera system, the monitor is probably used the most. The greatest advantage to Closed Circuit Television or CCTV cameras is the ability to view the target area in real time; live. For this reason you should choose your wireless security camera system's monitor carefully. Be certain that it has a high enough resolution display to be able to display all of your cameras' feeds simultaneously with good clarity and quality.
There are many uses for wireless security cameras with computer monitor. One very popular application for a wireless security camera with computer monitor is in a nursery or baby's room. These systems allow you to monitor your baby any time day or night by using spot monitors or a central computer monitor.
Another popular application of a wireless security camera system with computer monitor is for monitoring the entering and exit of customers into and out of various business locations. Wireless cameras can easily be installed in lobbies and vestibules where entrance and exit doors are located. Real-time monitoring of every individual that enters and leaves the premises can be accomplished with relative ease.