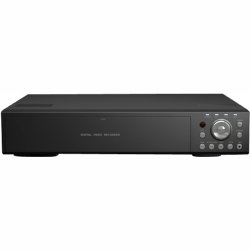 Like any other Digital Video Reorder (DVR), a 16 channel digital video recorder uses a computer hard drive to compress and store video images using various compression techniques. (Incidentally, "16 channel" means the DVR can work with up to 16 cameras simultaneously.)
The compression techniques include JPEG, MPEG, Wavelet and a host of proprietary methods. Images can be stored at a rate of just a few frames per second (fps) to as many as 400fps depending on the software features offered by the manufacturer. This is the latest in CCTV DVR Video Surveillance technology, eliminating the use of tape recorders.
Security Camera King's DVRs enable easy viewing of stored video and images. Data can be saved on a recordable disk (CD-R, DVD-R) or USB Flash Media Drives to be given to law enforcement, insurance companies, etc.. We carry the most popular high-quality and affordable 16 channel digital video recorders in our online store.
Our 16 Channel Ultimate Series DVR is a powerful standalone DVR with all the features you can imagine, packed in a compact, easy to use device. Its H.264 compression promises high quality recordings with minimum storage space. 16 audio channels allow you to record whatever is going on in the recorded areas. Its stable Linux operating system will keep working without any faults or down time. Also supported are USB 2.0 ports for optical mice and video backup as well as firmware upgrades.
Longer record times – As mentioned earlier, H.264 provides superb compression, in most cases more than doubling record times over previously popular compression methods. Here is a quick chart comparing H.264 and other compression technologies, using a 160GB hard drive, recording video at 30 frames per second, at a resolution setting of 720 x 480.
H.264                                     Records 77 Hours
MPEG4                                  Records 44 Hours
JPEG2000                             Records 13 hours
As you can see, the advantages of H.264 are impressive! The ability to record longer periods of time on the same sized hard drive will save you money, and greatly increase the amount of video evidence you can archive.
Quality and speed does not suffer – Previous compression methods have always allowed you to record excellent picture quality at real-time frame rates – but you were eating up valuable hard drive space. Similar to MPEG4, H.264 uses predictive technology to drastically reduce the amount of redundant video recorded. In simple terms, instead of constantly recording say a room with no motion, H.264 will use previously recorded images. However, if someone walks into the room, H.264 will record that person and continue to use the previously recorded background. H.264 will sample up to 32 frames of video to ensure complete accuracy and quality – whereas other compression methods would use only 1 or 2 frames as a reference.
Improved remote monitoring – Saving hard drive space is not the only benefit of our 16 channel digital video recorder. The ability to bring together high quality video with low memory sizes allows for seamless presentations of video when transmitted. Coupled with low frame rate recordings, previous compressions made watching video from remote video security DVR units a trying experience – especially when activities in question happened fast. Video would be jumpy, and audio (if used) wasn't likely to be synchronized with the video. Watching real-time H.264 is a completely different experience, and the reason so many broadcast companies around the globe have rapidly adopted it.
A word of caution – Although H.264 compression is without question a giant leap in video technology for all industries, just having that feature in a DVR does not mean that it's a good DVR. To make all the magic happen, it takes more processing horsepower. So be sure to use a manufacturer with a proven track record, who stands behind their products, and one who will be there for you should you need a hand.
And that brings us back once again to Security Camera King's Ultimate and Elite Series 16 channel digital video recorders.  For example, the Ultimate series DVR can record real-time video and audio at either CIF (360 x 240) or 4CIF (704 x 480) resolution on every channel simultaneously.
Our 16 channel digital video recorder is also IP (Internet Protocol) ready.  Basically all you have to do is plug in an Ethernet cable from your broadband Internet source and you can monitor any of the channels from anywhere i the world there is broadband Internet access (that includes 3G and 4G phones).