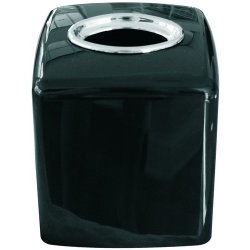 Sometimes cameras need to be placed in areas where wiring would obviously give away the fact that the camera is hidden.  When this is the case a 2.4 Ghz wireless hidden camera is the perfect solution for the job.
Unless a camera has its own "on-board" Digital Video Recorder or DVR, it will need a video transmission cable, commonly RG59.  However a 2.4 Ghz wireless hidden camera can eliminate the need for cables by sending the video transmission signal via radio waves.
It sends the radio waves using an on-board transmitter and antenna that use the 2.4 Ghz technology.  This is the same technology that is often used by many land-line based wireless telephones.
The 2.4 Ghz technology offers powerful and clear transmissions and is an excellent choice for wireless technology for digital video cameras.  However, this type of wireless communication is also known as Line Of Sight or LOS technology.  LOS refers to the method by which it transmits and receives and the fact that impeding objects can affect the transmission be reducing the maximum range of the camera.
LOS means that the maximum transmission range of the signal is as stated as long as the camera antenna and receiver antenna have a direct, unimpeded distance between them.  Also, the physical makeup of the object(s) will also contribute to determining how much the range may be reduced.  Trees, walls, glass, buildings, and other objects that are between the camera and the receiver all have an effect of reducing the manufacturers' stated LOS range.
It's important to understand this concept because if you know that the distance between where you want to mount your camera and where your receiver is, is 500 feet and your camera is rated for 500 feet but there are objects like trees and a couple of walls between the two, it is likely that the range will be reduced and the receiver may not be able to receive the signal.   If this is the case, it may be beneficial to try using a camera with a 1,000 foot range instead.
Security Camera King has many different types of 2.4 Ghz wireless hidden cameras available for purchase.  Some are designed to work with a DVR and others may just be designed to transmit to a monitor (a baby monitor is a good example of this).  The following list is a partial list of some of the 2.4 Ghz wireless cameras we have available for purchase:
*Most of the cameras above that are listed as "Black and White" are also available in a "Color" version as well.
As you can see, a 2.4 Ghz wireless hidden camera can be disguised in many ways.  The above list is only a partial list; we have even more cameras to offer than this.
One last word of caution.  Each state has different laws governing the use of cameras and especially audio recorders without the subject's knowledge.  Make sure you confirm you state's laws before attempting to record anyone covertly.  This doesn't mean that you can't record improper or criminal activity but the planned, deliberate, covert recording may require special concessions on the part of the person recording.
If you are interested in purchasing one of these cameras or have any questions at all, our security experts in our support team will be glad to help you.  To contact one of our security specialists you can use the on-line "Live Chat" feature or telephone 866-573-8878 Monday through Friday from 9AM to 6PM EST.