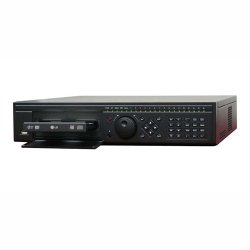 Nothing provides perimeter coverage in business or residential applications better than an 8 camera outdoor DVR system with DVD burner. In fact, these systems are great for use in just about any outdoor application and with a DVD burner, you can save copies of your video files for archiving or to give to police or insurance companies.
Security Camera King offers a full line of security camera equipment, including four different 8 camera outdoor DVR systems packages. We recognize the fact that everyone's situation is different, possibly requiring a different camera at each point or some other additional feature. Therefore, we have put together these systems on our web site in such a way as to allow you to make different selections even for the system packages. Some changes can be made at no additional cost, while others may be made at a nominal cost compared to individually buying each component.
Each of these packages includes a DVR (Digital Video Recorder) with an on-board DVD writer and a USB thumb drive. The DVRs utilize H.264, the latest CODEC (COmpression/DECompression) utility, used to reduce the size of digital video files so that longer video recording times can be realized without sacrificing image quality. In addition, our DVRs feature a Linux Operating System (OS), a built in Web server, and two-way audio available over the Internet. This allows the system to be monitored over the Internet, Smartphones, or even have email alerts programmed to automatically notify you on different events (triggers).
Not only can these 8 camera outdoor DVR systems with DVD burner packages be monitored over the Internet, but nearly every function of the DVR can be controlled over the internet as well. This even includes multiple user functionality via the Internet. Or if you choose to use a local monitor, these units support HDMI, VGA, and BNC video outputs, and use of several monitors simultaneously.
Our line of DVRs featured in our 8 camera outdoor DVR systems with DVD burner packages can be operated easily with a standard USB mouse. In addition, the DVRs feature easy operation and control of Pan-Tilt-Zoom (PTZ) cameras whether you use the supplied GUI software or operate your system via Internet Explorer over the internet.
To complete the functionality of our 8 camera outdoor DVR system with DVD burner packages, the DVR also has an on-board DVD-RW (DVD-RWs can record and erase and record again if desired on one DVD-RW disk.) Using the DV-RW, you can copy any of your recorded video (and/or audio) from your DVR's hard drive to a DVD. The digital video file that you copy to the DVD can be displayed on just about any personal computer and many of today's DVD players. Contact one of our security experts today for more information or to make a purchase.
Last, but certainly not least, each one of the 8 camera outdoor DVR system with DVD burner packages offered by Security Camera King comes with a full 3 year warranty on the DVR and a full 1 year warranty of the cameras and accessories.
In addition, these systems are easy to install and operate. However, if should you have any difficulty at all with installation or operation, our trained professional technical support staff will provide as much remote assistance as possible including any training that you need to use your new security system.
Security Camera King offers four different complete 8 channel DVR security camera packages two of which are built around the Elite DVR and two built around the Ultimate DVR. The complete 8 channel Elite DVR security camera package includes the following:
• An 8 channel Elite series DVR with a 250 MB hard drive and H.264 CODEC;
• 8 Outdoor (may also be used as indoor) weatherproof high resolution infrared vandal-proof dome security cameras;
• Two 4-channel plug-in transformer power supplies; and,
• 8 plug and play cables.
Our complete 8 channel Elite DVR security camera package with bulk cable and BNCs offers the same cameras and DVR, but includes an 8 channel professional power distribution box instead of plug-in transformers, and 2 boxes of bulk RG-59-18/2 Siamese video transmission cable.
We offer two complete 8 channel Ultimate security camera packages that feature the Ultimate series DVR. The Ultimate series DVR is capable of recording 704 x 480 resolution at 30 FPS on all 8 channels simultaneously. There are two Ultimate series packages as with the Elite series, that differ depending on power supply preference and bulk wire.