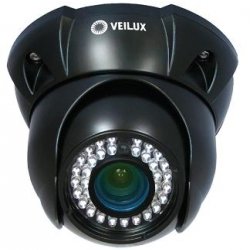 A CCTV security camera system or a closed circuit television security camera system is becoming one of the most popular tools for providing ultimate security and surveillance monitoring. These systems are assembled with individual components, each of which may be specialized to suit the needs of the individual application and prices are affordable.
A basic CCTV security camera system contains the following components:
CCTV security digital video camera(s)
A processing unit or capture board
Monitor
Digital Video Recorder or DVR
A CCTV security camera system may be a stand alone system, meaning it contains all the necessary components so as not to require sharing or use of other equipment, or it can actually be used with a personal computer. If the system is used with a personal computer, the computer often replaces the functions of the processor, DVR, and monitor by sharing its own resources with the security system.
There are several sizes and types of cameras as well as additional feature that are available for a CCTV security camera system. The following is just a partial list:
Indoor or Outdoor cameras
Dome shaped, Bullet Shaped, and Hidden or Disguised cameras
Wireless cameras
Day/night vision cameras
Infrared (IR) night vision cameras
Cameras with Pan, tilt, and zoom functions
Cameras that record audio
Portable cameras that can be mounted to vehicles
Regardless of the type of camera, they all must send their electronic video image information to a processor that can compile it and turn it into a digital video file which can then be viewed on a monitor or stored on a DVR for later use. If the CCTV security camera system is a stand lone system, the processor and DVR are normally located together in a case that looks like desk top personal computer. Sometimes these units will include an additional capture board which does most of the video processing for the processor, freeing the processors resources to do other things, like display multiple videos at one time or remotely control a camera.
If the CCTV security camera system uses a personal computer, the computer becomes the system' processor, the computer's monitor becomes the system's monitor, and the computer's hard disk drive becomes the security systems digital video recorder.
Whether the CCTV security camera system is a standalone system or shares the resources of a personal computer, each usually uses some sort of programming or hard circuitry to reduce the size of the digital video files while maintaining a high quality video. This is necessary because digital video is basically nothing more than rapidly taken digital photographs. The digital file size can be come incredibly large in just a few minutes of recording if a CODEC is not used. CODEC stands for COmpression/DECompression utility that reduces the file.
After the file is processed it is made immediately available for viewing on the monitor and at the same time is saved to the DVR for later use. The DVR begins recording video at the "beginning" of the empty disk and when the disk becomes full, it automatically records over the oldest material first. Depending on the system, this can provide hours to days of recorded monitoring before the files are replaced. In addition, most units have the ability to add a USB flash drive or CD/DVD writer to copy specific segments of video, for example one that need to be furnished to police departments or as evidence.
A CCTV security camera system offers tremendous versatility for each of its components' features. DVRs can be purchased with small digital storage space to extremely large digital storage space. DVRs can come with internal CD/DVD writers for archiving video footage. Processors and capture boards take advantage of the latest compression technologies but many different CODECs can be used such as mpg, mjpeg, and H.264.
As you can see, a CCTV Security Camera system is so versatile that is can be designed for just about any application. Scientific advances have provided for incredibly hi-tech features at a fraction of the cost. It's no wonder the CCTV security camera system is one of the most popular tools in modern security coverage today.