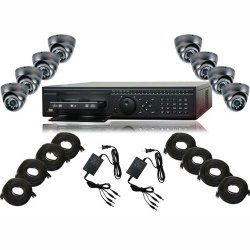 A security system camera dvr or digital video recorder is one of the most common security and surveillance packages used by homeowners, police departments, security agencies, governments and many businesses today. Modern technological advances have yielded a variety of interesting and useful features while keeping prices affordable for not only corporate applications, but for residential applications as well.
A typical security system camera dvr includes one to several cameras, a processor, a monitor, and a dvr. There are many features and upgrades that are available for the security system cameras. The following paragraphs cover some of the most popular and useful features.
Cameras can be categorized based on where they will be used. There are basically two types of cameras based on there placement location: Indoor and outdoor.
Security system camera dvr that monitor and record outdoor activity usually utilized outdoor cameras. These cameras are designed for use in outside environments where they are subjected to weather and other environmental elements. Outdoor security system cameras are normally contained within a case that protects the camera from exposure to dust, water, and other objects. These cameras are often rated based on an International Electrical Code standard known as an Ingress Protection or IP rating.
An IP rating stands for Ingress Protection rating. Cameras for a typical outdoor security system camera dvr usually have a rating of IP66 or IP67. IP66 means the camera is protected from dust and powerful water jets. IP67 means the camera is protected from dust and can be immersed in water up to 1 meter in depth.
Indoor cameras for a security system camera dvr to not have the enclosure that offers protection from the elements as this is not necessary.
Both indoor and outdoor cameras for security system camera dvr may be "wired" or "wireless." Digital security cameras capture the target area image and transfer it into electronic signals that can be sent to a process or where they are used to recreate a video image. "Wired" cameras send this electronic information via a coaxial cable that is run from each camera to the processor. "Wireless" cameras do not require this coaxial cabling. Instead, a wireless security system camera dvr transmits its electronic information via on-board antennae located on the camera. The only wiring required for wireless cameras is a small line needed to supply power to the unit and on some models; this is replaced with rechargeable batteries.
Digital cameras used for a security system camera dvr can produce a video image in high quality color or black and white; most cameras produce a high quality color image of 420 lines of resolution.
Indoor or outdoor cameras, including both wired and wireless models can also be purchased as day/night vision cameras or as infrared (IR) night vision cameras. Day/night vision cameras produce a high quality color video image using available light. IR night vision cameras for a security system camera dvr produce a high quality monochromatic or black and white video image using near infrared spectrum illumination.
Day/night vision cameras have a very sensitive electronic image sensor circuit that can produce video images in extremely low light conditions such as outdoors at night with no moonlight. However, these cameras must have some visible light available to produce the image, even if the available light intensity is very low.
Night vision IR cameras have a special IR sensitive electronic image sensor circuit that can produce normal color video during daylight conditions, but utilize IR radiation to create a high quality monochromatic video. These cameras normally contain IR Light Emitting Diodes or LEDs that emit IR light. IR light is invisible to the human eye, so these cameras can work undetected in total darkness with no available visible light.
Other functions for cameras include pan, tilt, and zoom (PTZ) options that allow the camera to move about and change its target area or field of view as well as utilize telephoto lens technology to enlarge objects. These features can be controlled manually by remote control or automatically by programming which can be used to track objects or individuals. An example of automatic PTZ is tracking the movement of a car through a parking lot or an individual in a specified area.
Security system camera dvr records the video images in the form of a video data file on the dvr for later viewing or archival purposes. Further, the dvrs can be purchased in a variety of storage capacities to fit any application.