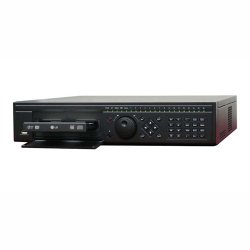 Security Camera King features a DVR security system that can fit every need and budget.   We have systems for four, eight, sixteen, and thirty-two channel applications, and we feature three different models of Digital Video Recorders or DVRs, each with its own unique array of standard features.
Most digital video security vendors prefer to sell the components of a DVR security system individually so they can reap the benefit of charging you a higher price.  Security Camera King offers complete packages that include not only the DVR but the cameras, video cable, power supply cable, camera power supplies and all the connectors.
The only item we don't include in our DVR security system packages is the monitor.  We do carry a full line of high-quality, competitively priced monitors but we don't include them in our packaged systems because so many people already have a monitor or simply don't care to use one directly with their system.
Some of our competitors do offer what they call a "DVR security system" but it usually only includes the cameras and DVR.  Further, they offer you a standard system that they put together and you usually have to take it or leave it.  Security Camera King recognizes the fact that everyone's digital video security design is unique and may not require the same components.  Therefore, we allow you to make changes and upgrades to "tailor fit" your system at a complete system package price (some changes/additions may include an additional charge).
Even though our systems offer professional, complete digital video security, our systems are so easy to install that you can do it yourself.  Should you encounter any difficulties along the way offer a full range of support services including security articles, security videos, and on-line knowledge base.  However, if these services aren't enough, we also offer full live support of security experts that can help you design, install, set up, and use your DVR security system.  Our security experts can be contacted by telephone or via on-line live chat, whichever you prefer.
We offer six different DVR security systems that feature our entry level DVR, the Elite-Mini.  They include two different systems each for four, eight, or sixteen channels (i.e. cameras).  The two different systems for each channel category differ by the type of power supply and cables offered.  One package offers a space saving power supply with plug and play cables and the other package offers a power distribution box bulk cables and individual connectors.
Just take a look at all the features we offer in our entry level Elite-mini systems:
Four channel audio input;
Firmware upgrades by either by downloading directly from the Internet or by USB thumb drives;
HDMI, VGA, and BNC video outputs each with high definition displays;
H.264 the latest most efficient video compression format;
Recording CIF resolution on all channels at 30 fps while two channels are also capable of D1 (almost double the resolution of CIF) at 30 fps;
On Screen Display  (OSD) for set up and preference changes and includes an infrared remote control;
Playback of 4,8, or 16 channels (based on DVR channel capacity) at the DVR and 4 channel playback via the Internet;
A built in Web server with up to 10 simultaneous Internet or network users and Dynamic DNS support;
If  you connect the DVR to the Internet, the DVR can send you e-mail alerts and you can view and control your system with your Smart phone using our free apps;
FTP, HDD, or USB thumb drive backup options;
PTZ mouse control using a simple USB mouse;
Linux operating system, a high quality Digital Signal Processor or DSP and the DVR is network ready; and,
Each camera comes with a full 1-year warranty and each DVR comes with a full 3-year warranty.
Our Elite and Ultimate series DVR security systems include all of the above features and more.  These systems include a CD/DVD writer, support for multiple hard disk drives, video matrix output, and built in loop connectors that can allow you to output a specific camera to its own monitor.  Last and certainly not least, the Ultimate DVR records in real-time at 4 times the resolution of any other comparable standalone DVR in the digital video security system industry.
So if you are considering purchasing a DVR security system, consider Security Camera King we offer great prices and full technical support.