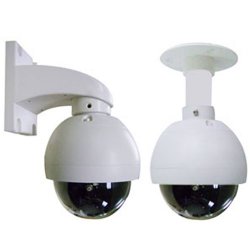 Pan-Tilt-Zoom or PTZ security cameras can really extend the field of view of an otherwise stationary camera.  There are a variety of PTZ security cameras that can perform many functions in addition to PTZ perhaps making this camera the most versatile in application of all the different types of security cameras.   Security Camera King has a large selection of only the highest quality PTZ security cameras in the business.
A horizontal movement of a camera's field of view (or direction of aim) is called a "Pan."  Likewise, vertical movement of a camera's field of view is called "Tilt."  Using combinations of telephoto lens moving in and out to enlarge or shrink the field of view or magnify specific objects within the field of view is called "Zooming."  A PTZ camera of course, can do all three of these actions.
Several years ago, a PTZ security camera was incredibly expensive; especially if it was the older analog type camera.  These cameras were often bullet or box type cameras that were mounted on electric motor operated pedestals to produce the movements necessary to pan or tilt.  They were often awkward, bulky, and bumpy in their movement.
Today's modern digital video PTZ cameras are very light weight and move with incredible precision and fluidity.  They are much cheaper than their analog ancestors thanks to modern technological improvements in both electronic circuitry and mechanical design.  The majority of PTZ cameras on the market today are the dome type camera.  They can be mounted on the ceiling or on the wall using horizontal mounting brackets.
Regardless of whether the camera is mounted on the ceiling or the wall, the camera itself is oriented in a position that always puts the camera dome opposite the floor or ground.  In this position, the camera has the advantage of being able to pan around in a circle of 360 degrees and tilt in a full semi-sphere of 180 degrees or more.  If possible a ceiling mount or side mount on a pole is more desirable than a wall mount because providing there are no additional objects blocking the view of the camera, it has a greater total viewing area (not being blocked by a wall).
PTZ security cameras are controlled by any a variety of different methods.  They can be controlled using a PTZ controller board which has a joystick and push buttons or they can often be controlled by keyboard buttons alone. Each of Security Camera King's featured DVR's the Elite-Mini, Elite, and Ultimate series also offer's a unique mouse PTZ control.  The camera movements can be controlled by clicking the camera's view on the monitor screen and pointing and dragging the mouse.  The PTZ camera will follow the mouse's movement.
In addition, PTZ security cameras can also be purchased with optional auto-tracking features.  Auto-tracking is a special function that enables the camera to detect motion, follow the object, and zoom in on the object automatically to provide the most advantageous view.  This feature is often used by security departments responsible for large retail parking lots or industrial employee parking lots to maintain security coverage in these areas.  When cars or individuals enter or move around the parking lot the camera can keep track of them every inch of the way.
Another common feature of PTZ security cameras is area specific preset patrol.  In this mode the camera is preset to patrol a specified area.  It can be set to track and follow in that specified area or when triggered can be set to pan, tilt, and/or zoom to a pre-determined specified area.
When choosing your PTZ security camera, make sure you purchase the appropriate type for the environment; cameras are either rated for use indoors or outdoors or both.  Next you'll need to determine if you need the optional auto-tracking feature.
You will also need to determine the magnitude of the zoom function that you desire.  Generally, the greater the magnification of the zoom function, the more expensive the camera due to the precision lenses and electronic circuitry that are required to support it.  Lastly, you will need to determine what type of mount you'll need for the camera.
Checkout Security Camera King's full line of PTZ security cameras by clicking on  "Pan Tilt Security Cameras".