Security Camera King has a department of security surveillance experts specifically dedicated to gated community security systems.  We have crafted many different Security Camera Systems which can be scaled in any direction.  No matter how small or large your community is we can help you find the perfect solution for neighborhood video surveillance.  
Our complete security surveillance systems come fully bundled with all the security camera accessories you will need for a dependable high quality security camera system.
Security Camera King offers many superlative services which are FREE.  Free US based technical support for the life of all of our products.  You will never have to worry about setup and configuration of your security system.  We also offer Free Apps for Apple and Android smart devices which will allow for viewing over the internet.  Free Shipping on orders over $100.   Our gated community security systems have been used for many years by all different types of neighborhoods.  From high end country clubs, single family home subdivisions, luxury apartments and mobile home communities all experience a higher level of safety through our gated community security systems.
During pre-construction many newer developments don't have the funds for security guards and physical security.  Good HOA security  is usually provided by a combination of techniques including an automatic gate lock entrance with neighborhood security cameras with community video surveillance.  The demand for gated community security systems make them now more affordable than ever.  A weekly payroll for a few security guards around the clock will easily exceed the cost of neighborhood watch cameras.  Having the ability to remotely view your cameras from anywhere you desire is a huge benefit.  Multiple sets of eyes will provide a larger blanket of security.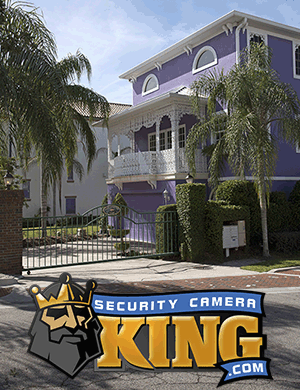 Text notifications can be configured to alert you to countless situations.  One of the most widely used setting is for motion detection.  Security Camera King's app Tech ProSS will permit you to configure your Motion detection to the most exacting details.  If you want to know that a leaf just blew across your yard or that a squirrel is doing backyard trapeze acts – TechPro SS app will notify you immediately.  Having community security cameras work in tandem with your own home's security surveillance system will give you and your neighborhood a peace of mind.  After getting a text notification you can alarm any unwanted intruders with either a loud repulsive alarm or your actual voice can come over a microphone.  Alerting a would be intruder that you have already contacted authorities is a surefire way to end any criminal acts.
Don't let your neighborhood video surveillance be an afterthought.  Proper community surveillance should be considered at length before any ground is broken.  A neighborhood camera system does not carry the once hefty price tag associated with it.  Even if your HOA security doesn't have the funds for full time security guards there are now many reputable security guard services which offer remote viewing by licensed security guards at a fraction of the price.  Imagine your neighborhood security camera systems being monitored by security guards from afar with the ability to notify proper authorities once any issues is detected.  Digital Security Guard is quickly making quite a name for itself from within the security community including law enforcement.  Having extra sets of eyes monitoring neighborhood cameras has proven to fortify any community.
If you have any questions concerning gated community security systems give Security Camera King a call.  866.573.8878
Gated Community Security Systems