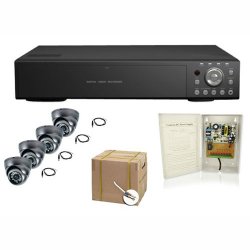 How would you like to have your own professional security system? How about your own professional security guard? You probably have considered this in the past for your home or business but thought that the expense could outweigh the service. Well, think again because Security Camera King can make a professional security system a reality and used in tandem with our sister company, Digital Security Guard, you can have your own professional security guard with a realistic and affordable fee.
There are cheap digital video security system "substitutes" available. You've seen them in home improvement and department stores, the one camera one receiver/monitor systems they sell as a "security system." While it is possible that these can fulfill a very specific yet limited need, seldom do they quality as a good security system.
A professional security system provides complete coverage of your home or business using digital video cameras and/or an alarm system. Couple this with a professional remote video monitoring service and you have created a rock solid security guardian.
Although a "professional" security system indicates the need for a professional installation that is not always the case. If you purchase your digital video security system from Security Camera King, we offer tech support to help you design and install your digital video system from start to finish. Our technical security support personnel are trained professionals that will help you get maximum security coverage with the proper amount of equipment needed. With our technical support help, we'll make sure you get the coverage you seek without unnecessary or redundant video cameras.
We offer complete surveillance systems that include:
• 4, 8, or 16 cameras;
• State of the art Digital Video Recorders (DVRs);
• Connectors;
• Power Supply units; and
• Video transmission cable.
In addition, Security Camera King realizes that the digital video system must be designed to fit the application. Therefore, a rigid digital video system, that is a system offered without the option of upgrades and different features could leave you with incomplete or inadequate coverage. That's why Security Camera King offers you the option of changing, replacing, or adding components and features to our professional security systems. Some of these are free while others may require an additional charge.
For example, our complete four channel Elite Mini HD DVR Security Camera Surveillance System includes four 420TVL high quality color dome cameras. However, we offer a 420 TVL Bullet, our Covert Smoke Detector, or our Covert Motion Detector as FREE upgrades! We also offer other options as well including an audio upgrade, increased DVR storage, and even DVRs with an increase in the number of input channels.
Security Camera King doesn't just sell professional security systems. We follow up are equipment sales with remote technical support from design, to installation and setup, and learning how to operate your system. While it may be true that a professional security system installer has the equipment and experience to install your system, our systems are designed to be self-installed, simple to setup and easy to use.
In addition, we offer 24 hour 7 day a week professional digital video security monitoring by our sister company, Digital Security Guard. If you currently have a security guard at your home or business or have had one in the past, you know how much more safe and secure you feel. You also know how much it can put a "dent" in your wallet or pocketbook to employ a fulltime security guard.
You trusted us to buy your equipment from Security Camera King, so why not trust us to provide your professional security system monitoring? From our secure remote monitoring facility we can monitor any number of cameras with our nationally licensed and highly trained guards. They can contact you, law enforcement, fire, and rescue or anyone else you desire while the event is in progress, not after it has already occurred.
Digital Security Guard can do this, do it well, and do it affordably. We offer a flexible, per camera/ per hour pricing structure that makes professional security system monitoring possible for residential as well as commercial applications, including entrance/exit access control.
So if you're looking for the complete professional security system, come to Security Camera King and look no more. If you're looking for complete professional security system monitoring, come to Digital Security Guard and let us look for you.