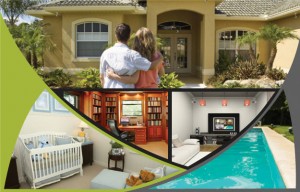 There are several types of security cameras for in home use. In fact, just about any security camera can be used for residential purposes although there are cameras that are more suited for in home use than others. Security camera technology has advanced so much recently that the versatility of security cameras for in home use is almost limitless.
Every home is different; the number of rooms in the home, the perimeter area that surrounds the home and the size of the home's yard, the entrances and exits, number of windows, especially those on the ground floor – all vary from house to house. As every home's design is different, so are the uses and needs for the security cameras for that home.
The most effective method to determine what security cameras for in home use are best for you is to evaluate your home design and your security desires and needs. After determining what you need to provide and the level of security and monitoring you desire, you can more easily begin the process of shopping for specific cameras that will satisfy those requirements.
Still, as stated earlier, there are security cameras for in home use that are more suited for this application than others. For an obvious example, an explosion proof camera or housing would be a ridiculous and unnecessary expense for in home use. However Security Camera King offers several different indoor security cameras that are perfect for in home use.
One way to narrow down your camera choice is to determine if you will be able to run the video transmission cable from each camera to the processor/DVR or Digital Video Recorder or if you would prefer a wireless camera instead. Cabling is the least expensive and the most common option for connecting the digital video camera to the DVR.
However, if installing the RG59 coaxial cable would be troubling for you, or if the cable would seem unsightly, or for any other reason the cable would not be right for you, wireless cameras would be the appropriate selection. Wireless cameras still require electrical power supply, normally in the form of a small wire run to the camera from a plug-in transformer or power distribution box. There are some wireless cameras that use rechargeable batteries as well.
Wireless cameras make use of radio technology to broadcast their video data to a corresponding receiver which then transfers the signal to the DVR. So a receiver is also needed if you choose the wireless camera option. Most receivers can handle up to four cameras at one time so if your system requires more than four cameras additional receivers (or a receiver that can handle more than four cameras) will be needed.
Regardless of whether you use cable or wireless technology, there are several different security cameras for in home use based on appearance, mounting design, and function. There are basically three types of cameras based on appearance. They are the box, bullet, and dome types, with each name representing a description of the appearance of the camera.
Each type has its own benefits and deficits. The box camera is probably the most common style of video camera but can also be somewhat obtrusive mounted on a room wall. The bullet type is also popular, but this type of camera usually lends itself to weatherproofing and infrared technology geared toward the outdoors. So if the box and bullet types are not appropriate for your application, then the dome type camera would probably be the best choice.
Dome cameras are fairly low-profile cameras with many available as a flush mount. Flush mounted dome cameras are installed in the wall or ceiling with only the "bubble" cover extending away from the surface. Security Camera King offers several different types of indoor dome cameras based on use and resolution display. That includes total darkness capable night vision infrared dome cameras as well.
Another category of security cameras for in home use include the hidden or disguised camera types. The cameras are embedded inside clocks, thermostats, and other everyday items to disguise their appearance.
To determine what camera is best for you, talk to one of our security experts today.