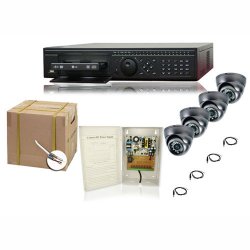 Home security camera systems are fast becoming the most popular residential security and monitoring devices used today. It's no wonder why – their great versatility, ability for do-it-yourself installation, and economic pricing, makes home security camera systems an excellent choice for residential security and monitoring purposes.
Security Camera King offers several different home security camera systems. If you're looking for a quick and easy way to put together your home security camera system, go to our Home page and click on "Security Equipment" on the left sidebar of the page. Then click on "4 Channel Security Systems," "8 Channel Security Systems," or "16 Channel Security Systems" based on whether you need 4, 8, or 16 cameras.
The main portion of the center of the page will feature several different systems using the same number of channels. After reading the description of each system, choose the one that matches your needs. If you click on the "More Info" button under your selected system, Security Camera King provides you with simple drop down menus that allow you to change or upgrade your components to meet your specific needs. Any of our featured security camera systems make great choices for home security camera systems.
It's important that you determine what your security and monitoring needs will be before making your selections so you will be prepared to design the best home security system for you. If you have any questions, talk to one of our security experts either via Live Chat option or by calling us toll free at 1-866-573-8878, Monday through Friday from 9AM to 6PM.
Here are some helpful hints for designing and purchasing your home security camera system.
• Determine if you want outdoor monitoring. If so, do you want perimeter coverage, spot coverage or window and entrance/exit coverage? The number of cameras required will vary based on these choices.
• If you need outdoor monitoring, be certain to purchase "Outdoor" or "Indoor/Outdoor" type cameras. (Indoor only cameras are not adequate for use outside.)
• Plan cabling routes in advance. Each camera will need an RG-59 or similar coaxial video transmission cable run from it to the DVR. Be certain you have enough cable plus an extra 10-25% to do the job.
• Each camera will also need a power supply. This is normally provided by using a plug-in transformer with a line run from it to the camera or from a line run from a central power distribution box.
• Consider the camera type needed for each location and the type of camera mount and location in advance.
• If video cabling makes you uneasy or you find it obtrusive, consider purchasing wireless cameras.
• Determine if any of your camera locations will require special lighting condition cameras such as day/night vision or night vision infrared cameras.
• Determine if there are any other special features needed for your cameras (such as Pan-Tilt-Zoom (PTZ), audio recording, disguised or hidden cameras, etc.)
• Determine the storage capacity size needed for your DVR. The best way to do this is to ask one of our security experts and they can tell you, based on your situation, how much storage space you will need or you can visit our CCTV Learning Center – Calculators to estimate.
• Determine if you need a broadband internet connection and how you will provide that connection to your DVR system.
• If the camera requires them, determine the lenses you will need for each camera.
Although this is not a comprehensive, step-by-step, do-it-yourself instruction, this article should provide you with the basics you need to purchase your home security camera system. In addition Security Camera King is always there to help and has provided as many possible tools to make the job of installing and using your new system easy and enjoyable. Make sure you visit our CCTV Learning Center where you'll find calculators, Security Related Articles and Videos and our Knowledge Base. In addition many of our home security camera systems also have links to video tutorials on their web pages.