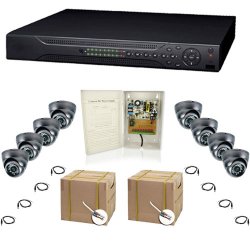 Security Camera King offers a wide variety of security equipment for most of your security needs.  Our merchandise must meet tough quality control standards and be of the highest quality nd workmanship to be considered for our on-line catalog at http://www.security camera king.com/.  In most cases we offer same day shipping and 1 to 2 day shipping on other limited items.
Security Camera King's full range of security equipment as well as surveillance and monitoring equipment includes:
Digital video security camera systems;
Individual Digital Video Recorders or DVRs;
Digital video security cameras;
Individual security Network Video Recorders or NVRs;
Digital video security camera lens, special purpose mounts, cables, connectors, tools, and other accessories;
DVR lockboxes;
Security camera monitors;
Mobile video servers;
Counter surveillance items;
Personal protection items; and,
Audio recording devices.
In addition to our complete line offering of security equipment, we also feature complete security camera systems for 4, 8, 16, and 32 channel requirements.  These systems are complete packages minus the monitor that save you money by bundling and get you up and running right away.  (We don't include the monitors in our system packages because of each individual's different preferences and many of our customers already have functional monitors that they can use.  This also saves you more money.)
Our bundled digital video security equipment packages come with the appropriate number of high quality digital video indoor/outdoor day/night vision infrared cameras, all the necessary cables and connectors, the proper DVRs, and a power supply for the cameras.  Our bundled packages as well as our line of individual Digital Video Recorders include the Elite-Mini, the Elite Series, and the Ultimate Series units.
These DVRs offer the highest quality and greatest number of standard features of any DVR in the industry and is a "must-have" as part of your security equipment.  The following is partial list of just some of the features that our customer feedback has indicated is favored the most:
High Definition, high quality video play back;
Internet ready–your system can be viewed and controlled by any computer located anywhere in the world there is Internet access;
Smartphone control–you system can also be monitored and controlled using one of several smartphones and our free downloadable apps.; and,
H.264 compression utility that saves on storage space while maintaining high video quality.
Security equipment isn't very valuable if you don't know how to operate it properly.  That's whey Security Camera King provides 100% complete support on all of the digital video system security equipment it sells.  Our support doesn't consist of just telling you where to turn the DVR unit on.  We offer full support from the point BEFORE you purchase your system, including total system design, to the final phase of using your installed and completely set up system.  We'll help you with planning, installation, set-up, and use.
Security Camera King offers a complete support center that includes our CCTV Learning Center with calculators, security articles, security videos, knowledge base and even our video vault.  But if these still don't answer your questions or solve your problems we also over on-line "Live Chat" support and telephone support with one of our trained security equipment experts.
As mentioned above, in addition to our digital video security line of products we offer many other types of security equipment as well including personal protection.  The following is a list of the major items we offer for your personal protection:
Airsoft guns;
Animal repellent (pepper and/or mace as well as ultrasonic devices);
Car safety items;
Diversion safes;
Folding knives;
Handcuffs;
Instructional Fighting DVDs;
Mace pepper sprays;
Metal detectors;
Safety lights;
Stun guns; and,
Tasers.
We also offer various types of home protection such as:
Slideaway alarms;
Glass breakage alarms;
Door guard and door stop alarms;
HomeSafe security equipment system;
Voice alerts; and,
Pool alarms.
So although our company name is Security Camera King rest assured that we specialize in all sorts of security equipment, not only digital video cameras.
If you are interested in purchasing any of our security equipment or you simply have a question or need support please contact one of our security experts on-line using "Live Chat" or by telephone at 866-573-8878 Monday through Friday from 9AM to 6 PM EST.