So, you want a new Security Camera System for your home or business. Or, you just need to update an existing one but you don't know exactly where to start. Here is a simple and useful checklist/flowchart that will take you step by step to help you determine the best plan of attack to tackle your Security Camera System needs.
Maybe you have an existing analog CCTV system using D1 or 960H cameras with standard coaxial cable.
Do you have an existing security system?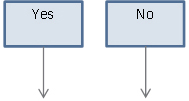 For years, the standard has been RG59 coaxial cable with BNC connectors to hook up your CCTV system. Today, many newer homes and businesses have been or are being wired with CAT5, CAT5E or even CAT6.
Do you have any existing usable cable?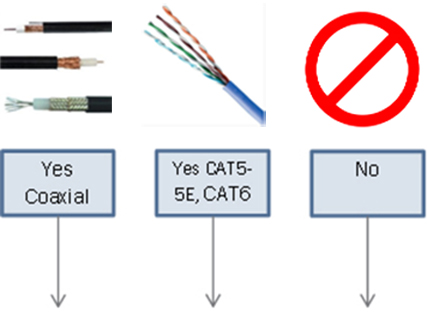 You have options! The next step depends on your budget and what your ultimate goal is. The best case scenario is that you have an existing CAT5/5E/6 infrastructure since that will allow you to use the latest technology and continue to grow. If you're not pre-wired with network cable and don't want to break the bank running new CAT5/5E/6 cable all over your property, then hopefully you have RG59/RG6 coaxial cable. If you have no cable and need to start from scratch, I'm going to suggest that you do it right the first time and have CAT6 cable installed since applications running at 1GB/s are already putting strains on the bandwidth capabilities of CAT5E.
With existing or new CAT5/5E/6, your best choice for a recording device will be an NVR (aka Network Video Recorder). You would use an NVR along with IP network cameras. The NVR uses your local network to send and receive data and is ideal for remotely monitoring your surveillance system from your computer, tablet, or smart phone all while recording to a hard drive. Because IP cameras are on the cutting edge of surveillance technology, your security system, anchored by a quality NVR allows you to include new cameras with more advanced features. While most IP cameras and NVRs are compatible, you should always check with your surveillance system supplier to ensure all of your products will work together properly. In case you didn't already know, when using an NVR and IP cameras, you have the ability to power your cameras through the network cable! This is an excellent benefit that eliminates the need to run an additional 18/2 power cable. We have packages like this 8 channel NVR with built in POE that are ready to plug in and go!

Do you have coaxial cable? Ideally you would have RG6 coax cable since the larger conductor, thicker dielectric insulation and aluminum braid shielding help to more effectively handle Ghz level signals. If you don't and have an older CCTV system and you have been using RG59 coaxial, you have a couple of options. First, confirm that you have continuity in your coaxial cable runs. Once you've done this, you can choose between a few options for DVR's.

The first option is a standard analog DVR or Digital Video Recorder that records at a 960H resolution (960×480). These are still widely used and are considered a reliable option due in part to the stability of the software (usually Linux) that is embedded in the chip. Capable of achieving resolutions up to 960H, this is an inexpensive upgrade from traditional D1 systems. The images are saved directly to a hard drive that we install before shipping when you purchase a hard drive along with your DVR. We'll help you choose the number of channels (4-32) of the DVR that you need depending on the size of your property, what kind of coverage you want/need and any future expansion plans! A great place to start is with this complete 8 channel 960H DVR System!

Option number two is one of the newest and most interesting technologies called High Definition Composite Video Interface or HDCVI for short! The HD-CVI DVRs are capable of achieving resolutions up to 1080p and frame rates up to 30fps. This is the best choice if you want higher resolution images without having the expense of running CAT5/5E/6 cable. HDCVI technology helps you to realize multiple signal technology over one cable with video, audio and control signals all through the same coax cable! On top of that, HDCVI allows for longer distance cable runs (1600 feet or more) with no need for repeaters! HDCVI DVR's MUSTuse HDCVI technology cameras made specifically to be used with them. Take a look at this complete 8 channel 1080p HDCVI package.

Last in your choice for DVRs are the MOTHER OF ALL DVRs…the Hybrid or the Tribrid! The Hybrid gives you the best of both worlds. You can combine 960H analog AND IP Network technologies for the most flexible system available. Along with all of the best features of both technologies, the coolest feature by far is the ability to DOUBLE the amount of cameras you can record (not available on all DVR's/NVRs). That's right! With the 16 channel HYBDVR-FE016-DH-160 you can record 16 analog cameras AND 16 IP cameras simultaneously if you choose! While the Tribrid doesn't give you the ability to double the channels, it steps it up another notch and gives you the option of HDCVI in addition to Analog and IP Network.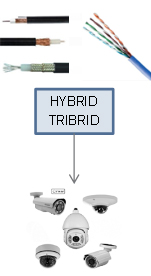 You know what type of cable you have and what your choices are for a recording device. Now you need to figure out how many cameras you are going to need. With Google Maps we can see an aerial view of your property and we can help you decide the best placement of cameras to give you the maximum coverage! As far as choosing the type…THAT can be overwhelming! But, when you choose our products, we will help you every step of the way and that includes deciding on camera types and options like bullets, domes, indoor, outdoor, PTZ, auto-tracking, night vision (IR), WDR, varifocal zoom, etc. etc.
Let's pick some cameras!
You'll be utilizing CAT5/5E/6 cable so you'll be using an NVR and you will need to purchase IP Network Cameras. As I said before, the choices can be overwhelming but unlike the soda aisle with ten different types of the same brand, you don't have to make uninformed choices! Let's see what type of options you have.
IP Bullet Cameras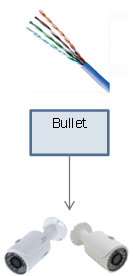 With Bullet Cameras you have to choose whether these will be indoor or outdoor. The most important thing to look for is an IP66 rating. A camera that has that rating can be used indoor and outdoor and will be protected against the elements. The price difference is almost negligible so I would recommend getting cameras that can be used indoor or outdoor like our very reasonably priced 1.3MP IPOB-EL1MPIR50.
You should choose whether you want to be able to see at night and at what distance. We have bullet cameras that have IR (Infrared) night vision capabilities so you can better identify intruders at night or in poorly lit areas. We have cameras, like our IPOB-TP2MP250L660-W that can see up to 250' in the dark!
  Your lens is also another aspect to consider. Do you want a fixed lens or do you want the ability to zoom in on objects? We offer varifocal bullet cameras that can be adjusted directly at the camera and we also offer motorized bullets like our IPOB-EL3IR100ML-D2 that is controlled right through your browser.
There are other considerations like ONVIF compatibility, color, etc. but the above three are the most important.
IP Dome Cameras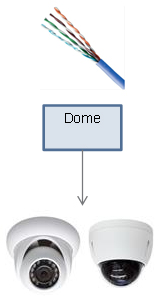 Dome Cameras give you options as well but there are a few different things to consider when using Domes. Again, look for that IP66 rating and that will ensure that you can use that camera inside or out! Consider our top-quality but inexpensive IPOD-EL1MPIR50-E as a great starting point.
Do you want to be able to view people more clearly at night? You'll want a Dome with IR (Infrared) night vision capabilities and the bad guys won't be able to hide. See what 100' of IR and 3MP looks like with our IPVD-EL3MPIR100!
You can get fixed or varifocal lenses that will let you adjust the zoom from the camera. If you hate getting up on a ladder you might want to consider a camera like our IPVD-EL3MP100ML2812 that allows you to adjust the zoom from your browser.
All of the things discussed previously like ONVIF compatibility, color, etc. are all still options but with domes you should also consider whether you want a standard turret style that has glass over the lens or a vandal proof Dome rated at IK10 which protects against a 22 pound object dropped from 15¾" in height.
IP PTZ Cameras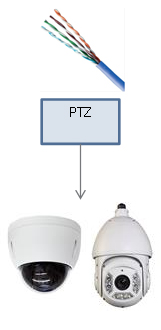 With IP PTZ Cameras, you have control! You have control of what you see because this camera has the ability to PAN, TILT and ZOOM in on a subject! Yes, they can be more expensive, but if security is your main concern then you should consider a PTZ and we have them starting at $529 for the IPPTZ-EL2L12X-Mini-i
Just like the Bullet and Dome cameras, you will have the option of IR so you can see images in total darkness!
The zoom function on the PTZ camera allows you to zoom into objects AND move from side to side and up and down! The full feature IPPTZ-EL1MPIR250L20X is a 1.3MP PTZ with 250' of IR and 20X zoom that won't break the bank.
You still have options including the option of Auto Tracking that tracks a moving object upon entering the frame. Check this beauty out IPPTZ-EL2IR2L30X-AT!
You have RG59 or RG6 coaxial cable and you have a choice between Analog and CVI. Either way, we have pre-designed systems ready to ship or a helpful staff that will guide you through everything you need to know to help you make an informed decision based on your needs!
Analog Bullet Cameras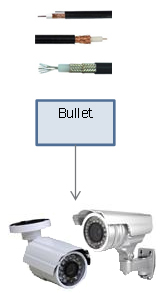 The Analog Bullet Cameras are similar in design and construction methods so continue to make sure that they have that IP66 rating. We have bullets ranging in price from $19.34 for a special purchase that we made so stock up on the ELI-AN3-EB54-49R .
The picture quality of these bullets measures in terms of TVL (TV Lines) which is the line density where the camera is no longer able to reproduce individual lines. The higher the number…the better the picture! The highest we currently have available is the OB-CM800IR50-W.
Keep in mind that you will need to have existing power cable running with the coaxial cable or you will need to run an additional 18/2 power cable!
Analog Dome Cameras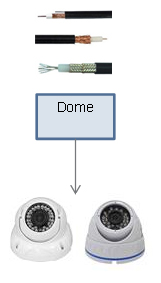 Our Analog Dome Cameras have you covered from 600TVL – 1200TVL. Take a look at our 1200TVL Vandal Resistant Dome that is only $44.95!
You can get Domes with up to 100' of IR and a top quality 1/3" SONY Image Sensor for under $100 with a varifocal zoom lens when you purchase our OD-LX700IR100L2812-W!
Remember everything we've previously discussed and if you're ever been baffled by all of the lingo, check out our online CCTV FORUM for answers 24/7.
Analog PTZ Cameras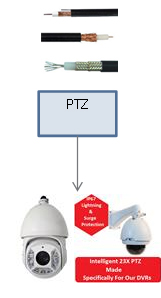 If you need to monitor your security system and want some of the most amazing detail that you can get, the PTZ with up to 36x zoom is for you!
We have PTZ Cameras with no IR that you can use for the hard to see areas of your retail store starting at only $499.00!
You will be amazed at the detail and quality of these images like the 23x PTZ-EL700IRL23X-D2. Imagine how helpful crisp, clear images will be if you ever need to turn them over to the police!
That covers standard analog cameras over coaxial cable! Now let's check out some HDCVI cameras and remember, these MUST be used with HDCVI DVR's!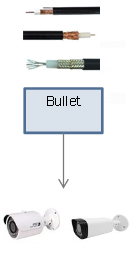 The HDCVI Bullet Cameras utilize the HDCVI technology that allows you to get HD quality over coaxial cable. Check out these tiny bullets that have a 720p resolution for only $59.95 CVIOB-EL1MPIR50-E
HDCVI is a specially developed technology that only works with HDCVI compatible DVRs. MAKE SURE you are using HDCVI Cameras with HDCVI DVRs only!  We have a great assortment of bullets going up to 2MP!
Keep in mind that you will need to have existing power cable running with the coaxial cable or you will need to run an additional 18/2 power cable!
CVI Dome Cameras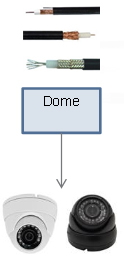 Imagine 1080p quality images for under $100! That's what you get with the CVIOD-ELV22MPIR50! You couldn't have even come close just a couple years ago.
Not only do you have options in terms of image quality, IR distance, etc. but you can get domes in black like the CVIOD-TP2IR100L2812B!
Don't allow yourself to be confused. Check out our website at Security Camera King and take a look around. It's easy to navigate, informative and we includes tons of videos! Everybody likes videos!
CVI PTZ Cameras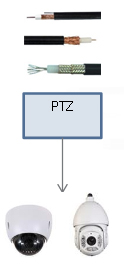 From 12x to a screaming 20x zoom, we have a PTZ that will do and see what you need! If you think you can't afford one . . . check again because our CVI PTZs start at just $449 and that's a bargain for your security!
Imagine a 20x PTZ with 250' of nighttime IR for under $600 – we've got it CVIPTZ-EL1IR250L20X!
Monitor employees, customers and areas of your business where you have limited visibility!
Don't forget about the incidentals like cables, connectors and power supplies! That's the easy part! Hopefully you have a better idea of what you need to put together a Home or Business Security System but if you still need help . . . we're here! Just give us a call at 866-573-8878!