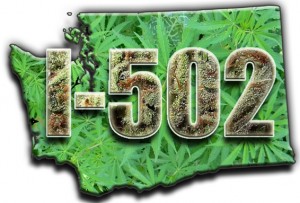 Ever since the citizens of the great state of Washington passed Initiative 502, there has been a constantly evolving code WA 314-55.  This code has all of the restrictions, safeguards, and regulations of the new first of its kind law to allow for the growing, processing, and selling of both recreational and medicinal marijuana.  Now I have been watching this law evolve from it's initial form back towards the end of 2013.  This is the time when a very nice gentleman had given me a call and would discreetly talk with me about his needs for his "new business venture".  We worked for several weeks to iron out all the necessary components to make sure he was compliant with a law that I knew nothing about, what we now call the I-502 Security Camera Law.
He was very secretive as to what he was doing, and I can understand why after talking with him over time.  He and many of the early adopters were experiencing that many of national corporations were not willing to help and in fact dropping clients when they found out what kind of business they were operating.  This gentleman ended up being one of the first few licenses that were approved in early 2014.  He also gave me some very valuable knowledge and information to study.  What he ended up giving me was, what I later found out to be, WAC 314-55-083 the section of the Washington Code dealing with the surveillance and alarm requirements that were mandated by the state.
With this information, I studied it very thoroughly and sought to break it down in all ways to make sure if I were to help any future customers, I would be able to steer them in the proper direction and ensure their compliance with the law.  I feel that compliance and cohesion with this law will go a long way in the Nationalization of the Legalization of Marijuana.  This is because if other states and countries can learn from what is being now called the Great Social Experiment of Colorado and Washington, the world may actually become a calmer place to live and we can get America back to its farming roots.
As I have worked with many of the first producers on the market, my experience grew and my knack for the law grew with it.  Then came the processors and retail shortly there after.  With every segment that I helped, we as a team grew stronger in our knowledge and skill set to properly outfit the I-502 community.  One of the biggest battles with the new law has been whether or not the system as a whole needs to be IP compatible or if every single camera needed to be IP compatible.  There have been many of rumors running out there, from inspectors that were untrained to other camera companies running ads in a magazine and posing it as an interview with an expert.  This guy was only trying to drive up the prices of all of the sales he was getting.  I took all the misinformation that was floating out there and went to the Rule Making Committee.  This is the email that I sent and the response that was given back to me:
From: Carpenter, Mikhail (LCB)
Sent: Thursday, June 26, 2014 2:00 PM
To: McCall, Karen J (LCB)
Subject: FW: WAC 314-55-083
This is where one member of the LCB sent my email to the rules coordinator. From the initial email that I had sent trying to help correct these laws.
From: Ryan Newkirk [mailto:rnewkirk@techprosecurity.com]
Sent: Thursday, June 26, 2014 11:56 AM
To: Carpenter, Mikhail (LCB)
Subject: WAC 314-55-083
To Whom It May Concern:
I was just sent this new revision of WAC 314-55-083 from one of my customers and noticed that since the law has been passed you have added that cameras need to all be IP compatible, this really makes absolutely no sense whatsoever. What is the point of having cameras IP compatible, when you will not be able to see them remotely on your end. Having the recording device IP compatible is the only thing that makes sense. Even if there was a router on the market that could setup sufficient port forwarding rules to allow access to these cameras remotely, what good does that do you? You have absolutely no access to the footage, all you are gaining access to is the live video stream from the camera. You can gain the same access through having only the recording device be IP compatible.
Please provide me with some clarification on this issue.  I really do not understand the thought process behind this new addition to the law with regards to making every camera have to be IP.
Thanks In Advance.
Ryan Newkirk
This is the response that I received back:
From: "McCall, Karen J (LCB)"
Sent: Jun 30, 2014 12:15 PM
Subject: FW: WAC 314-55-083
To: "rnewkirk@techprosecurity.com" <rnewkirk@techprosecurity.com>
Cc: "Carpenter, Mikhail (LCB)"
Ryan,
You are correct.  The same can be accomplished with IP server.  We do not need the cameras IP if the recording device is.  I will make a clarification in the permanent rules when they are drafted.  Thank you for bringing this to my attention.
Karen McCall
Rules Coordinator
WSLCB
These are the types of things that a company that is looking out for the people of Washington would do.  Unfortunately there are too many companies out there that are looking to do nothing more than rake you guys over the coals and bank on the cost of these systems.
Yes, I do work for a company that is looking to make money, but no we are not thieves and liars.  There is a motto around here, it is easy to sell something to someone one time, but if you sell them the right stuff at the right price you will sell to them and their friends multiple times.  With that being said, we are a manufacturing company that focuses on customer service.  Part of that customer service is making sure that all of the markets we serve are not getting pummeled by misinformation and bad products.  That is why we strive so hard to put as much information onto our site and focus our internal training on making sure that our employees have the knowledge, expertise, and background to best serve our clientele.