When it comes to home security there are many options out there.  When I was looking for a DVR I wanted a full featured DVR in a small package.  I came across the Techpro Ultimate MiniSeries DVR, this little unit is full featured and is great for automation as well.  It offers D1 realtime resolution on all channels, Dual Core processors, dual hard drive bays, alarm inputs and outputs, audio inputs, capable of two way audio, can handle up to four monitors, has a three year warranty, lifetime technical support, and free remote viewing apps for iPhone, Android, iPad, and Tablets.  There is not much this little machine cannot do especially when it comes to automation.
There are many reasons to why I like this unit. First is for the high quality analog recordings it can do.  D1 resolution at thirty frames per second.  This is a huge thing for me because when most systems record at D1 resolution they are not able to record at thirty frames per second on all channels, the most I was finding was fifteen frames per second on all channels.  With the thirty frames per second I know that no matter what is happening I am going to catch it and the recorded video does not look robotic.  The second biggest reason that I like this little machine is that it can handle two different hard disk drives, so that I can either extend the amount of time the machine can record or I can run the RAID configuration so I will always have a backup of the events even if one of the hard drives fail.
The two way audio capabilities of the Ultimate Mini DVR is fantastic for the application that I use it.  I have set up an old stereo that I had laying around to accept the audio outputs from the DVR and utilize it's amplification to output the audio source from the DVR and relay it to some outdoor loudspeakers that I have installed.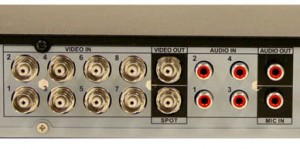 This may sound crazy, but it has come in very handy in the past.  I can use the TechproSS application on my phone and speak through the DVR to those speakers.  This type of application could be used for many of things.  It is not however an intercom system, so whatever speakers are connected to it will have the sound come out of them.  For instance, if you had an office environment and you wanted to be able to communicate back and forth with someone, anyone else who has the speakers installed near them would hear part of the conversation.  But, it will work great if you have like a warehouse or yard and you wanted to announce something it would be able to handle that.   Now keep in mind that if you have microphones attached to the unit and are utilizing the audio out, if you have the channel selected with the microphone input, it will be broadcast through the speakers that are attached to the DVR.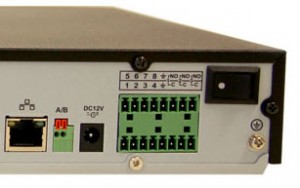 One of the best things about this unit is the alarm inputs and outputs.  Most people will think that I am crazy, but I can utilize these functions to do numerous different applications.  One of the functions that I can do is utilize one of the alarm outputs to trigger something.  I use one of mine to be able to open my garage door from anywhere that I have an internet connection.  I also use one of them to trigger an alarm siren on my house.  I use another one to turn on and off a light at my house.  They really can be used for almost anything you can imagine.  I have known of customers who have utilized the outputs to open gates, release Mag Lock doors, open blinds, and many other things.
There are a couple of things you will need to accomplish these things.  First you will need a relay coming from the alarm output.  The relay that I use and know works is an ELK-912. The reason that I like this relay so much is that it can handle multiple different types of power sources.  You will need some extra wire to connect the relay to the DVR and the device it will be controlling. If you are using this for turning on lights, I suggest you consult an electrician to help you not cause an electrical short or other problems.  You will want to follow the instructions that come with whatever relay you decide to use.  I am going to explain how I use the ELK-912 relay.  There are several different ways to accomplish the same result.  The first thing that you will do is to connect the positive wire from the device you are trying to activate to the Normally Open (N/O) on the relay.  You will then connect the negative from the device to the negative of whatever power supply you are using.  Then you will connect the common port on the relay to the positive of your power supply.  Next connect a cable from the negative of the power source to the negative of the relay.  You will then connect a cable from the positive terminal of the relay to the Normally Open (N/O) of the alarm output on the DVR.  The last cable that you will need to connect is from the Common Port of the DVR to the positive of your power source.
Now that you have your device connected to your DVR there are several different ways that you can activate it to test and see if it works.  The easiest method is to use the TechproSS Plus application on your phone or tablet.  Once you have at least one camera selected in the Live Preview, you will see a triangle on the bottom right of the screen with an exclamation point in it.  You will select this icon and another set of options will pop up, these are your alarm outputs.  You will select the check mark next to the alarm output that you want to activate.  If you have done it properly you will either have your garage door open, gate open, siren activate, light turn on, or whatever you attached to this output.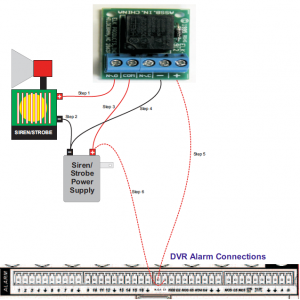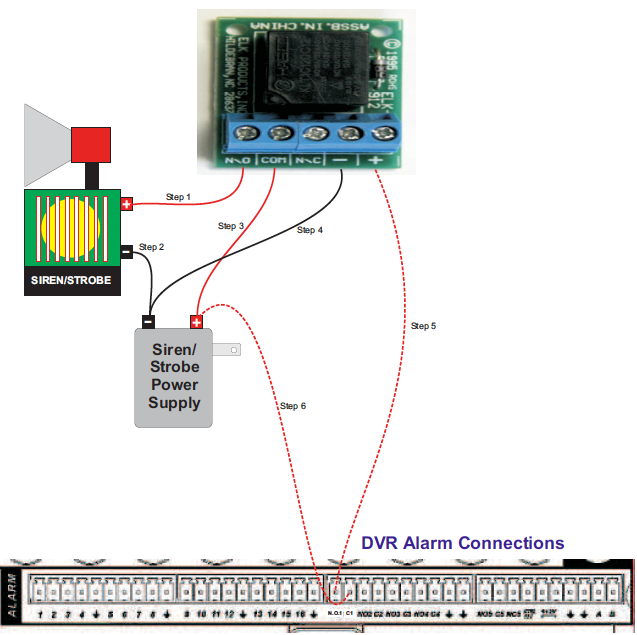 Another cool thing that you can do is to use the alarm inputs to trigger the alarm outputs to do something.  For example if you wanted your lights to come on automatically when you walk into a room, you could take an alarm motion sensor and have it connected to the alarm input of the DVR, have the lights for that room or area connected to the alarm output.  The input would then trigger the output to respond.  I use this type of setup at my front door, so whenever someone crosses my motion detector my siren goes off.
This is typically a little extreme, except we never use our front door for anything.  I also use this setup for a room in my house that we rarely ever go into, but when we do the lights automatically turn on when the motion sensor is activated.
The options of what the inputs and outputs on the back of the DVRs can be used for are virtually infinite.  I have only briefly explained some of the ways that I have used them, but I know there are people out there with imaginations that I could never compare to.  No matter what way you decided to use these, I know you will have fun.