What is Home Automation?
The ultimate goal is to be able to control everything in your home from one control panel. Imagine being able to turn your lights on and off, arm your alarm system, close your garage door, turn on your sprinklers, and set AC temperature without getting up from your sofa.
If that's not cool enough, just add an internet connection and mobile phone so you can control your home even when you're not in it! Until recently this has been expensive and somewhat complicated. Most likely you would have to buy specialized components and hire a company to install the equipment as well.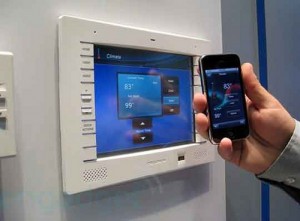 Some retailers, like Home Depot and Lowes, are now catering to DYI homeowners and have simplified the process by selling ready-to-go packages of the most popular home automation options. Some of these packages include a Starter Kit, a Home Safety Kit, and a Lighting/AC Control Kit with prices starting around $179.00.
In addition there is a whole new breed of self-contained, easy-to-install, affordable products that aim to change the way you interact with your home. You may say to yourself, "I am not a techie and this stuff isn't for me," but you're probably already using the most popular home automation device out there… E-mail! Think about it, you don't even have to go to the mailbox anymore if you choose not to.
Here is a list of some other home automation options you might find interesting:
Smart Home Security
Canary Smart Home Security Device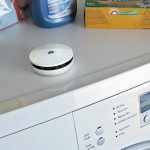 An all-in-one consumer security product designed to simplify home security and monitoring. This Wi-Fi device is packed with sensors to make your home smarter and safer. It has an HD camera, night vision, motion sensor, temperature sensor and microphone. Setup is as easy as plugging it in, downloading the app and connecting it to your Wi-Fi. The unit will learn your homes environment over time and send you notifications when something doesn't seem right. You can use it as a security system, a baby monitor, to check in on pets or the elderly, and more.
Home Monitoring
Spotter Multi-Purpose Sensor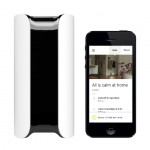 Similar to Canary, Spotter has sensors that monitor and notify you on specific conditions or changes to conditions in your home. It monitors motion, sound, light, temperature and humidity. This compact device can be attached to almost anything and monitor it for you. Attach it to you baby's crib and monitor motion or sound. Put it on your washer/dryer or even use it to alert you if the humidity of your humidor is not right.
In the Kitchen
Smart Refrigerator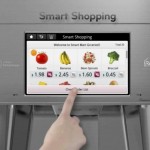 This category is very new and there is not one particular product specifically that does it all, but a bunch of really cool ideas are coming soon.
Just imagine a refrigerator with a built-in touch screen that keeps an inventory of all your food and can send you a text message when a certain item is about to expire. Some smart refrigerators even have cameras inside so you don't have to open the door to see what's inside.
Entertainment
Smart TV's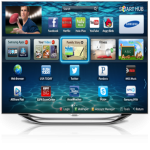 Smart TVs are televisions that are Wi-Fi enabled. They have the capability of a set top box along with the ability to run built-in apps like Netflix, Amazon Video or even a Web Browser.
Roku or Apple TV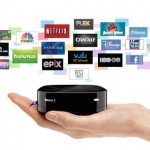 Another alternative to buying a new Smart TV is to buy a Roku or Apple TV device. You can simply connect either device to your existing TV via an HDMI cable and they will add "Smart TV" functionality. Both of these options offer tons of channels, apps and games. You can watch virtually anything you like on demand. Some channels are monthly subscriptions, some are pay-per-view and some are totally free.
Simple Automation
WeMo Insight Switch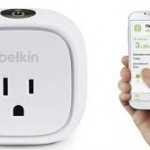 This is probably the easiest and most affordable way to get started with your smart home adventure. It's simply a Wi-Fi enabled smart plug with a companion app for your smart phone. You can basically plug anything into it and turn it on or off from your phone. The app will allow you to set up basic functions like turning a device off at a certain time or day of the week. You can also extend the functionality using the "IF" app options. You set up scripts based on the "IF-Then" protocol. For instance you can tell it to switch, "IF" a device has been on for more than 4 hours "THEN" turn it off.
Convenience
Goji Smart Lock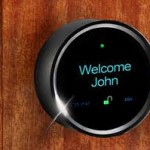 The highly anticipated Goji Smart lock is not only impressively designed, but may change the way you enter and allow access to your home. This lock will replace your standard front door lock and is a snap to install. It is a sophisticated electronic lock system that will allow you to manage access to your home on a person to person basis. It connects to your home Wi-Fi and allows you to lock and unlock your door via your mobile phone even if you're not carrying your keys. It can also be set up to automatically unlock and re-lock when you walk up to your door, based on your low-powered Bluetooth proximity. The lock also comes with a backup key and has optional programmable keychain "FOBS" for children that don't have a phone. One of the coolest things is that you can grant or deny access to your home to anyone at any time, simply by sending them an invitation access key. You can invite them for a week or give them one time access only. Then Goji will notify you of each person that enters or exits your home and can even send you a picture alert via text message. This is great for letting you know what time your kids get home or who's at the front door.
Comfort
Nest SMART Thermostat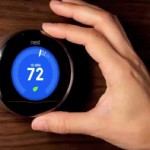 If you have ever use a digital programmable thermostat then you know how confusing and frustrating they can be. Most people that have one have given up on the advanced features and simply adjust the temperature higher or lower as needed. Now there is the NEST Smart Thermostat. It is not only extremely stylish, but it's super easy to install, as simple to use as the old school round dial thermostats, and actuality learns automatically. This can save you hundreds of dollars per year. Although you don't need to program anything, there are a lot of options for the adventurous. The NEST UI is impressive and simple. It has built-in motion sensors that know when you are home, learns your patterns, makes sure you are always comfortable, while also lowering your power bill. The nest app allows you to monitor and control the temperature of your home remotely, setup schedules, view usage reports and more.
Safety
Nest Protect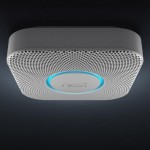 Wow! When was the last time you got excited about a smoke alarm? Most of us can't stand them. It's not that they are not important, but most of the time the only thing it's doing is alerting you that you don't know how to cook! Well, that has all changed with the new NEST Protect. This is the first innovation in smoke alarms since the 70's. Of course its Wi-Fi enabled and has a companion app. It will detect smoke and carbon monoxide as well as alert specifically to the room where the smoke or CM was detected. If it's a false alarm, you can simply stand below it and wave your hand to silence it. No more climbing up on chairs and ripping the batteries out. In addition each NEST Protect has built-in motion detectors and LED night-lights that automatically turn on and light your way as you walk through the house at night.
Conclusion
These are just a few of the self-contained home automation options available now, but this is only the beginning for this very popular and fast growing market.
If you're interested in an easy to setup, somewhat affordable smart home solution, this may be a good starting point for you.