"Hi, I'm from Fly By Night Security and we're in your area today (going door to door) selling security systems."  When buying security cameras, should you buy them the same way you buy Girl Scout Cookies? Let's explore this scenario a little bit.                                                              
What are you getting, who are you getting it from, and are you secure?
For as long as we have had the push button doorbell, they have been pushed by security system salesman primarily pushing long term contracts, because that's how they make their money. They certainly don't make money simply "giving away free systems". They sell by using strategies similar to salesmen pushing flood insurance who use "what if's" as scare tactics. Security is something we know we should have, but it's also something that we budget for the least. However, now with the arrival of Smart Phone technology, we are presented with a plethora of home automation options that allow us to remotely lock and unlock, turn on, turn up, and check the status of everything in our lives.  So with this in mind, what approach should we as homeowners take to secure our homes? How can we keep up with the latest technology while not being taken advantage of by signing the wrong 36 month contract?
Before we talk contracts and paperwork, let's look at the equipment.
C.C.T.V Cameras.
You may be asking, "Why do I need cameras?" You could be thinking that it could be that you just purchased your dream car and you would like to keep close watch on your investment in the driveway from your bedroom or on your phone. Or, maybe you enjoy knowing what your pets are doing while you are away at work. Oddly enough, actual security is sometimes the last reason some of us think of when asked the above question. Whatever your reason, make sure you are paying for the solution that best suits your needs and not those of the salesman.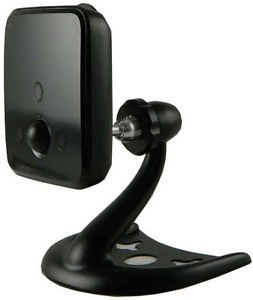 Have you ever seen the camera above hanging on the wall in a bank or a convenience store? Me neither. However, it does look a lot the thing on top of my kids game console when they play online with their friends. Mass produced, "Plug and Play" devices like these are items one would expect to buy from an online supplier or one of the "warehouse stores". They certainly don't appear to be professional quality equipment that you would expect to pay a monthly fee for on your cable bill. And  they're certainly not worth signing a 36 month contract for.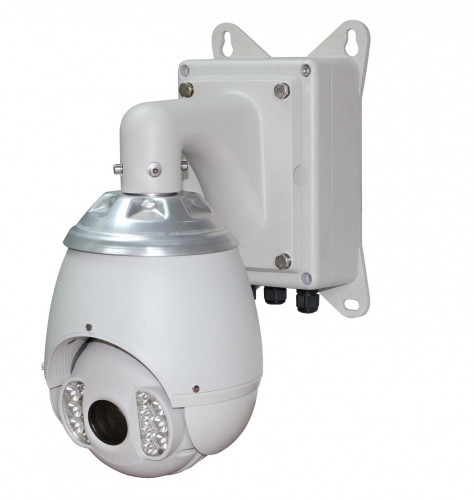 How about this camera? Have you ever seen one of these bad boys on your neighbor's house? Probably not, unless your neighbor lives at 1600 Pennsylvania Avenue! If I wanted to go this route, I'm guessing this item should only be in the $350 range, right?  Unfortunately, the answer is no a second time. The devices we see on CSI, spinning 360° around the crime scene, usually don't have a place in the home security world. It's obvious that one should ask a ton of questions when making a purchase such as this and it's critical that you make sure that what is on the "flyer" is what is installed. Getting something you didn't agree to in the beginning is the fastest way out of a contact.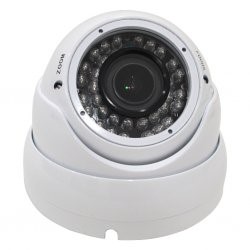 This is something that looks like it would be at home under my eaves keeping an eye on the front door for when the next security salesman comes a knocking!
I wonder what are my realistic options?
If you're a "Weekend warrior" you might find something similar to this online or at a local warehouse store for around $899 in a package!
Buying online kits and doing self-installs are a viable way to save money, but there are a few things you need to look at before doing so.
Do I possess the basic network and computer skills required to get this device connected to the outside world? Whatever that answer may be, there better be a tech support agent standing by to assist when needed, right?
Is tech support going to be available when I need them?
Do we speak the same language?  Are we even on the same continent?
Do they have the patience and understanding that I'm a homeowner and not a network engineer?
There is a company out there that meets all the requirements mentioned above and if you're looking for a DIY CCTV experience, SecurityCameraKing.com is the place to start!
The Contract
Even more important than making sure you get the right equipment for your project, is understanding and knowing the company behind the contract you're about to sign should you choose to go with one.
I'm sure you know that reading "customer reviews" on the company's website is a waste of time. Any company that's been around the block understands what self-promotion is and how to use it. There are multiple "generic" review websites out there like "Yelp" where customers traditionally post honest opinions… find them and read them. Just like in any other trade, plumbing, electrical, heating and air conditioning for example, it is "buyer beware" in the security industry as well. It can be very polarized with great companies on one end of the spectrum, and not so great ones on the other. If someone out there had a nightmare with the company you're thinking of signing with, it's very likely that they wrote extensively about it somewhere. By simply using something like "Google" you will see exactly what their customer service is really like. Being informed can be the best bargaining tool and headache prevention moving forward.
"Fuzzy Math"
The average C.C.T.V or Alarm System contract usually spans about 36 months and can come in around $3,200.00 … AND … you still may not own the equipment at the end of the contract! Automatic renewing leases, yes – LEASES, are very popular with the larger companies out there.
If the word "free" is used in the contract, be aware that the individual in front of you didn't show up this morning out of the kindness of his heart because he was worried sick about your personal safety. Nothing in the world is free.  The $3,200 over three years covers four things: the cost of the equipment, the cost of the installation, the cost of the sales team, and the profit for the company. Though upfront costs of equipment may appear expensive initially, when signing an amortized contract, ask yourself how many times you will pay for the same equipment over the next 36 months.
Very Important Information otherwise known as "what aren't they telling you".
ALL door to door security sales are high pressure and quota based. Most companies want to close you in the morning and install in the afternoon. Why is this? They want to get around what's called the "Three Day Cooling Off Rule". This federal law protects consumers in their homes during door-to-door sales pitches or at sales in temporary business locations. According to the FTC, the 3-Day Cooling-Off Rule does NOT apply to the purchase of new automobiles or items sold online. It only applies when a company is selling something that costs $25 or more at a location other than its regular place of business.
Don't let "One Day" sales and "we're only in the neighborhood for today" fool you because they will absolutely return the next day after you had a chance to review your Q & A list overnight.
Please use our free Q&A check list provided below.
Q & A Check list
Here is a basic check list to fill out in front of the sales person or overnight by yourself when researching the company.
Q: Where is their corporate office located and do they have a brick and mortar in my city or state?
A:________________________________________________________
Q: Will my contract be sold to the monitoring station after signing?
A:________________________________________________________
Q: What are the terms in months of my contract and will I own the equipment at the end?
A:________________________________________________________
Q: What is the cancellation policy and is there a fee to cancel?
A:________________________________________________________
Q: Is there an AUTO renew policy and do I need to submit a 30 day cancellation letter?
A:________________________________________________________
Q: Have I seen the exact pictures of the product that will be installed in my home?
A:________________________________________________________
Q: Does my city require a permit and if so permit fee?
A:________________________________________________________
Q: If installing C.C.T.V Cameras, has the dealer performed an UP speed test on my network to insure that I currently have accurate speeds to view my video offsite?
A:_____________________________ UP________ DOWN___________
Q: Will the offsite video be accessible from my cellular device platform?
A: IOS_________________________Android____________________
Q: Is the company BBB accredited (and have I reviewed other customer experiences on line)?
A:________________________________________________________
Q: Does my estimated monthly cost include taxes and all applicable fees?
A:________________________________________________________
Q: Is the company insured and will they provide immediate proof?
A:________________________________________________________
Q: Who will service my account and what are my trip charges in the event of an issue? Are service issues "subcontracted" to another local company?
A:________________________________________________________
Q: What are other people paying for a similar system?
A:________________________________________________________
Q: Is there referral program?
A:________________________________________________________
Q: Will my salesman give me his direct number in case I have questions after the install? Is he local or from out of state?
A:________________________________________________________
All of the questions above are realistic, current industry standard questions that should be answered before any purchase is made. Any representative of a legitimate security company should be willing and able to answer all of these questions or retrieve answers quickly. Any attempt to disregard or to play down the importance of the questions should raise additional questions.
When buying security for your family and property, sometimes a contract is the best answer, and sometimes self-install or buying equipment upfront is the answer. Whatever you choose to do, make sure in the end that you and your family will be secure in your home or business for the money you spent. Make sure you take the precautions to protect your investment by researching the system you choose and the company you choose to partner with.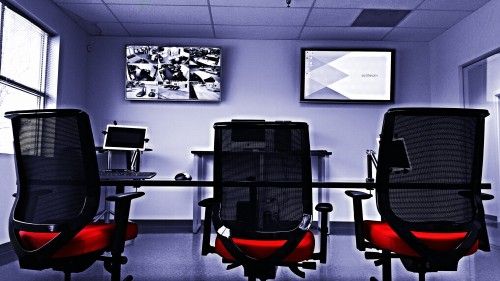 Best of luck on your search for true security!