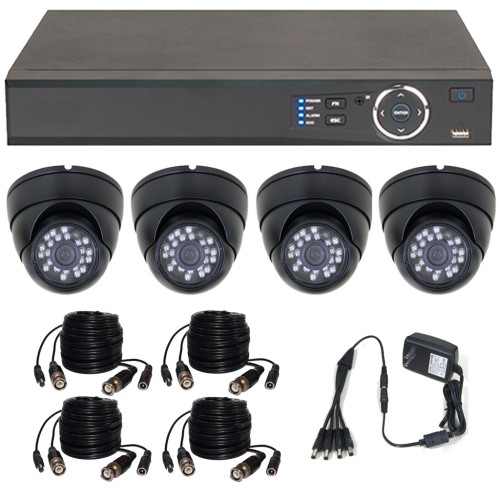 First thing to decide is what do you want to accomplish with your CCTV system. There are many reasons to consider a camera system, but what is your primary desire? If it is watching over your home, you need to concentrate on the perimeter, meaning you will need high resolution cameras that will work day and night. A good idea is to watch the approaches, driveway, outdoor storage areas. Have a boat stored? Put a camera on it. There are many reasons to own a CCTV system.
If you want protection for your store, you will need to decide where your important areas are. Obviously, entry and exit points. You will want to watch over high value, easily-lifted products with a sharp focus lens. Cash register area should have an overview camera and a camera on the cash register. Liquor storage area needs special attention. Coolers seem to draw problem employees for extended, unseen break times. They tend to eat up your food there, too. Beer missing? You will quickly find out who and when. High value food products have a bad habit of disappearing out the back door. Put a camera outside that back door. It is always suggested to install a camera in the manager's office, just to make sure he really is working and not watching porn or other unsavory things when he really has better things to do. Being able to watch delivery men can be very worthwhile, as there is a good chance you are being cheated by them. Have you had a slip and fall yet? A properly laid out system can make sure that you will be able to spot a fake accident when it happens. There is nothing better than being able to say "We have it on video!!" Generally a very good idea to be able to watch over the parking area. Seeing a guy walking up with a hoodie over his face? Get ready! Have a customer come in and scream that somebody backed into her car? You will see who is really at fault. Just having the ability to observe all activity will give peace of mind.
Have an industrial facility? Applications for a camera system are numerous. Watch over dangerous work areas, so you can make sure all rules are being obeyed. Problems with employees sneaking out to smoke weed? You can stop that. Valuable tools and parts missing? Stop that, too. Somebody made a mess out of the workplace? Call them in and tell them to go clean it up. Chances are that everybody in there will know about the counseling and will realize that you really are watching them. Powerful tool. Lazy employees will hate being watched and caught. But, you can talk to them about their bad habits, and hopefully get them to change their ways. If not, termination can be done without repercussions. Again, having it on video works very well. At times, an employee will clock out for a buddy. That is costing you money. A camera at the time clock area will make them not want to take the chance of getting caught. Applications for a camera system in these facilities are all over the place. Also consider that you will have the ability to watch over thing even when you are not there. All of our video systems give you the ability to look in even if you are on the other side of the world, via computer, smart phone, or tablet.
Have a car dealership? Wow, you really need a good system. Properly placed cameras can spot a theft before it even happens, and if being watched from a monitoring facility, authorities can be dispatched quickly and to exactly the right place. This also allows for a scaled response. Cops really like to know what to expect when they arrive on site. How much lot damage do you get? It would really be nice to be able to establish responsibility for that dented Mercedes. Do your sales people respond properly to walk-ins or do they attack like a pack of wolves? Or worse yet, NOT respond. Observe and counsel. Stolen tools are a real pain. A tech needs his tools, he pays for them, when they go missing, he can't get his work done. If everybody knows that they can't get away with it, even when Joe leaves that Snap-On torque wrench out. It will still be there when he comes back. Is someone stocking up their home office with your supplies? Stop that. Lunch room shenanigans? Nope, not now. How much aggravation does a lunch thief cause? Too much.
These very different applications call for different solutions. It is important to think over what you want out of a system, and then call us. Our staff has many years of experience, including installation and service. Quality of video products has improved greatly in the past few years. We now feature true high definition cameras that deliver megapixel resolution at pricing very close to the old style analog cameras. Response from our dealers has been phenomenal. Keep in mind that when you deal with Security Camera King you are not just getting a box of parts. You are getting Brad, Chuck, Dan, Zeke and a bunch more really talented experts in the field. On our website, check out the customer reviews of the products. Almost every one will say something about the support that they got in the purchase experience. Whether you have a simple shop or a 200,000 SF warehouse, we can, and will, assist you in making the proper equipment choice. We consider a security system to be an investment, not just an expensive toy. We will make sure that you make an intelligent investment choice, and then we will stand behind your system. You will get our superb tech support when you do your install, and for as long as you have the system. This service includes helping you with the more challenging parts, where our techs will remotely access your system and make whatever adjustments needed, and for as long as you have the system. That level of service is unheard of in our industry.