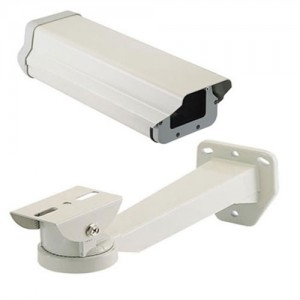 One of the most popular digital video security system features is the zoom CCTV or Closed Circuit TeleVision.  There are many different types of Zoom CCTV cameras designed for a multitude of uses; be sure when shopping for one that you get the features you need.
What is a "zoom CCTV" anyway?   It's a digital video security camera used in CCTV that can vary its lenses focal length enough to enlarge objects farther away from the camera and make them appear closer (enlarged) and with more detail.  These lenses are often referred to as varifocal.
Most box cameras that do not have built in lenses so they have the advantage of using Zoom CCTV lenses only.  These can be manual lenses where they are basically positioned through trial and error by hand or they can be remotely controlled as well.
There are also some cameras that do have on-board lenses that zoom only and these are often found among the bullet type and dome type cameras.  When we say "Zoom" only, we are referring to just the zoom function, as compared to a Pan-Tilt-Zoom or PTZ camera which has additional features including the ability to move horizontally or vertically.
Security Camera King has a wide selection of digital video cameras including cameras that can zoom.  Examples of varifocal lens "zoomable" bullet cameras that they offer include:
Security Camera King also has plenty of dome cameras with zoom capability.  General these lenses are "fixed" to the camera and cannot be changed.  This type of lens is often called a "board lens."  They may also offer digital zoom as well.  Here's a partial list of their Indoor Dome Cameras:
Security Camera King has plenty of outdoor zoom CCTV cameras also.  Once again, here is a partial list of their "Vandal Resistant" dome cameras that have zoom capability:
We'll save listing the PTZ cameras when we write about them but of course, if it says it's a PTZ camera, than it must have a zoom lens.
If you have any additional questions about zoom cameras and whether your situation calls for one or not, please contact one of security experts.   You may contact them via on-line "Live Chat" or by telephone at 866-573-8878.