Our active deterrence cameras come equipped with visual and auditory warnings built right into these cameras. You'll never have to worry about your surveillance going unnoticed by intruders again.
Active deterrence cameras offer additional measures taken by a surveillance system to ward off potential intruders and to, well, actively deter crime. Our Active Deterrence line at Security Camera King will not sit idly by while an intruder appears on the scene. These cameras have the ability to warn potential criminals through a motion-activated strobe light, siren, and voice. It may sound simple at first, but for features like this to be useful, it takes some pretty advanced motion-detection technology.
IPOB-ELS5IR28A-AI-AD
The IPOB-ELS5IR28A-AI-AD is packed with the latest technology for this robust 5 megapixel (2592 × 1944) IP camera from our Elite series of security surveillance products. Incorporated with an Active Deterrence feature that gives the security camera the ability to fend off unwanted intruders through intense white lights (flashing or normal) and a blaring siren through the built-in speaker. This dual-purpose solution has a microphone and speaker that inherently allows two-way communication between yourself and any perpetrator.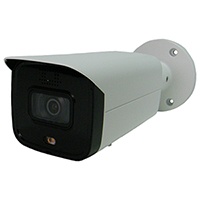 The active deterrence camera's AI (Artificial Intelligence) utilizes powerful algorithms that improve overall accuracy of motion-based recordings. The AI has many custom features that include face detection, people counting, and perimeter protection features.
The perimeter protection capability utilizes multiple virtual tripwires to increase the overall accuracy of motion detection in dedicated and fixated areas while greatly lowering negative and false detection events. Advanced processing capabilities of the active deterrence camera's AI can be trained to focus on high volume vehicle areas or areas prone to pedestrian traffic to make better and more efficient use of the camera's resources.
People Counting uses progressive analytic image technology to sort and recognize humans from other moving objects. The AI will track objects detected as humans in real-time through a plethora of real-life situations. Data is collected and stored for each person entering and leaving the camera's viewable range with a 95 percent accuracy rate. You will be required to pair this camera with NVRs that also have AI capability in order to enjoy the full advantages of an active deterrence camera.
This active deterrence camera has a wide-angle 2.8 mm lens that permits this camera uses to detect objects at approximately 184 feet, observe objects at approximately 72 feet, recognize people at approximately 36 feet and identify people at approximately 20 feet.
IPOD-ELS5IR28A-AI-AD
Introducing the IPOD-ELS5IR28A-AI-AD our latest and greatest addition to our Elite series of professional network IP products is this smart 5MP AI IP dome camera that has some features which will truly set it apart from the majority of other cameras that are available. 
The camera features H.265 compression which helps to reduce bitrate and storage requirements and has a 1/2.7" 5MP progressive scan CMOS image sensor providing up to 2592 (H) x 1944 (V) pixels capable of delivering super crisp images even in difficult lighting environments thanks to the built-in smart IR and Starlight technology. This camera provides 5MP up to 20fps and can go higher FPS if you lower the resolution.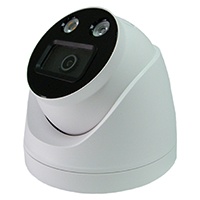 Having 1 built-in IR LED light will provide up to 164 feet of infrared distance for night time viewing. With a 2.8mm wide-angle fixed lens, you can expect a horizontal viewing angle of approximately 102° making this camera a great choice when you are wanting to cover a large area. 
This 5MP AI camera has smart features that are powered by deep-learning artificial intelligence algorithms such features as Face Detection, Perimeter Protection, and People Counting. Perimeter Protection functions aim to greatly reduce false alarms for object detection providing greater efficiency with real-time alerts.
A favorite feature is the Active Deterrence system that is made up of white light and a built-in siren to help scare off intruders. This white light will turn on when an intrusion is detected and the siren will buzz to alert the intruder that their presence is now well known. The light can be set to normally on or to flash and you can customize the siren as well.
This camera has an IP 67 ingress protection rating and a 6KV lightning protection rating making it a great choice for various outdoor applications. It has a built-in microphone and speaker, microSD memory available up to 256GB which is sold separately. There are plenty of features available which you can view more of by scrolling down and viewing the specification sheet in PDF format and the many mounting options which you can view below also.
We provide Free remote viewing Apps for Android and Apple devices along with Free U.S. based technical support. Warranty information can be found here.
If you are interested in buying security cameras for sale, only invest in products that offer true solutions for your security needs. Contact Security Camera King today at 866-573-8878 ext. 2 to speak with a helpful sales representative for assistance.
Active Deterrence Cameras