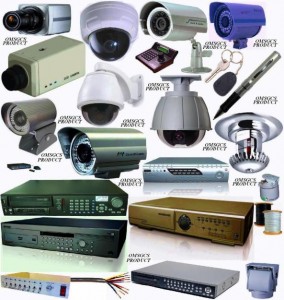 Digital video camera security systems with cameras are the one of the most popular anti-theft, alarm, and surveillance systems in use today. Innovative technology including advancements in the digital video camera industry and computers have made these security devices not only versatile for use just about anywhere, but low in cost to be so economical that businesses and residences alike are using them for protection.
Camera security systems with cameras are basically component systems; they are individual pieces linked together to operate as one system. This produces several advantages for the system as a whole. First, individual parts or devices of the system can be made by different manufacturers. In addition, these components can be purchased so that each individual part is highly customized to serve a specific need, while maintaining the integrity of the total system. This allows "mix and match" system building.
Typical digital video camera security systems with cameras contain three major components: 1) Cameras; 2) Digital Video Recorders or DVRs; and 3) Monitors. Keep in mind that since these are component systems, every system can vary in the number of basic and additional components used. For example, camera security systems with cameras used for industrial areas may contain 16 or more cameras whereas residential camera security systems with cameras may contain only two or three.
Further more, each component type of the system can be different to accommodate the needs of the user. That is, a residential system may have 5 cameras, with each camera being of a different type or for a different function. One camera may be an outdoor camera with day/night vision that monitors a driveway, another may be an outdoor camera with day/night vision and audio recording for monitoring the front door, and a third camera may be an indoor camera that monitors the living room and hallway areas. A fourth camera may be an infrared night vision camera used as a baby monitor and a fifth and final camera may be a motion detection activated camera for protecting a home office. All of these cameras can be used together easily in tandem even though each one may be a different type and model.
In fact there are many features and/or options available for each component of the system. The following is a partial list of the most common features/options available for the components of camera security systems with cameras:
Cameras
• Box, dome, and bullet shaped cameras
• Indoor/outdoor cameras
• Extremely sensitive day/night vision cameras that use very little visible light
• Night vision infrared cameras that use near infrared radiation to illuminate their targets (this "light" is invisible to human eyes)
• "Wireless" cameras that send their video signal via radio waves instead of coaxial cable
• Cameras that record both video and audio
• Internet Protocol or IP ready cameras that can be immediately connected to and networked via the internet
• Cameras that capture high quality black and white or full color video
• Pan-tilt-zoom or PTZ cameras that can vary the position of the camera to increase its field of view — when used with additional programming for the DVR unit these cameras can even track or follow a moving object
• Hidden or disguised camera types for covert monitoring
Digital Video Recorders
• Various storage capacities are available from Gigabytes to Terabytes — the larger the storage capacity the longer the recording time capability and/or the larger the number of cameras being recorded
• Flash card digital recorders are available for small, light-weight portable digital video recording
• Various COmpression/DECompression utilities or CODECs are available for creating digital video files
• Internet ready DVRs that can be networked using the internet
• DVRs that can handle 4, 8, 9, or 16 cameras at one time
Monitors
• These days, most monitors are the equivalent to LCD computer monitors so they can vary accordingly in size, type and resolution
• Small individual camera monitors are also available
• Individual use wireless monitors such as those used as baby monitors
As you can see, camera security systems with cameras have a tremendous variety of features and additional options that make them incredibly versatile. These features combined with the component functionality of the system make them useful for the largest business as well as small residential use. In addition, technological advancements have resulted in economical pricing making these systems affordable for just about anyone.