Security Camera King is here to help our customers with any problems they might be having. We regularly post articles and videos for technical support issues. In this article, we will provide a tutorial on how to enable P2P and connect your recorder to a mobile device. Continue reading for an easy to follow step-by-step guide. And be sure to take a look at all the products we carry in our extensive catalog of security cameras, CCTV products, and surveillance equipment. Find that and more information about who we are and what we do by clicking here: Security Camera King.
Connect Your Recorder to a Mobile Device |  Guide
Okay, let's get started. For the following example, we will enable P2P from the local interface. Start by right-clicking the page and selecting Main Menu. While in the Main Menu, select Network at the bottom, under the Settings menu on the bottom row.
Once in Network Settings, we want to make sure we are in the correct range. In order to do this, select the DHCP option next to the Mode choices. Make sure to do this if STATIC is currently selected. Okay, now select DHCP. This will automatically assign an IP address to your network. Now, if you already know the range of your network you can assign a Static IP, as well.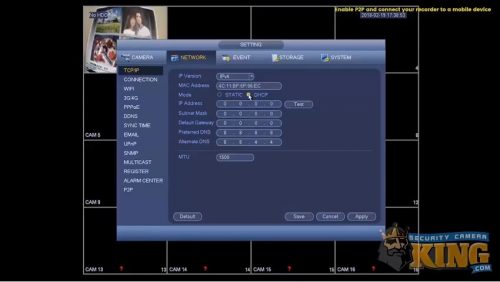 Okay, so let's go back to Network Settings. This is where you can see that it pulls your IP address.
Once you see that your IP address is locked in, you can go on down to the P2P option on the side menu, at the bottom-right. If it does not say P2P, it might say Easy For IP. While in here, select Enable by check the box at the top. Once you have enabled it, press Apply at the bottom-right hand corner. Now, remain on this page while we move to your phone.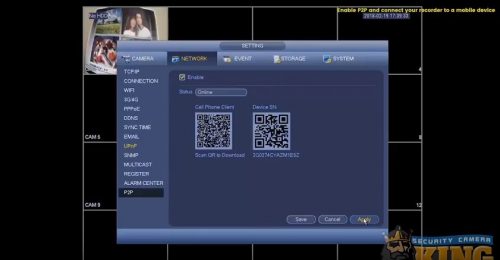 The next step has to do with your connected mobile device. So, go ahead and take that out. Once you have pulled up the TechPro SS App on your mobile phone, you can continue. Go ahead and select Camera at the top of your device. Then, select the Menu Icon on the upper-left hand corner. Next, select Device Manager. At this point you should see a screen that reads "Before adding device, please make sure your device is initialized, otherwise you cannot use it."
If you see that, then we can continue. Here we are going to add your device. Select Wired Device. Next, select P2P. Now we are going to give your device a name. This is also the place you can either manually enter the device serial number or select the icon to the right of the SN option. If you choose to do this, your camera should pop up and you can scan the QR code on that page.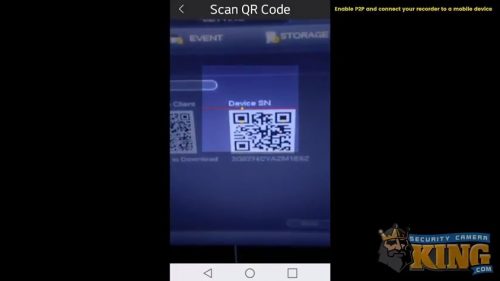 Finally, it will ask you for a username and password. Enter those, go to the bottom and select Start Live Preview. That's it!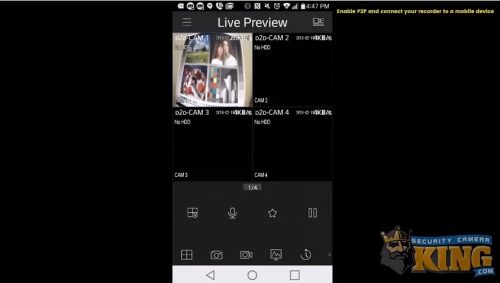 I hope this was helpful and answered any questions you might have had regarding issues when trying to connect your recorder to a mobile device. Please visit our channel on our website for even more helpful tutorials and How To video for our customers here: Video Vault.
And for a look at our huge collection or security cameras and related surveillance equipment, go here: Security Camera King.
Connect Your Recorder to a Mobile Device | Partnerships
TechPro Security helps our clients with any installation needs. They are located in Boca Raton, FL and are experts in the alarm and security industry. Be sure to contact them for any security camera system advice, including camera placement, system compatibility, product recommendations, and more. They can answer any and all questions related to the alarm industry, access control equipment, security or surveillance systems and setups, and more.
Digital Security Guard is a security monitoring company that provides remote monitoring for commercial, business, and residential properties. They are located in Boca Raton, FL, but provide a security monitoring service for properties nationwide. They give free cost estimates and are much more affordable than traditional security agencies.
eLine Technology is a security equipment and CCTV products supplier that helps us provide our own products at wholesale prices. They design, engineer, and manufacture security and surveillance-related products and have been a leading innovator in the security industry. Contact them if you are interested in becoming a CCTV distributor.
USA Support Team provides all of all our customer and technical support. They are 100% US-based and have an exceptional knowledge of all of our products. Be sure to contact them if you need help or are having any technical issues. Their award-winning support team prides themselves equally on their product knowledge and customer support satisfaction rate.
Security Camera King is a wholesale distributor of CCTV, security, and surveillance products. We are located in both Wheat Ridge, CO and Boca Raton, FL. We are more than capable of helping meet the security needs anywhere in the country and have been an instrumental part of helping business, corporate, and private locations setup new and updated security systems. If you have any additional questions for us, please CONTACT US.
Facebook | Twitter | Google+ | YouTube
Connect Your Recorder to a Mobile Device