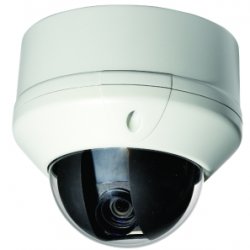 Grocery store dome cameras can prove to be one of the most valuable and yet least costly methods for providing your grocery store, or any other business, with the security you need.  The grocery store dome cameras are so versatile that there almost is a camera to accommodate almost every situation.
Crime in southern Florida, as in many places, has always been a concern. Especially in retail grocery stores.  One of the biggest detriments to a grocery store's profits lends itself to shoplifting.
Regardless of the location of your grocery store, a system that uses grocery store dome cameras can provide you with live monitoring 24/7 and recording as well.  In addition, dome cameras are the least obtrusive camera of the three types, box, bullet, and dome and can be purchased with a variety of extra features.
A typical business security camera system consists of cameras, a processor, a monitor, and a digital video recorder or DVR.  The cameras create the digital signal that the processor analyzes and turns into a digital file.  It can be seen in real-time on a monitor and also stored on a DVR for later use.
There are several different types of grocery store dome cameras with many options to suit your special needs if necessary.  Indoor cameras can be purchased in a variety of sizes and styles including grocery store dome cameras that can even be disguised or hidden.  Dome cameras may be indoor or outdoor or rated for both indoor/outdoor use.  Outdoor cameras are just like indoor cameras however, they are enclosed within a protective case that is sealed so well that it prevents the entry of dust, rain, and other natural elements.
Outdoor cameras are often rated as to the degree of protection they offer based on the International Electrical Code standard known as an IP code or IP rating.  The IP is an abbreviation for Ingress Protection.  Most outdoor cameras are rated IP66 or IP67.  Both ratings indicate that the camera is absolutely protected from dust particles and IP66 means it can withstand water sprayed from powerful jets while IP67 means the camera could be submerged in water up to 1 meter deep and still operate.
Both indoor and outdoor grocery store dome cameras can be wireless.  They utilize either the 2.4 GHz or 5.8 GHz radio bands to transmit their video image information to a receiver.  The receiver then transfers the signal to the processor.
Grocery store dome cameras are digital video cameras that can create high quality color video.  Some cameras called day/night vision cameras can produce a video image with very little available light.  There are also night vision cameras that can produce a high quality color video when there is the smallest amount of available visible light and infrared cameras that can be used on total darkness to produce high quality monochromatic or black and white video.
Monitors purchased with a business security camera system permit live viewing of the camera's field of view.  This is very useful if the cameras are placed in one location but need to be monitored by someone in another location.  In addition, cameras can be purchased that are IP or Internet Protocol ready.  These cameras use the internet to transmit their video so anywhere the internet is available these cameras can be monitored too.
The number of grocery store dome cameras you'll need depends on the size of your store and how or what you want monitored.  Be sure to use a high quality DVR to record the images so if you ever need to copy a segment of footage it will be of superior quality.  (There are several reasons for needing to copy video but the ones that first come to mind are:  1. To give to police to identify the shoplifter and verify your accusation; 2. To provide other employees that may need a copy of the footage; and, 3. To provide insurance companies with copies.
The versatility of a business security system will allow you to use it almost anywhere in your business setting.  Place grocery store dome cameras so they are able to cover each aisle with the DVR set up in your office.  Consider using enough cameras to cover each checkout clerk.  A camera in the parking lot is also helpful.
If you have any questions about grocery store dome cameras contact one of Security Camera King's security specialist on line or by telephone.  We love to help!