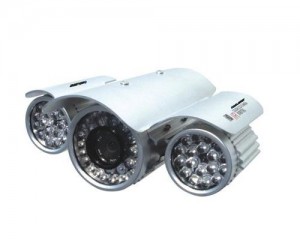 Home security cameras are consistently effective in keeping properties safe and undisturbed. There are various types of cameras available, all of which can be custom fit to each household. As each household has a different configuration, there are numerous cameras to capture the most integral points of the home. Home security cameras are often non-invasive, and will not distract from the interior of the household. Each security camera will add a new dimension of safety to the household. It is now possible to view the security camera feed from a distance with applications that allow for a direct feed transfered onto an iPhone or laptop computer. These small and efficient home security cameras are the best means for keeping a home safe from intrusions. There are many features and components available with home security cameras, which makes it vital to find the one ideal for each instance.
One of the most advanced home security cameras is the Vivotek PZ8111. This heavy yet compact camera is perfect for larger homes or gardens. It has a pan tilt which allows for maximum coverage and span of focus. The 10x optical zoom lens is capable of tracking any movement or diversion. The camera has a motorized pan and tilt, which is most efficient for tracing movement across of large spaces. The pan spans from -150 degrees to +150 degrees, with a tilt of -45 degrees to +90 degrees. This coverage is ideal for not letting any perpetrators slip away unnoticed.
One of the most important feature of this camera and others similar to it is the addition of the iCamViewer application. This application allows the camera to monitored anywhere in the world with an iPhone or iPad device. This allows for complete safety and peace of mind while on vacation, which makes this addition an immense asset to the home security arsenal. Along with this application comes a remote control feature that corresponds with any laptop computer. It is now possible to trace the entire house and take notice of anything suspicious. This type of technology has not been available in home security cameras for very long, but the addition has made all the difference in upping home security possibilites.
There are many designs of cameras which can be mounted onto any styling of housing. Certain home security cameras are perfect for mounting in a large driveway. These cameras are often heavier and film a much larger dimension of space. Sturdier mounting cameras are perfect for outdoor areas or in the backyard. Another popular design for outdoors is roof-mounted CCTV camera. Closed Circuit Television cameras are perfect for capturing corners outside of buildings. These can be mounted at an angle above a garage for maximum coverage and protection.
One of the most popular outdoor CCTV cameras it the BIPRO-S600VF12. These have a high resolution of over 600 tvl for the best picture quality. It is crucial to have a high-resolution camera or any perpetrator may become unidentifiable. Another very important feature of these cameras is being weather resistent and durable. Most high-end cameras can stand heavy gusts of wind and hail, but it is important to test the durability to prepare for any possible conditions.
Modern home security cameras have very clear day modes and night vision modes. Most of these cameras will switch between night and day modes automatically and efficiently. With an efficient night vision system these cameras can get a clear view of any perpetrator.
It is important to decide on how many home security cameras are needed for the area. The size of the house and lot will determine whether a single camera or multiple cameras are needed. Single camera sets are ideal for watching over a young child's room or a garage. Yet sometimes multiple cameras are necessary even for smaller homes in order to properly protect the lot. It is important to place cameras near any doors or windows, as these are the areas in which perpetrators most likely enter. A security camera mounted on the in the main areas of the house will be more than enough to catch all suspicious activity.
If a home is in a high-risk area it may be necessary to have 16 cameras or more. Such a large number of home security cameras is perfect for expensive areas, as it will defer criminals from entering the lot. The presence alone can be enough to thwart a potential invasion, making a large security system a sound investment. Most large security systems are equipped with an online or DVR recording system to maximize security. This allows for constant streaming of a lot while at a distance. The entire premises can be viewed in real-time and can be saved conveniently for later.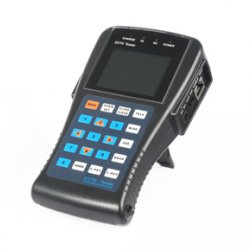 If 16 or more cameras seems too drastic there is the option of installing fake home security cameras as well. Along with regular security cameras, these will alert criminals that the premises are under constant surveillance. Fake cameras help to keep the cost of home surveillance down while maintaining the presence of security.
The best camera for detecting unsuspecting criminals is the mounted dome camera. This home security camera is mounted on the ceiling in the corner. These cameras often have a wider field of vision than most and are perfectly capable of high-definition surveillance. The perfect imagery is accompanied by an automatic night-vision toggle which will adapt to any levels. A domed camera can produce crystal clear images in the darkest levels up to 40 feet away. This allows for optimal coverage of the lot and will keep an eye on all intruders. Domed cameras are usually placed upon a ceiling but the wall is just as acceptable.
Many home security cameras are up to date with Advanced Digital Noise Reduction services. This helps to add over 30% to the recording storage and in turn gives the best possible sound. Every nuance will be captured with a high-end home security camera. With the rapid advancement of technology it is even possible to get the same protection with low-end models as well. Many cameras are now equipped with digital and wireless transmissions. What was once a difficult procedure of wiring the camera up is now an effortless task. Instead of placing wires inside or around the walls, cameras are simply mounted and the digital transmissions take care of the rest. The size of cameras has also greatly decreased as many high-end cameras are now the size of a cell phone. These smaller cameras will not capture the same range of distance as larger ones, but they are perfect for individual rooms or outlets.
Many home security cameras are now easily mounted upon a computer for instant wireless transfer. These cameras are often the best for dormitories or apartments as they allow for undetected surveillance. These security cameras often blend-in as nothing more than a webcam, yet they give a constant feed of the entire space. These cameras also work well in offices, markets and other small businesses where space is limited. These cameras can be programmed to alert a designated device when any movement is detected. The camera will send a direct feed to a cellphone or laptop computer whenever the motion detecter is activated.
There are many home security cameras available for those who live in wooded areas. These cameras can be mounted on trees to help guard any intruders entering from the forest. The Primos Truth Camera is one of the most highly-regarded cameras of this kind. It can be mounted securely onto any building or tree and will give a constant high-resolution stream of footage. This can help to thwart illegal hunters who may enter the property or even catch unwanted animals. These cameras are able to switch to night-vision instantly as the sun goes down. The Truth Cam contains over 35 infrared LEDs which allow for optimal nighttime coverage. Outdoor home security cameras can also save energy by only switching on when activated through the motion sensor. Since these cameras are often mounted in an outdoors terrain they are equipped with password protection security devices. This allows the camera to not be switched off or altered in any form. Most outdoor security cameras are not wireless as they are usually in a wooded area. Many are quipped with an 8 gigabyte SD card to store all of the footage and sound acquired.
The best home security cameras are the ones that come in complete packages. Nothing keeps a home safer than an entire system devoted to security. Purchasing an entire security kit makes installation and setup easier than before. Every camera is already programmed to transmit the feed to the designated server and all that's left is mounting each individual camera. Most kits include wireless cameras and a remote control which allows for constant acces to the security camera's live stream.
Home security cameras are now more affordable and efficient than ever before. These high-quality cameras are the best means of protecting a home or lot. Home security cameras are a great visual deterrent to any potential robber. Home security cameras will allow the perpetrator to be brought to justice with ease. The best means of securing a home or office is through home security cameras.