Although property crime statistics in the United States are steadily declining, according to Federal Bureau of Investigation, there is still a great need to safeguard your property. Whether you're interested in adding security to your home or business, network security cameras continually monitor your property. While homeowners may feel security cameras are specifically made for businesses, by visually monitoring your home you not only ward off potential crimes by the sheer presence of the camera, but in the unfortunate event of theft or burglary the videos may help law enforcement identify and capture the thieves. Although there are a wide array of security cameras on the market, few offer the security and flexibility as network security cameras. If you're in the market for security cameras, you should consider installing these items not only for their reliability, but also for the peace of mind their presence provides.
What is a Network Security Camera?
Network security cameras, also referred to as IP cameras, have the foundational purpose of traditional CCTV, or analogue, cameras; however, their method of sending and receiving data is much different. In a foundational sense, network cameras are quite similar to webcam as network cameras utilize the Internet to transmit and store recorded images. However, the similarities between webcams and network cameras end there. Network cameras are separated by two primary categories: centralized and decentralized cameras. The following are the two primary differences between these two camera setups:
Centralized Network Camera – A centralized network camera is one that requires a central NVR, or Network Video Recorder, to manage incoming recordings, video storage and alarm sounding if the cameras are attached to an audio alarm system. Commonly mistaken for a DVR, an NVR is a software program designed to record and store video from a network camera in a digital format. These digital videos are then saved to some form of digital mass storage such as a USB flash drive or an SD memory card. Although an NVR is solely software, the actual software is typically stored on a dedicated device that connects to various network cameras. The primary difference between an NVR and a DVR is an NVR receives its incoming video signals from an Internet network while a DVR receives its video signals from a direct connection to the camera. Another distinct difference between these software programs is how videos are processed and encoded. DVRs process and encode videos after they are streamed to the unit while NVRs process and encode video signals before being sent to the recording device.
Decentralized Network Cameras – A decentralized network camera is one that does not use an NVR. Rather, these cameras feature built-in video storage capabilities such as hard disk drives or flash drives. This form of storage is more streamlined, but features limitations such as not being able to store large quantities of data.
Types of Network CamerasNetwork security cameras are available in a wide array of formats and designs. However, while there are many designs there are seven primary camera types. Manufacturers may alter the features within these camera types; however, every network security camera is based in one of the following.
Outdoor Cameras – Designed specifically to be used outdoors, these network cameras feature weatherproof casings, significant temperature operation range, day and night recording as well as a tampering alarm. Typically used to monitor parking lots, campuses and traffic conditions, an outdoor network camera is ideal for areas that require 24/7 monitoring in all weather conditions.
Thermal Network Cameras – During moments of complete darkness, thermal network cameras are able to clearly capture images based on heat radiating from objects. All objects radiate a certain amount of heat, and this camera type is designed to capture the details from a heat source. The primary benefit of this camera design is its able to monitor property in complete darkness. Therefore, there's no infrared LED lights illuminating the area. In complete darkness, onlookers are unaware they are being monitored. The downside of this camera design is its lack of detailing. While figures are clearly seen, small details typically captured by infrared security cameras are lost.
Megapixel Network Cameras – These cameras are designed to capture highly detailed images. Designed with the latest in high resolution surveillance technologies, megapixel network cameras, also referred to as HDTV cameras, can clearly record facial features or items a customer purchases.
Covert Cameras – As its name suggests, covert cameras are designed to seamlessly blend into its environment. Thus, onlookers are unaware of its presence while it continually captures their facial details and their actions. These cameras are ideal for monitoring customers in areas of a store that are unseen by wall or ceiling security cameras.
PTZ Dome Network Cameras – PTZ dome network cameras are designed to discreetly monitor a wide angle area. These cameras are housed in a dome, thus onlookers are unaware if the camera is pointing at them or not. The camera operator may manually tilt, zoom and pan while capturing high-quality video. Features typically found in these cameras include EIS, or electronic image stabilization, auto tracking and auto camera flip.
Fixed Dome Network Cameras – Like its name suggests, a fixed dome network camera does not offer lens movement. Rather, it is a fixed camera housed in a dome. The primary benefit of this camera design is its discreet design; however, the main drawback is its inability to interchange its lens. However, many fixed dome cameras offer a varifocal lens, which allows the field of view to be manually changed by an operator.
Fixed Network Camera – This camera design is perhaps the most common. Implemented to be visible to onlookers, a fixed camera cannot pan or rotate as its field of view is static. However, many fixed network cameras allow operators to change its lens. For example, a single fixed camera may be adjusted to house a wide-angle, telephoto or normal lens. Some camera designs are outfitted with a varifocal lens to adjust its field of view.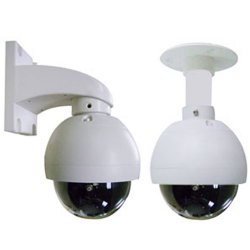 As stated earlier, these are simply the most common foundational designs. Each of the aforementioned is available in a wide array of configurations. To determine the best network security camera for your property, research available options and features. Remember, every property features unique monitoring challenges and the goal of a security camera system is to overcome these challenges for adequate monitoring.
Analog Resolution vs. Network Camera Resolution
Many property owners who are interested in security camera systems desire to have cameras with high video resolutions. The reason behind this is the higher the resolution the better the image quality. Cameras with low screen resolutions may capture the happenings of an area, yet if the images are blurry or fuzzy, these cameras do little to actually assist law enforcement in the apprehension of a criminal. Within the realm of security cameras, a major question is, "What is the resolution difference between traditional analog cameras and network cameras?" The recordable resolution of security cameras is dependent on the restrictions of the actual recording device such as a DVR for analog cameras or NVR for network cameras. With analog cameras, the DVR is restricted to a maximum resolution of 720 x 480 pixels. However, network cameras offer a wide array of resolutions. For example, many NVR programs support 5 megapixel, or higher, screen resolutions. This results in a video resolution of 2,592 x 1,944 pixels. Therefore, if image quality is paramount in your decision making process, network security cameras are your only option. Review various NVR programs, as some software programs may feature resolution limitations.
Benefits and Drawbacks of Network Security Cameras
As with any other form of security cameras, network security cameras feature benefits and drawbacks. Before making a purchasing decision, it is imperative you review the benefits and drawbacks to determine if the financial commitment of network cameras is worth the benefits you'll receive.
Benefits
Installation Flexibility – Perhaps the most notable benefit of network cameras is its installation flexibility. Unlike analog security cameras, network cameras are able to be installed anywhere on a property where there is an IP network. This is not limited to Ethernet cable only networks. Many network cameras are able to operate and transmit signals through a wireless Internet signal.
Encryption – Securing the images of a camera is just as important as having a security system in your business or home. Network security cameras offer two layers of data safeguarding. Firstly, video images are encrypted before ever being transmitted to the NVR. Secondly, videos are automatically encrypted and authenticated through encryption languages such as WEP, AES, WPA and TKIP.
Video Resolution – As discussed earlier, network cameras offer significantly higher video resolution when compared to analog cameras. This increase in resolution provides clearer videos capable of identifying facial features and car license plates.
PoE Connectivity – Network security cameras do not need to be plugged directly into a power source. Rather, these cameras may operate by connecting the camera to a PoE, or Power over Ethernet, protocol. This system powers the cameras trough the Ethernet cable instead of through a traditional power source.
Disadvantages
Cost – If cost is an issue, then network security cameras may not be the ideal surveillance solution for you. Typically, network cameras require a higher upfront cost than analog security cameras. However, this disadvantage may quickly disappear as the use of network cameras increases. The increase in demand will likely lower the cost of these camera systems.
Video Interception – Although not very common, video signals may be intercepted if network cameras are connected through an unsecured wireless network. This raises the security threat as criminals could potentially access video streams and monitor the security environment of a business or home. This undermines the effectiveness of the cameras and actually facilitates a crime. Avoid this scenario by never connecting network cameras through a public, or unsecured, wireless signal.
While it may seem that the benefits of network security cameras far outweigh its drawbacks, it is important potential buyers seriously weight both the pros and cons before making a decision.