As video technology continues to improve with time, it makes sense that the public continues to express a growing interest in security cameras that can reliably provide better video quality then was possible in the recent past. Here at Techpro Security Products we are constantly upgrading the CCTV products that we offer our customers in order to stay on the cutting edge of the industry. This also means that we can provide an array of equipment that lets you select the surveillance solution that best fits your budget and security requirements. Because of this effort we are excited to now be offering HD-CVI (High Definition Composite Video Interface) surveillance cameras and DVRs to our customers.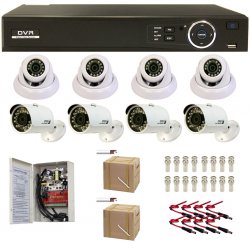 Until very recently, IP cameras were the most common equipment that someone purchased when they wanted to get megapixel quality video from their security camera system. This type of network based CCTV system still offers the highest resolution available today but the new HD-CVI is closing the gap. There are also some issues with installing IP cameras which mean that installing them can be a little more challenging.
An issue that has to be faced when someone is doing an installation with IP cameras is the fact that they require a significant amount of bandwidth. You may face this issue both inside and outside the network where they're installed. This can occur inside the network because the video signal is being transmitted from all of the cameras to the recording device or NVR though the internal network. This significant bandwidth usage can also be a problem if you are trying to remotely connect to the NVR from outside network where it's installed, unless your Internet service provider is supplying you with high upload speeds. Configuring these IP cameras to work within the network where they're installed can also be a daunting task for anyone that doesn't have a good understanding about how networks operate.
The HD-CVI technology lets the camera send video to the DVR for recording as a digital signal. The unusual part is the fact that the video signal does not need to be transferred through a network. This allows you to record megapixel quality video through any of the cabling options that have been typically used with analog security cameras installations for decades.
HD-CVI Cable Options
With this type of CCTV system you are able to use RG-59 or RG-6 (these are types of coaxial cable that is commonly with analog security cameras), standard CAT5 cables with baluns or prefabricated "plug and play" cables to carry the video signal from security cameras to the recording device. RG-59 will offer you the highest quality video; while CAT 5 cable will offer video that is approximately 5 to 10 percent lower quality then RG 59 and the prefabricated "plug and play" cables offer about 5 to 10 lower video quality then the CAT5. Most professional CCTV installers will use a type of wire that is called Siamese cable for most security camera installs. This cable consists of RG 59 and two 18 gauge wires for power transmission all joined into one wire by a tough insulation wrapped around the exterior of these cables.
This new type of surveillance system lets you run the cables for the cameras a longer distance from the DVR then either IP cameras or the HD-SDI technology will allow. Both IP and HD-SDI cameras are limited to transmitting video a distance up to 333 feet, while using the new HD-CVI technology allows you to transmit video up to 1,500 feet. It's important to note that the distance that you can run power for these cameras is still subject to the same restrictions as the other types of cameras that are currently on the market. Once the power for a camera has traveled over 100 feet then the voltage begins to drop off. If the power goes far enough beyond the 100 feet then the voltage will drop to the point where the camera will not get enough power to operate correctly. This is true with either AC or DC power supplies.
HD-CVI is low cost
One aspect of this technology that is sure to capture the attention of experienced installers and the end users doing their first install is the fact that the cost is incredibly low compared to other existing video transmission formats. Even though this technology offers such high video quality, the price is very close to the older analog security camera systems and it's significantly less expensive than either an HD-SDI system or a network based IP camera system. An HD-CVI security camera system will also save you a considerable amount of time and money because no matter what type of cable you use with them, they are able to transmit video, audio and the signal for controlling the camera's OSD (or On Screen Display) over a single line.
HD-CVI Resolution
These cameras can offer 720p resolution right now but a 1080p version of the HD-CVI cameras are scheduled to be released around the end of the year. When these 1080p cameras some out they will be compatible with the current HD-CVI DVRs. The maximum resolution that analog security camera technology are limited to is 960 x 480 pixels. Once the 1080p cameras become available then a HD-CVI security camera system will offer 450 percent higher resolution then the maximum resolution of the older analog technology is able to provide. A 1080p camera actually captures video that is 1920×1080 pixels.
HD-CVI is also something to consider if you want to upgrade an analog system to the point that it will give you megapixel quality video. Upgrading to this type system will allow you to simply replace the cameras and the DVR. The existing power supply and wiring will work great with these upgraded devices. Not only will upgrading your system in this way save you the cost of buying these items again but it will also be much easier and quicker, since running the wiring for a security camera system is the most labor intensive part of the process.
This new technology represents a substantial breakthrough in security camera technology and it is not widely available yet. As a matter of fact, SecurityCameraKing.com is one of the few places that you can purchase it the United States. Below is a link where you can find these new products.
http://search.securitycameraking.com/psearch/svc/search.php?uid=4&q=cvi