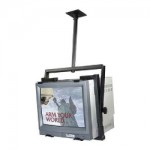 Some of the most popular items used for protection and surveillance today are security cameras monitoring systems. These systems take advantage of the latest and greatest in both electronic and computer technology making them incredibly powerful and versatile to use. In addition to deterring burglary and/or vandalism, security cameras monitoring systems offer you the peace of mind of knowing that your business, residence, or loved ones are okay.
Most security cameras monitoring systems are component systems; that is, parts of the system may differ in function (i.e. one camera may have Pan-Tilt-Zoom or PTZ and another may not) or may be made by different manufacturers (i.e. the cameras may be produced by one manufacturer while the DVR is produced by another). Regardless of the differences between components, all of the separate parts can work together to create a functional and effective security camera monitoring system.
Security cameras monitoring systems work in the following manner. The digital video camera "captures" a light image and transfers it into an electrical image. This electrical based image is sent in the form of electronic data to the DVR or Digital Video Recorder. The DVR normally contains a special type of computer processor known as a Digital Signal Processor or DSP. The DSP compiles the data from the video camera and creates a digital video file of the data which can e stored on the DVR or viewed in real time (live) on a monitor.
The DSP normally uses a COmpression/DECompression or CODEC utility to make the digital video file smaller without sacrificing quality. This is necessary because digital video files are comprised of thousands of digital photographs. In fact, they are digital photographs, but they are taken at a high rate of speed, usually around 30 photographs or Frames Per Second or 30 FPS.
This means that for every one second of video, the file will contain the equivalent of data for 30 individual digital photographs. As you can see, the file can get very large in a hurry so a CODEC is a vital and necessary tool.
The security cameras monitoring system may also include a CD/DVD writer, SD card writer, or accommodate a USB thumb drive for archiving files or for providing copies of files on a portable media to police, insurance agencies, etc.
There are a variety of optional features available for digital video security cameras however it may be easier to differentiate between cameras if they are categorized first, based on two of these features. The first criteria to use for categorizing the cameras can be the shape of the camera itself. There are three basic shapes or types:
• Box shaped cameras;
• Bullet shaped cameras; and,
• Dome cameras.
Box shaped cameras look just like the name implies; they are rectangular shaped to resemble a small box. These cameras may be mounted on walls, ceilings, and other structures. Bullet shaped cameras are elongated and rounded in shape on the ends to resemble a bullet-type structure. They may also be mounted on walls, ceilings and other structures. Finally, dome shaped cameras are usually flush mounted on ceilings with a rounded dome protrusion just big enough to allow for the camera lens.
The second criteria for categorizing digital video security cameras is whether they are designed for indoor use, outdoor use, or both. Indoor use only cameras cannot be used outdoors because they may be damaged by exposure to dust, water, and other debris. Outdoor security cameras monitoring systems or indoor/outdoor cameras are enclosed in a protective case that allows the camera to function properly but prevents entry (ingress) of dust, water and other matter.
Many outdoor cameras will be certified according to the protection the enclosure provides using a International Electrotechnical Commission (IEC) standard called an Ingress Protection code or IP rating. This code consists of two digits; the first digit represents protection from dust and the second digit represents protection from liquids. The first digit of the rating ranges from 0 to 6 and the second digit ranges from 0 to 8, the higher number indicating a greater rate of protection. An IP65 rating for example, means the enclosure is dust tight and provides protection from water projected by a nozzle against the enclosure from any direction.
There are many other option features available on the components of security cameras monitoring systems. If you are interested in additional information, check our knowledge base or security articles or contact one of our security experts today.